Student Publications
Hone your literary skills by joining one of Pima's student-run publications. Whether you're interested in journalism, fiction, poetry, or art, you can find your niche here.
Aztec Press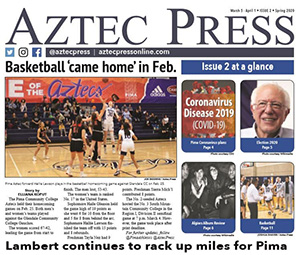 Aztec Press is Pima's bi-weekly newspaper. Here you'll find the latest Pima news, arts, sports, and commentary. If you're interested in becoming a staff member, you'll need to enroll in JRN 101 and 185 and be able to come to the West Campus.
Previous issues of Aztec Press can be found at Aztec Press Online. 
Contact Information
Faculty Advisor: Valerie Vinyard
Aztec Press
Advertising information
---
SandScript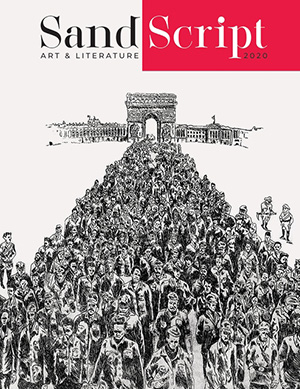 Join the award-winning, student-run literary magazine, SandScript. Students on the West Campus create and design the entire publication in WRT 162 Literary Magazine Workshop.
SandScript features prose, poetry, and visual art from Pima students on all campuses. The 2015 edition won first place in the Community College Humanities Association's Literary Magazine Competition. 
Contact Information
Faculty Advisor: Elizabeth "Frankie" Rollins
Submit Your Work
Check out the SandScript website to see how you can make a submission, view our latest edition or make a donation for student awards and the yearly unveiling ceremony. 
SandScript Editorial Staff
| | |
| --- | --- |
| | |
| Editor-in-Chief | Jesse Shinn |
| Assistant Editor/Visual Art Editor | Stephany Rocha |
| Managing Editor | Raiden Lopez |
| Social Media Manager/Director of Archives | Maria Servellon |
| Industry Outreach Coordinator/Prose Editor | Madison Copic |
| Prose Editor | Iris Gonzalez-Hill |
| Poetry Editor | Ocean Washington |
| Visual Art Editor | Mariah Gastulem |
| Faculty Advisor | Frankie Rollins |