Theatre Arts
The Theatre Arts program is housed in the Center for the Arts at the West Campus. The program provides extensive experience and training in performance and all aspects of theatre production. Students can earn an Associate of Fine Arts degree with a concentration in theatre that can transfer to a bachelor's degree in theatre production, education or theory. Read about Pima's Theatre Arts program in the Sept. 2014 issue of Career Focus.
Pima Theatre presents four productions each season showcasing the talents of Pima students. The first production of the season is family friendly targeting children in elementary and middle school. This gives parents and teachers the chance to introduce children to an early, enjoyable theater experience. Several school matinee performances are offered (All school matinee performances must be reserved in advance by calling the box office, 520-206-6986.), in addition to evening and weekend performances. The other productions include a fully-staged American musical complete with pit orchestra, and contemporary and/or classic drama or comedy. The 2018-19 season includes the following productions: THE MAGIC RAINFOREST: An Amazon Adventure - by José Cruz González's, TARTUFFE - written by Molière, translated into English verse by Richard Wilbur, MAMMA MIA - A musical by Catherine Johnson based on the songs of ABBA, composed by Benny Andersson and Björn Ulvaeus, and POLAROID STORIES - Written by Naomi Iizuka.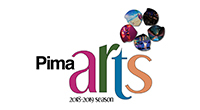 Download a Pima Arts 2018-19 season calendar.
Box office: (520) 206-6986
Join our e-mail list to receive Center for the Arts updates, discounts and special events.