Build your Support System with Pima's Peer Mentors
Pima's peer mentors create programming and support structures for first-year students.
After thirteen years in hospitality, Kassandra Hayes was ready for a change.
She spent the first days of the pandemic at home with her 2 year old daughter and watched the hospitality industry grapple with an uncertain future. 
Even though she wasn't yet sure where her next steps would take her, her time at home with her daughter inspired her to pursue a degree and a new career path. She applied to Pima and worked with a career counselor to explore program options, ultimately deciding to pursue her associate's degree with a concentration in Elementary Education.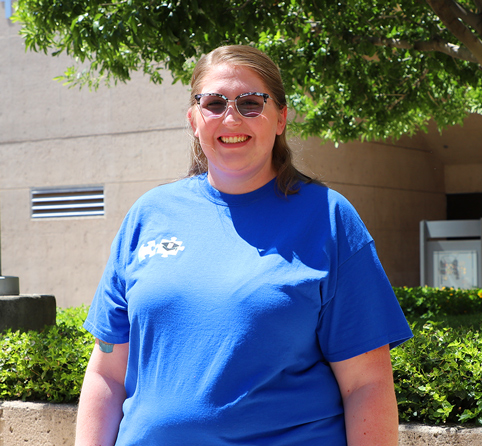 New to classes, Hayes happened upon Pima's orientation program, Connect U Orientation. Connect U Orientation is a first-year orientation program that introduces students to resources and support programs on campus.
Hayes started attending orientation events to better understand Pima services and to hopefully meet new people with diverse interests at the College.
These events became a transformative experience for Hayes where she was able to access resources that crucially supported her during her first year at Pima. 
This semester, she has returned to Connect U Orientation as a peer mentor. Peer mentors support first-year Pima students during orientation and throughout their first year at the College through FAM mentor groups. As part of the FAM mentor groups, peer mentors plan events and support activities to help students successfully start their education at Pima as well as provide students with one-on-one support. 
"All of us peer mentors are at different levels and bring different expertise to the group. We get to learn from one another and work together to support students," Hayes said. 
While this is her first semester as a peer mentor, it seems Hayes has always had the spirit of a mentor.
"We get to learn from one another and work together to support students."  
Her time with her young daughter and her years training people in the hospitality industry have given her a penchant for extending compassion, offering support and celebrating the success of others. The peer mentorship position simply gave her a larger platform to put these mentorship skills into practice. 
Hayes isn't alone in finding solace through providing mentorship to others. Her fellow peer mentors, Ryan Huffman, Sunny Elgazar and Sabrina Garcia-Smith, all came to Pima for a fresh start. Through their experiences as peer mentors, they found getting involved was an instrumental way to connect with new communities and form a sense of belonging at the College. 
These are their stories. 
Exploring New Futures at Pima
After graduating high school, peer mentor Ryan Huffman worked in retail for ten years. While he loved working with people, he was ready to reevaluate his career and pursue his passions professionally.
Huffman had always had a passion for game design, but decided to pursue computer programming to give himself diverse career opportunities. He felt connected to the field's ability to build new designs and products from the ground up, an ethic he also carries with him as a peer mentor.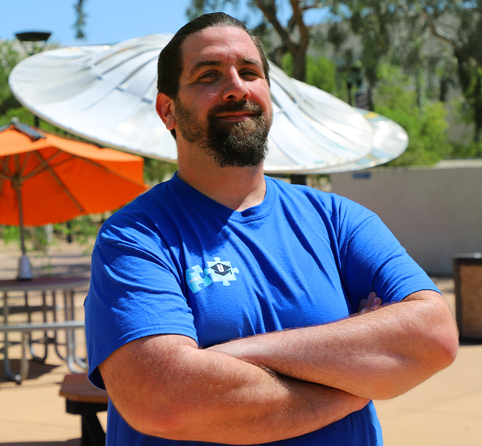 "When I started at Pima, I didn't know what I was doing and was sort of blind on my own. I was kind of resistant to getting involved. There was no one saying to me 'here's how you can find your people,'" shared Huffman. 
Reluctant at first, Huffman started reaching out to advisors and support staff. He found everyone he encountered at Pima wanted him to succeed.
In particular, Huffman's friend, Angela White, inspired him to start getting engaged. "It was when a fellow student reached out and invited me into her fold that I found the support I truly needed and got me off the ledge I was stuck on," he shared. 
Now, Huffman is giving the guidance and support he wished he'd had in his first year as a peer mentor. "As a peer mentor, I'm in a position to help other people. I know how many resources are available, and I am a part of building something to welcome in the next generation and help them find their footing," he continued. 
"In retail, I loved being a manager and watching people grow. Becoming a peer mentor felt like a way to continue to support people and grow my leadership skills," Huffman said. 
He met new people, explored unique interests and prepared to apply for scholarships to continue his education at the University of Arizona and join the workforce as a computer programmer.
Getting involved transformed Huffman's experience at Pima. He hopes others won't hesitate to ask for support when they need it. 
From the Stage to the Classroom
Fellow peer mentor Sunny Elgazar initially got introduced to Pima through her mom. As a first-generation college student and daughter of immigrants, Elgazar knew Pima was an affordable pathway to pursue higher education and explore new passions. 
Elgazar completed her associate's degree in Visual Performing Arts and has been involved with several productions on campus. This upcoming semester, Elgazar will continue to be involved in Pima's theater program while working on set design and construction for the upcoming Little Shop of Horrors musical.
While earning her associate's, Elgazar also explored her interest in teaching and education. She plans to pursue a BA in Education at the University of Arizona.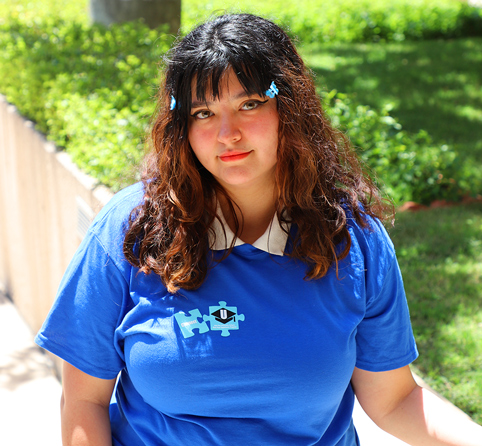 Working as a peer mentor during her time at Pima helped Elgazar explore her teaching skills and gain experience supporting students. "I can really vouch for how helpful orientation is," Elgazar shared. "And professionally, it's given me really good experience in the classroom since being a peer mentor is about teaching and supporting students."
Elgazar knows a lot of the professional development she's received as part of the peer mentorship program has been due to First Year Experience Program Developer Renee Forsyth's inspiring leadership style. 
"Renee trusted us to be self-accountable. We get to do things on our own because she has trust in us and our leadership abilities," Elgazar said.
This trust has enabled Elgazar to develop behind-the-scenes professional skills while working as a peer mentor that will support her career as a future educator, from lesson planning to instructional design to event planning. 
She's also connected with fellow students and staff who have helped her embrace new identities. While working at Pima, she not only explored her interests in theater and education, but also her emerging identity as a queer person. 
"Asking for help and connecting with staff helped me feel comfortable in who I am. Pima was a supportive place for me to come into my identity," Elgazar said. 
Finding Community as a PimaOnline Student
Sabrina Garcia-Smith moved to Tucson from Pennsylvania when she was 16 to be closer to family. She graduated from Catalina Foothills High School with honors and planned to continue on to the University of Arizona when she was unexpectedly diagnosed with a chronic health condition.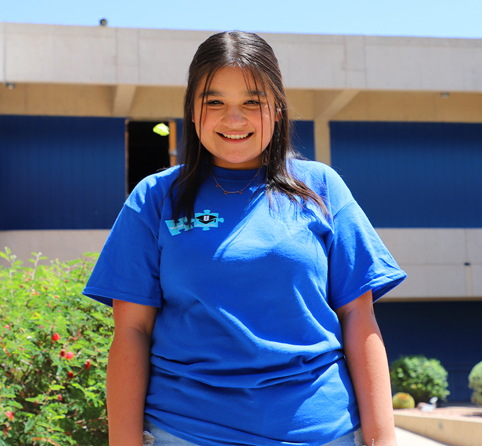 Her mother was working at Pima, so she knew about the College's affordable, online options. Garcia-Smith decided it would be a safer, cost-effective option to attend Pima as an online student. 
While she knew being an online student was the right decision for her health and work style, Garcia-Smith wasn't sure how to get involved or meet new people during her time at the College. She completed her first year successfully, but knew she wanted to get involved during her final year of her degree to find her community at Pima.
She came across the peer mentor application through the Honors Program listserv and decided to apply. 
While she had been involved in mentorship and leadership opportunities through her church, becoming a peer mentor proved to be an invaluable opportunity to become more comfortable with herself. 
"I was really nervous at first. I like being with people, but I also get nervous around awkward silences. Sometimes students don't share a lot with us at first, so I had to get used to the silence and being there for students when they were ready to open up" she said. 
Over time, being a peer mentor helped Garcia-Smith become more confident in her leadership abilities. "Being a peer mentor helped me be a better version of myself. I'm grateful to have made a lot of friends through the program and to give students the support I wish I'd had during my first year at Pima," Garcia-Smith said. 
"Being a peer mentor helped me be a better version of myself." 
Garcia-Smith will leave Pima with her degree in Liberal Arts with an English concentration. She plans to complete a BA in English at the University of Arizona and transform her short story collection into a book. 
For now, Garcia-Smith is excited her time as a peer mentor is not over yet. After the Connect U Orientation sessions, peer mentors continue to support first-year students in FAM mentor groups. FAM mentor groups provide a support system for new Pima students throughout their first year at the College.  
As peer mentors, extending care to each other and incoming Pima students has proven to be a humbling experience. While Hayes, Huffman, Elgazar and Garcia-Smith all came to Pima to explore their unique professional passions, their capacity for care helped them find a home as peer mentors. 
Their dedication to supporting one another shows that in the end, people are all we got. And so, it is up to us to ensure we move forward together.