Sculpture on Campus Program
Pima's Sculpture on Campus initiative, which began in 2004, is based at its East Campus, 8181 E. Irvington Road. The program provides an exciting opportunity for artists to present their contemporary outdoor sculptures to the public in a beautiful, educational setting.
Artists are given the opportunity to exhibit their art to the general public in a partnership that turns the East Campus into an open access gallery and extension of the artist's studio. This venue for viewing and appreciating public sculpture enriches student, faculty and staff cultural life and is also an established and valuable art resource for Tucson's East Side residents. 
Each piece selected for this loaned sculpture program is displayed on the campus and is protected by insurance provided by the College.
Sculpture Showcase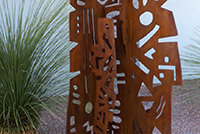 Enjoy examples of some of the artwork that have been showcased in Sculpture on Campus.
Learn more...