Louis Carlos Bernal Gallery
Located in the Center for the Arts complex, the Louis Carlos Bernal Gallery exhibits regional, national and international contemporary artists and sponsors a juried student exhibition every spring semester. 
The gallery is named for Tucson's noted photographer and teacher Louis Carlos Bernal, the founding photography instructor at Pima Community College. 
The gallery and its programs are free and open to the public.
Current Exhibit - Opening Jan 31
What Place is This with Wayne Gudmundson & Threads of Immigration with Perla Segovia
Jan. 31 - Mar. 11,2022
Reception: Feb. 10, 5-7 p.m.. Gallery talks during reception. 
Photographer Wayne Gudmundson is a professor emeritus from Minnesota State University Moorhead. He's featured in the collections at the Museum of Modern Art (New York), San Francisco Museum of Modern Art, Tucson's Center for Creative Photography and others. His photographs investigate lost battle scenes from the Southern Border to Picacho Peak's Civil War battle, photographing what this historic area is now.
Perla Segovia is an emerging artist who constructs installations about the impact of immigration on the American border. She is originally from Peru and immigrated to the U.S. Her installations are complex threaded and sewn remembrances of children and families of immigrants attempting to cross the border for a better life. 
Upcoming Exhibits
Spring 2021 Juried Student Award Exhibition 
Apr. 21 - May 6, 2022
Award Ceremony and Reception: Apr. 21, 3-5 p.m., awards at 4 p.m.
This annual exhibition brings together the jurors' selections of the best student artists from Summer and Fall 2021 and Spring 2022 semesters from all of Pima Community College's campuses. Jurors TBA.
---
Past Exhibits
American Renaissance by Alanna Airitam & Wayne Martin Belger
Two internationally-known photographers. Wayne Martin Belger works with political imagery from national and international situations, such as Standing Rock, Zapatista soldiers in Chiapas, Mexico, and refugee camps in Lesbos, Greece.
Alanna Airitam, an African American photographer, works with portraiture and still life that reflects the African American experience. Both photographers live and work in Tucson and have exhibited internationally. 
View the American Renaissance exhibit.
Egress - Works on Paper with Alice Browne, Anthony Banks & George Little
Three London-based artists exhibited their works on paper. These emerging artists are graduates of the Royal College of Art and have exhibited in the U.K., Europe and U.S. View the Egress- Works on Paper exhibit.
Rethinking Social Justice Online Exhibit
This exhibit featured artwork by Tucson artists Allison Miller and Alfred Quiroz. Visit the Rethinking Social Justice online exhibit. 
---
2021-2022 Student Art Exhibits
Lockdown Year at the Art Gallery @ Downtown Campus
Sep. 13, 2021 - May 16, 2022
In the year of COVID we were all locked in, we continued to grow and create. This show exhibits artworks created by Pima students during that time. 
Egress No. 2 at the Visual Arts Student Gallery @ West Campus
Sep. 20, 2021 - Jan. 28, 2022
Featuring all student art and media from the Visual Arts and Digital Arts Departments. View the Egress No. 2 Exhibit.
Spring Student Art Exhibit at the Visual Arts Student Gallery @ West Campus
Feb. 14 - Mar. 25, 2022
Featuring all student art and media from the Visual Arts and Digital Arts Departments. 
Gallery Hours
Mon. & Thu.: 10 a.m.-5 p.m.
Fri.: 10 a.m.-3 p.m. 
Gallery Director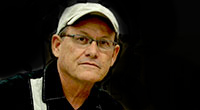 David Andres
Andres teaches gallery and museum practices, printmaking and design. His work is exhibited locally and internationally, including in the public collections of University of Arizona Museum of Art, Tucson Museum of Art and Tampa Museum of Art.
"I enjoy working with the diverse students in my classes, and the professional artists who exhibit at Bernal Gallery. Both bring a passion for art and learning."