Aviation Technology
Pima's Aviation Technology Program is one of the most respected and dynamic in the country and poised to expand to meet the skyrocketing job growth in Southern Arizona's aviation industry.
The program's Airframe and Powerplant courses are approved by the Federal Aviation Administration and run year-round. It is one of a handful of programs where students conduct hands-on learning on commercial transport aircraft. 
The aviation sector of Southern Arizona's economy offers high-paying jobs with dozens of local, national and international maintenance, repair and overhaul companies based in Tucson, including Bombardier, Ascent Aviation Services and Aerovation. Nationwide aviation industry growth is fueled by increased demand for new aircraft and new aviation technologies.
Accreditation: The Airframe and Powerplant courses are taught per the FAA's Federal Aviation Regulations Part 147 for FAA Aviation Maintenance Technician schools. This allows students to be qualified for FAA Airframe and Powerplant certification. Aviation Structural Repair does not fall under FAA Part 147 guidelines, but rather follows an industry-directed curriculum teaching students to perform heavy structural repairs.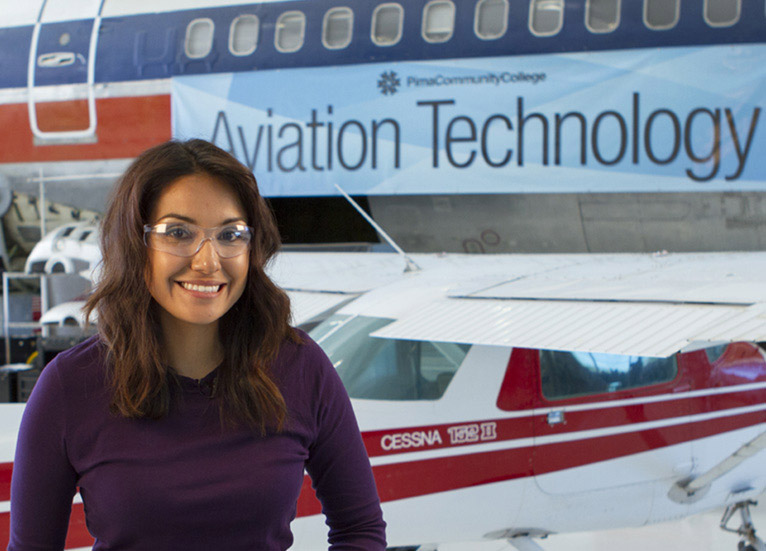 "It's not just the technical aspect of the training that I appreciate, but being able to work in teams, do the paperwork and, above all else, learn safety and situational awareness."
Ashley Rodriguez
U.S. Marine veteran, Bombardier in Tucson
List of Degrees
AAS - Associate of Applied Science
List of Certificates
Student Handbook
An Aviation Technology Student Handbook is available which provides additional information.
---
www.pima.edu/aviation
Location
PCC Aviation Technology Center
Contact Information
Division of Applied Technology
Dean: 520.206.7134
Program Assistant: 520.206.5910
General Program Information
Want to prepare for the FAA A&P exam?
Take this noncredit test preparation class for experienced aircraft mechanics.