Kathryn Pena - Aviation Technology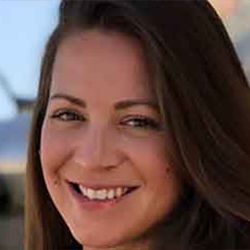 My name is Kathryn Pena. I am 31 and a mother to an 18-month-old daughter, Maley. I have a fiancé named Jake. They are both my entire world! I worked as a career Paramedic for 4 years and an EMT 4 years prior to that. I accomplished both certifications after successfully completing both programs through Pima Community College.
When working as a Paramedic, I would work 24-hour long shifts-working 72-96 hours a week. I loved my career, but once I had my daughter, I found that the work schedule was not something that worked for my family. I really wanted to workfewer hours but also have the opportunity to make a better living for my family.
I was interested in trade work and first looked to Pima to find out what classes were being offered. I was excited to find that Pima offered an Aviation Mechanic program. I have always had a love for aviation and even obtained my pilot's license at age 22. I felt aviation mechanic was a great fit for me.
The major is Aviation Technology. I started the program on June 1, 2020. The program should end in January of 2022. I will then be able to test for my Airframe and Powerplant certification and start working in the field. I would ultimately like to become a structural repair mechanic so I will have to return to Pima later to complete that class so I can test for that certification.
I love Pima Community College because I have received an excellent education that has taken me many places as an EMT and Paramedic. I trust that the education I receive through Pima for this program will again allow me to reach my goals. Pima College has had an amazing reputation for producing quality students in both the Paramedic program and the Aviation Mechanic program. I am excited to again be a part of a program with such a great reputation.
I am not working while going to school, but I did start a small business to help pay for school/living expenses. I make jewelry from polymer clay and sell it on Instagram and a website I created. I work on that little by little throughout the week and prepare and pack all orders on the weekend.