Santa Cruz County
Pima Community College at Santa Cruz Center
Pima Community College offers classes in Nogales, Arizona, in partnership with the Santa Cruz Center. Students can take courses toward transfer or can complete a number of transfer and workforce programs.
Pima Certificates
In just one semester or two semesters you can earn a certificate with Pima Community College at Santa Cruz Center. These certificates also can lead to a full Associate of Applied Science degree!
IT Technician (Cybersecurity/Networking)
IT Specialist (Cybersecurity/Networking)
Business Administration
Logistics and Supply Chain Management
Certified Nursing Assistant (CNA)
Talk to a Pima Community College at Santa Cruz Center advisor to get started.
Get Your Pima Associate and UA Bachelor's Degrees in Nogales
A Pima Community College University of Arizona Nogales partnership offers more than a dozen programs allowing you to get your associate and bachelor's degrees at Pima Community College at Santa Cruz Center in Nogales.
The Partnership includes 15 2+2 programs, including Psychology, Administration of Justice and Elementary Education. Save money by earning up to 75 Pima credits toward your bachelor's degree!
Transfer Degrees
Pima Community College at the Santa Cruz Center offers associate degrees, certificate programs, university transfer courses ("the basics") and developmental classes. Many of the degrees enable students to complete their lower-level course requirements before transferring to a four-year college or university. Visit us and learn how we can help you reach your goals!
Lifelong Learner Discount
If you are 55 years old on or before the first day of the semester for which you are enrolling, you are eligible for a 50% reduction in the general in-state tuition for credit courses.
Details on these and other options are at pima.edu/tuition.
The PCC-Santa Cruz County Team
We look forward to helping you meet your educational goals! We can help you get started by completing the application, choosing the right certificate or degree program, registering for classes that fit your schedule, and applying for financial aid. Stop by, call or email today!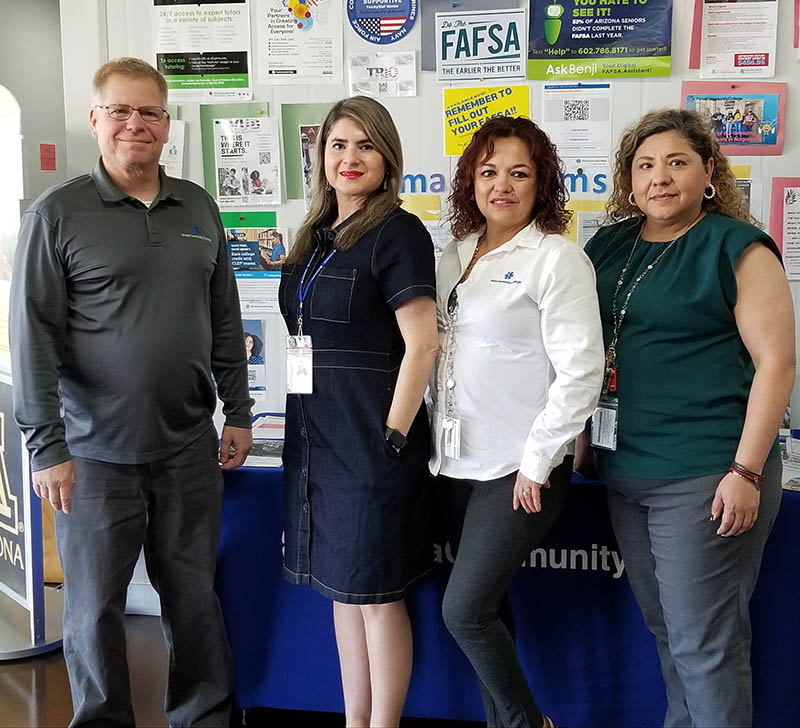 (From Left to Right)
Brian Nelson, Jessica Frederick, Lourdes Rivera, Alma Ruiz
Contact Us
520.394.7180 or call the College Information Center at 520.206.4500.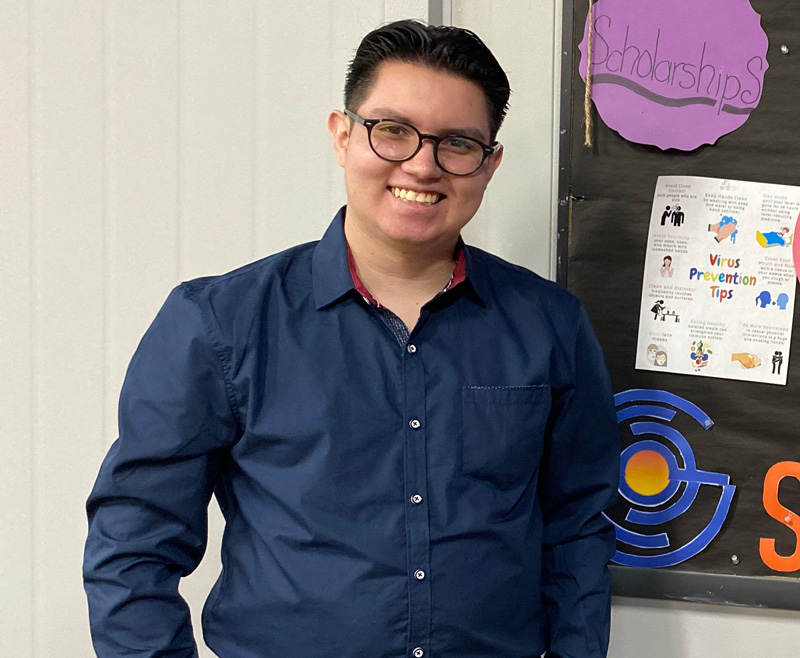 "I have found that taking classes at Pima is more practical for me. I save money by taking my classes close to home and the Santa Cruz Center is conveniently located to stores and restaurants. I feel that the instructors are passionate about what they teach and encourage us to ask questions."
Nicholas Fimbres
Associate of Arts, Liberal Arts