Lizbeth Mora Found Her Calling in Nursing at Pima
Lizbeth Mora, 2022 Nursing grad, switched tracks and graduated debt free. She wants to empower all students to pursue a path of financial freedom.
By Kanika Samra/External Relations
From dreaming of being a superhero with healing powers to turning it into reality, Lizbeth Mora has come a long way and is proud of her achievements. More so, she says, she is proudest of the fact that she's been able to graduate debt-free. Had she followed her initial path, she wouldn't have been able to say that. 
Lizbeth, from the May 2022 cohort of Pima graduates, received multiple job offers from local hospitals this summer. With nurses in high demand and no debt to worry about, she took her time to decide and is now working at Banner Health. She hopes to gain experience as an ER nurse so she can fulfill her goal of becoming a certified flight registered nurse.
Hailing from San Luis, Arizona, a small border town, Lizbeth grew up speaking Spanish with English as her second language. She and her elder sister are the first amongst their family to complete a college education. In fact, following in her sister's footsteps, Lizbeth enrolled at the University of Arizona, Tucson in 2017 to pursue a bachelor's in physiology. Always interested in STEM, her introduction to physiology happened during a high school class.  
Called the "study of life," physiology majors study biology, physics, and chemistry to understand the functioning of life forms. This degree is often a pathway to Medicine. While Lizbeth enjoyed the rigor of her courses, she wasn't sure about pursuing medicine. As a first-generation college student, accruing student debt weighed heavy on her mind too. So, two years in, unsure of her professional prospects, Lizbeth started evaluating her options. She wanted a career where she could make a difference and be financially independent.
"Pima's advisors made things approachable and easy to navigate."
As a child, Lizbeth had wanted to heal people and her mother seemed to think she had the healing touch. While researching options, she got in touch with advisors at Pima. She credits the advising team for showing her various paths within STEM and healthcare. With many of the prerequisites already complete, her path to finishing the nursing program would be smooth. But getting in wasn't going to be easy! She was accepted on her second attempt in 2020. In the interim she took a year off and worked two jobs to pay off the loans she had acquired. She started at Pima with a clean slate.
In a field all about the human body, the first semester of virtual learning was hard and made Lizbeth question herself. But she says nursing instructors and faculty made it all worthwhile and provided the best learning experience possible.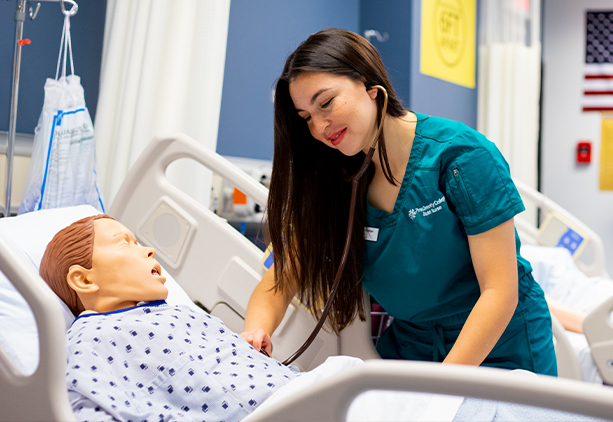 Eventually, with all COVID measures in place, students had opportunities to gain hands-on skills in the simulation lab and even participated in COVID vaccination clinics.
Lizbeth received the Chancellor's Award as a freshman and sophomore which along with other scholarships paid for over half her courses at Pima. The reevaluation of her goals brought Lizbeth to Pima. In addition to financial prudence, she found help and guidance too. "Pima's advisors made things approachable and easy to navigate," she said.
Lizbeth believes she would make the same decision again – to switch to a community college – if she had to because it helped her stay financially independent without the looming burden of student loan debt. To everyone interested in investing in themselves, she wants them to know, "You can go to college debt free".
Are you a healer too?
If like Lizbeth you like helping people and want to pursue a career in healthcare, explore our
Nursing program
.
If you aren't sure like she was; there is help at hand! Choosing a degree or certificate can be challenging.
Learn about your options and reach out
. We are here to help you succeed.