Pima Alum Receives International Recognition for Artwork Speaking Out Against Femicide
Vanessa Saavedra graduated from Pima with her Associate of Fine Arts. Now, she is creating art that spreads awareness about gender-based violence in Mexico.
Vanessa Saavedra always knew her art could speak to something larger than herself.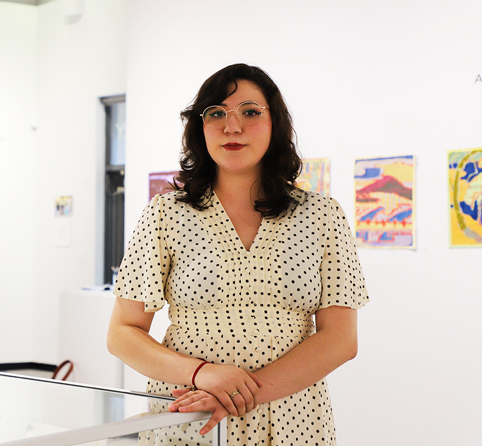 Saavedra was born in Jalisco, Mexico and raised in H. Nogales, Sonora, along the U.S./Mexico border. She attended high school in Nogales, Arizona.
After seeing her sister succeed at Pima, Saavedra came from Nogales to start classes at the College. She'd always had an interest in art and decided to pursue her associate degree in Visual & Performing Arts. 
Her art courses initially focused on the basics: color composition, painting techniques, sculpture. With the encouragement of Pima instructor David Andres, Saavedra started to explore art on her own terms. 
Pima's Visual & Performing Arts program prepared Saavedra to pursue a career in arts education and to share her art locally, nationally and internationally. 
"Vanessa proves that Pima has a strong program in visual arts, one that can be recognized on the international level," said Andres.
Earning a Degree in Visual Arts
Pima's Visual & Performing Arts program teaches the fundamentals of music, theater and visual arts. Students learn how to create and market their art and have opportunities to get involved at Pima through student-produced showcases and galleries. 
Pima art courses are also resources for the Tucson community to learn the basics of making and appreciating art. Pima's Center for the Arts puts on events and shows for all members of the community to enjoy. 
After graduating from Pima, Saavedra transferred to the University of Arizona (UA) to complete her Bachelor of Fine Arts in 2-D Studio. "My training at Pima was so important to me and helped me succeed at the UA after I left," Saavedra shared. 
She graduated from the UA in May 2021 and is continuing to share her work both locally and internationally. Saavedra recently accepted a teaching fellow position at BASIS Elementary in Oro Valley. She plans to continue a career as an art teacher and will apply to graduate programs this year to get the education needed to teach at the university level. 
The Arts and Social Justice
At Pima, Saavedra also explored how art can spread awareness about social justice. 
Pima Arts focuses on social justice in its curriculum and exhibits. The Louis Carlos Bernal Gallery exhibits regional, national and international contemporary artists and sponsors a juried student exhibition each spring semester. While the gallery's exhibits focus on a variety of themes and topics, a commitment to showcasing art about social justice is a common thread.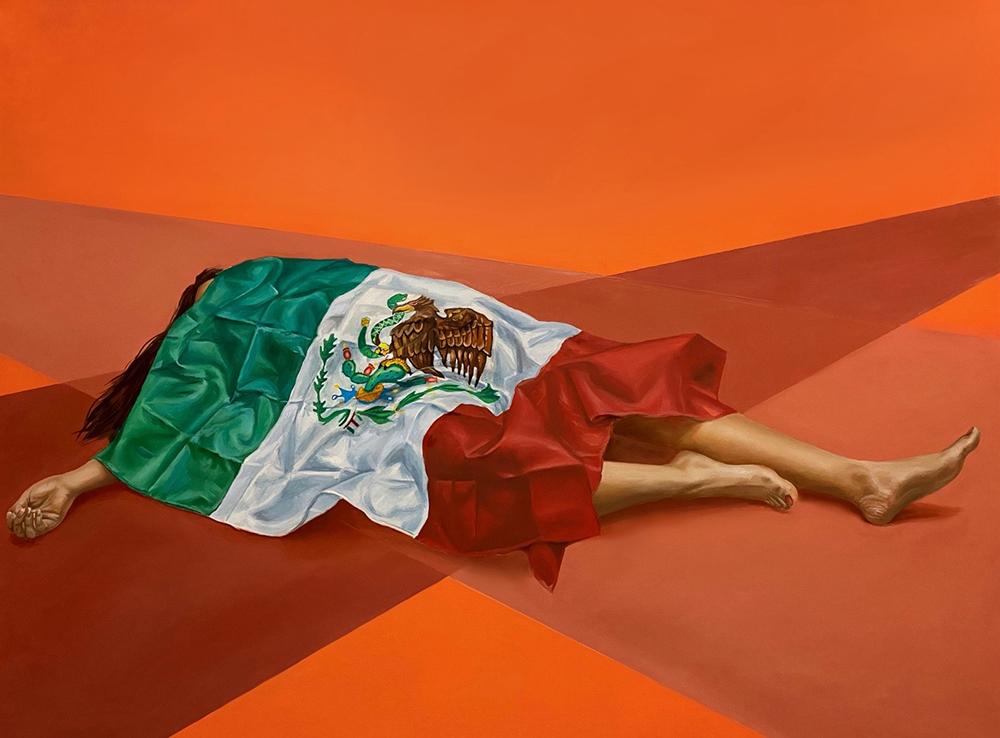 During her time at Pima, Saavedra not only worked on her own art and academic projects, she also assisted in the gallery.
Saavedra was the first student to receive the Louis Carlos Bernal Award for Excellence in Art during the 2019 Juried Student Art Exhibition.
As Saavedra developed the skills and confidence to push herself creatively, she followed the legacy of the Bernal Gallery and used her artwork to bring awareness to an issue that mattered to her: femicides in Mexico. 
A femicide is the killing of a woman or girl because of her gender. In 2020, it was reported nearly one thousand women and girls were murdered in Mexico, sparking protests across the country. 
The stories of victims of femicide continue to make Saavedra emotional. She recognizes femicides are a result of broader systems of sexism and sexual harassment that are not unique to Mexico. 
"Sexism happens everywhere and it has devastating consequences for women and girls that we need to address," Saavedra said. 
"…artists have a responsibility to make people aware…"
For her, producing art is a way to spread awareness and to process her own emotions about this difficult topic. Saavedra's art pays attention to the crisis and the stories of women. She addresses all forms of gender-based violence, including harassment and sexism in Mexico and the United States. 
Saavedra is a multimedia artist, which means she uses a variety of techniques and materials to create her work. In her paintings, she adds clothing, shoes and other materials to show how sexual violence is a real issue that impacts real communities.
"I believe artists have a responsibility to make people aware of what is happening in the world," Saavedra shared. "It's not easy to create work about such a heavy subject, but I know it's important to share these stories."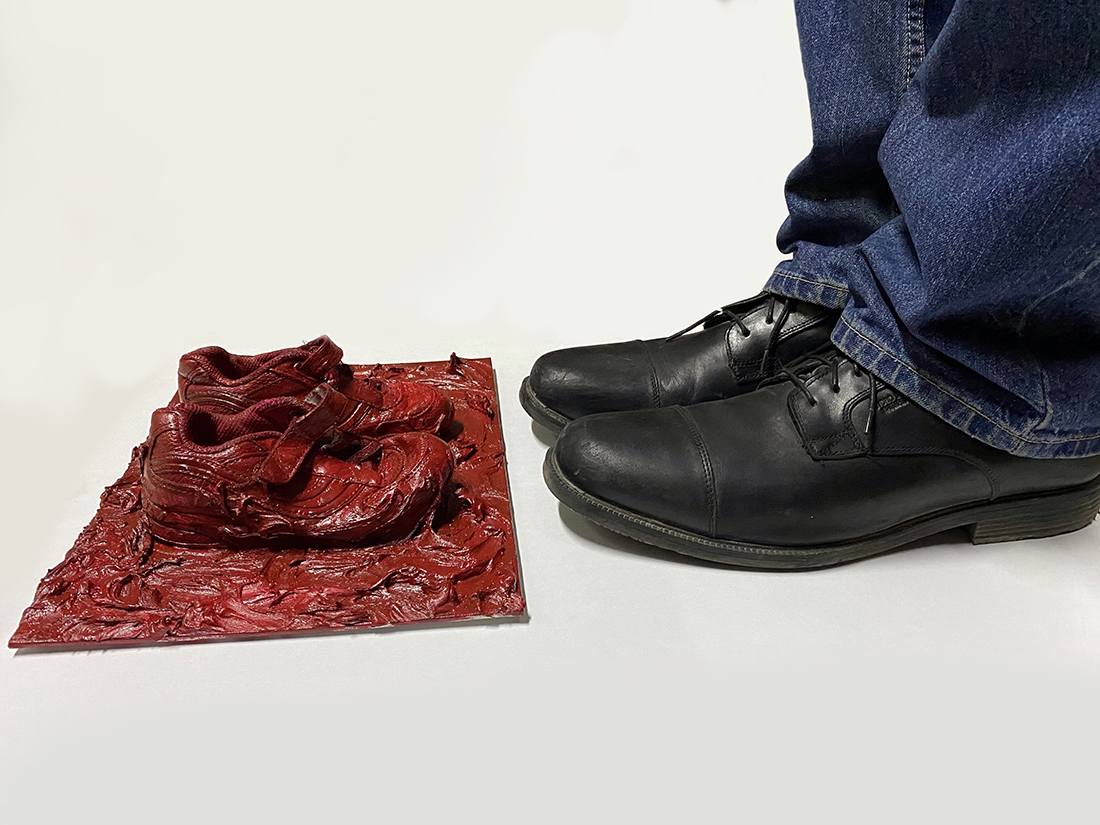 This commitment is paying off. Saavedra is currently exhibiting her work virtually in shows such as the University of Arizona BFA Show (2021), "Re-Imagine" at Pink Collar Gallery in the United Kingdom (2021), and "Re-Imaginar" at Las Iluministas in Mexico City (2021). Her work also appeared on the cover of the University of Arizona's Journal of Creative Geography, you are here. 
While the professional and artistic success has been exciting for Saavedra, she is learning how to take breaks from thinking about the difficult subject matter. 
"I've learned you can't be an activist all the time," Saavedra said. "I'm figuring out how to take care of myself while I do this work."
For now, Saavedra is taking each project as it comes: bold, important and bound to change the world.