Pima Nursing Student Uses her Training to Save her Grandmother's Life
Brianna Sandate used her nursing skills to step up during a family emergency. She comes from a family of Pima nurses.
Nursing student Brianna Sandate grew up with Pima Community College. 
A Tucson native, Sandate watched her sister go through the nursing program and continue onto a career at Tucson Medical Center. 
Through witnessing her sister's training, Sandate saw the support structures and opportunities Pima's nursing program provided and how these skills could be directly applied to help the community. 
"The more I watched my sister in the program, the more I fell in love with it," Sandate shared. "I knew there were so many options to explore a new career through the program."
When Sandate was ready to graduate high school, she knew she wanted to attend Pima for her next steps. 
"I always knew I was coming to Pima," Sandate said. "I wanted to get to know the instructors who had supported my sister's career."
Now, a year into the nursing program, Sandate is paving her own pathway as a student, community member and future nurse. 
Putting Lifesaving Skills to Use at Home
Sandate admires the real-world relevance of the nursing program. In her courses, instructors not only encouraged her to explore new academic interests, but to put her skills and training into practice while serving her community.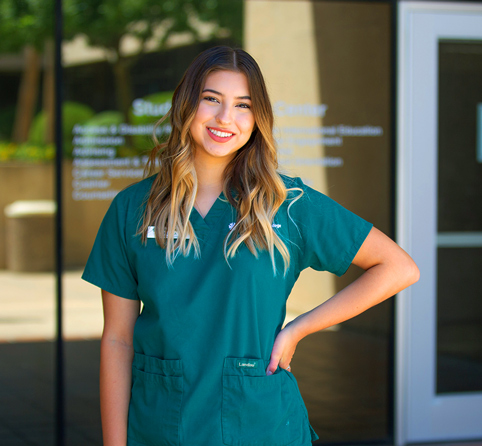 For Sandate, this training became personal when she used her nursing skillset to save her grandmother's life during a family dinner. 
At dinner, Sandate's grandmother began choking on a piece of her meal. While her family rushed to help and call an ambulance, Sandate knew she could help keep her grandmother alive while they waited for assistance.
She performed three rounds of CPR and was able to remove the choking object from her grandmother's mouth. 
"One of the first things we learned in nursing school was to focus on "ABC," or "airway, breathing and circulation," Sandate said. "I focused on that to help my grandmother breathe while we waited for the paramedics to arrive." 
Sandate's grandmother was able to fully recover after a two-week stay at St. Mary's Catalina Recovery Center. During the two-week stay, Sandate and her family were able to process what happened and come together to take care of one another. 
While the event was difficult for Sandate to witness, she is grateful she had the training and confidence to step in and help. 
She hopes others will do the same. "My CPR training focuses on skills everyone should learn," Sandate shared. "You never know when you will need to know what to do to help someone."
While Sandate's experience was the first of many experiences where she will be asked to help people, she learned an emergency setting may not be in her professional future.
"I think one emergency was enough," she shared, with a laugh. "I have to admit the emergency room might not be for me." 
From Pima to the Tucson Community
After graduating with her associate's degree in nursing, Sandate plans to continue onto a BA in nursing through Pima's concurrent enrollment program that partners with Arizona State University. Then, she plans to pursue a career in pediatric or neonatal nursing in Tucson, following the footsteps of her sister and many other Pima nurses before her. 
"I know Pima is doing everything they can to support us, and I still have so much more to learn,"  
Sandate speaks highly of Pima's nursing program and encourages those curious about the profession to apply. "Pima offers a more affordable program with just as much learning and experience as a four year program," she shared. 
Sandate also noted the program is an opportunity to build meaningful community.
Not only has Sandate learned invaluable skills that she has been able to put to use inside and outside the classroom, she has also made good friends and strong relationships with faculty, even during online courses in the pandemic. 
This semester, Sandate is able to learn in-person, and she is ready to take her next professional steps with in-person learning. 
"I know Pima is doing everything they can to support us, and I still have so much more to learn," Sandate said.
She continued, "I still have a lot of questions to answer about how I'll continue to build my skills, but I know I'm ready for whatever comes next."
Build Your Support System at Pima
Ready to pursue your next steps at Pima? You don't have to go it alone.
Whether you know what program of study you'd like to pursue or need support exploring academic and career options, Pima is here to help you make the professional decisions that are right for you.
Peer mentors create programming and support structures for first-year students to succeed while they explore their education. Learn how you can work with peer mentors to access resources and find community at Pima.