Former Pima Dance Student Takes Her Next Steps in New York City
Eva Schmidt took classes at Pima as a high school student. Now, she's ready to take on whatever comes next in a new city.
"Where else can I take the movement?," former Pima student Eva Schmidt asks with a smile in the documentary produced about her final dance performance at the College.
By 'movement,' Schmidt is referring to her unique hand motions in one of her semester performances. In the snapshot of her performance, Schmidt's hands are all angles. They create a daring contrast against her otherwise fluid dance moves.
As she discusses her hand movements in the documentary, Schmidt reflects on how she choreographed and produced this piece, showing the creativity she put to use by developing professional skills in Pima's dance ensemble course. 
For Schmidt, her question of where else she will take her movement is not only a literal question of how she will continue to learn new dance moves and styles. It is also a personal question about where her life will go next.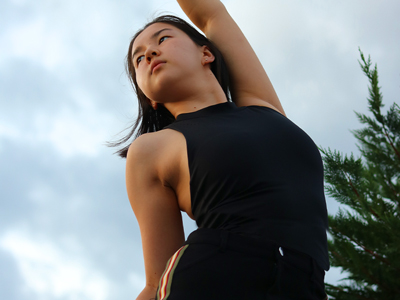 Schmidt produced and performed her dance ensemble piece at the end of the Spring 2021 semester. Now, she is in the midst of a transformative life change. She recently moved to New York City when a former classmate of hers needed a roommate in an open apartment.
While she had planned on starting school at Arizona State University this Fall, Schmidt decided to take a risk and move across the country to start a new life in the city. Now, she is taking a gap year to explore what's next, both academically and creatively. 
While her next steps are largely unknown, Schmidt is grateful for the creative start she got through courses in Pima's Visual and Performing Arts program. 
"At Pima, I learned each style is its own world, and I had the freedom to experiment in many worlds," Schmidt said of her time at the College. 
Looking back at her time at Pima, Schmidt shared how she was able to take advantage of college courses as a high school student to get a head start on her creative and professional career. 
Getting Involved in Pima Dance
Schmidt was born and raised in Tucson. While at Tucson High School, she began taking dual enrollment courses to start earning college credit while she was still in high school. 
When her high school went online during the COVID-19 pandemic, Schimdt was able to get creative with her learning and build upon her experience taking college courses through dual enrollment. 
She decided to take general education courses at Pima while finishing her remaining high school credits. General education courses at Pima can help you get ahead on an associate's or bachelor's degree. They can also help you complete your Arizona General Education Curriculum (AGEC), which is a series of courses that transfer for college credit within the state of Arizona.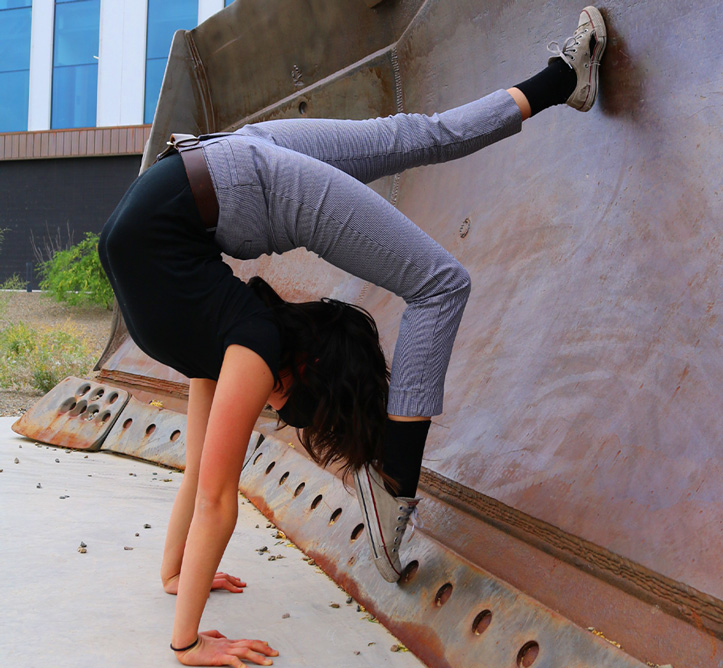 While completing college courses, Schmidt came across a call for auditions for Pima's dance ensemble. They were hosting auditions for a Spring dance performance course. 
After a year of staying home due to the pandemic, Schmidt figured the dance ensemble would be a great opportunity to meet new people and continue her passion for dance, which she had started as a young girl. 
"I wanted to dance in college and get that experience," Schmidt shared. "I thought it was a way to get out of the house and do something new."
Pima's Center for the Arts puts on dozens of student-led shows each semester, including musicals, instrumental performances and dance ensembles. Ensembles are open for all Pima students to audition and are an encouraging place to explore new artistic interests. 
LeighAnn Rangel Sotomayor, Pima's Center for the Arts Manager and Dance Discipline Lead, shared how the dance program has persevered to support students and put on engaging programming for the community.

"The pandemic has certainly been challenging for our dance program because it caused a decrease in enrollment. However, it also brought about many opportunities. We were able to explore dance in alternative spaces including dance in the digital space which we will continue to explore in the future," Sotomayor said.
She continued, "The pandemic also created a special opportunity for Eva to join our program as a high school senior during the Spring semester of 2021. She came to us with an abundance of positivity, professionalism and creativity, as well as talent."
"Eva, as well as her classmates, and the director of dance ensemble, Nolan Kubota, really dove into some uncharted territory for Pima Dance and helped set the course for innovation and possibility for the future."
Building Community by Creating Art
For Schmidt, the dance ensemble ended up being a more intimate and collaborative experience than she could have imagined. 
Because there were only three students in the class, each student had the freedom and support to explore their own creative interests. 
"We had so much freedom but always knew we could ask for help when we needed it," Schmidt shared.
She continued, "Our instructors told us, 'Just go. Just create.' Even though this was intimidating at first, this mindset pushed us to truly experiment in our art."
"At Pima, I learned each style is its own world, and I had the freedom to experiment in many worlds."
Through the course, Schmidt and her peers were also able to develop a variety of professional skills. Not only did they perform in their ensembles, they also directed the lighting, choreography and stage design. 
Over the course of the semester, Schmidt's work took an unexpected direction. She embraced humor in her work, developing characters and storylines designed to make the audience laugh throughout the performance. 
She found humor not only in how she was able to express herself during her performance, but also in how she filmed her work. Throughout the documentary, Schmidt describes her work with generous smiles and laughter. There is a clear joy in her approach to dance. 
Under the direction of Digital Arts student Abigail Sierra, each student also produced a documentary about their experience in the program. For her work on the documentaries, Sierra won a prestigious digital arts award.
Through the process of embracing unexpected humor, Schmidt learned to be open to things not turning out the way she thought they would.
"Visions always change. They can start in one place and change to another place. I've learned how to follow the vision, wherever it takes me," she shared.
This advice is holding true in Schmidt's personal and professional life as well. While Schmidt is unsure of what comes next, she knows coming to New York is opening her to new possibilities that will build upon the creative and professional training she received at Pima. 
"It feels right to be here," Schmidt shared. "I get to see how I want to be out in the world."