New Automotive Technology & Innovation Center Will Train Next Generation of Automotive Techs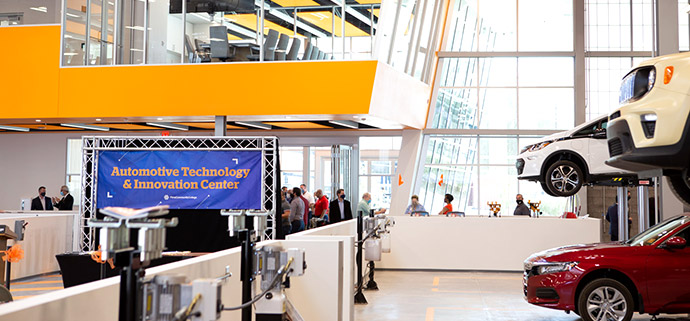 The much anticipated Automotive Technology and Innovation Center on Pima Community College's Downtown Campus officially opened with a ribbon cutting ceremony on May 18, 2021.
The two-story, 50,000 square feet Center will support programs in diesel, electric and autonomous vehicles and increase training for specific brands, such as Ford, Fiat-Chrysler and Subaru.
The Automotive center is the first completed structure of the Center of Excellence for Applied Technology, one of the Centers of Excellence being developed by the College.
Pima's Centers of Excellence pair state-of-the-art facilities with industry partners and expertise to prepare students for current and future careers. Centers are being developed in Applied Technology, Information Technology, Health Professions, Public Safety & Security, Hospitality & Tourism, and Arts & Humanities.
The Centers will provide hands-on, professional opportunities for students and help fuel Tucson's economic growth.
What is Automotive Technology?
From the thousands of Tucsonans commuting to work each day to the infrastructure that makes public transportation possible, automotive technology is at the very heart of our everyday economy and way of life. Automotive technology is a program of study that focuses on the technology and mechanics of transportation vehicles.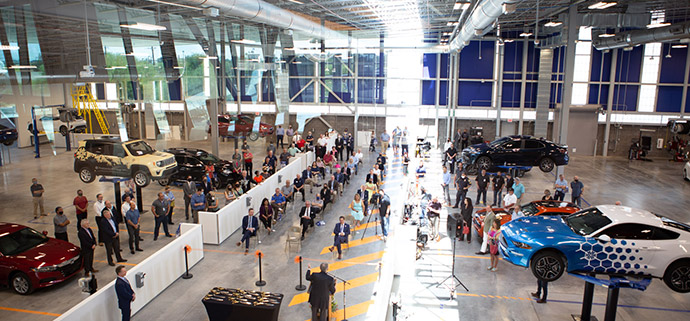 Automotive techs repair and improve vehicles or machines, including cars, tractor-trailers, and more. An automotive technology degree is a step towards a career in this field, whether as a dealership manager, mechanic, salesperson or specialist focused on improving the future of automotive technology.
Pima's automotive technology programs cover everything from engine diagnosis and repair to electrical fundamentals, to steering, alignment and brakes. Automotive technicians who complete a two-year Automotive Technology Associate degree earn over 20% more, on average, than a technician who does not.
Careers in Automotive Technology
Pima's new Automotive Technology and Innovation Center has the cutting-edge technology and training resources to prepare Pima students for a career in automotive technology. The center looks similar to the service department at a car dealership, including cars on lifts and areas to work on vehicle tune ups.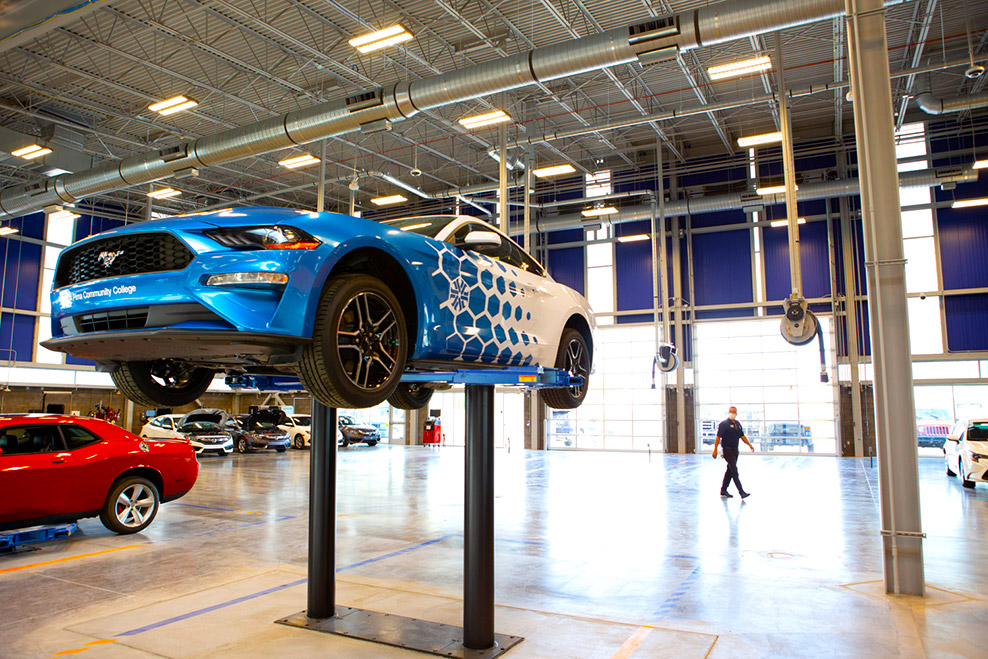 The center will provide real-world experience to the next generation of auto technicians. "This facility, developed in partnership with industry, will help ensure that students are prepared for high-quality, high-paying jobs in Pima County and the surrounding region," PCC Chancellor Lee Lambert said.
"It will play a key role in our area's economic recovery and growth by setting the standard for automotive education."
Jim Click of Jim Click Automotive Team in Tucson has long awaited opening of the facility, which will help fuel his workforce.
"I am grateful to Pima for not only what it will do for my technicians but for all of our technicians," he said, noting the other auto dealers.
On a national scale, Pima's newest facility is among the best.
"Pima Community College's Centers of Excellence will continue to create a long-lasting generational impact for Pima County's students, families, community and future workforce," said Roger Tadajewski, Executive Director of the National Coalition of Certification Centers, which supports technical education.
"These state-of-the-art facilities elevate the look, feel and vision of a career and technology education which is important to promote the professionalism of skilled trades across Arizona and nationwide."
Start Your Education Today
Whether you're ready to start a new career or improve the skills you already have, you can start your education at Pima today.
Not sure where to start? Explore classes or talk to an advisor to learn more about enrolling in a Pima program.