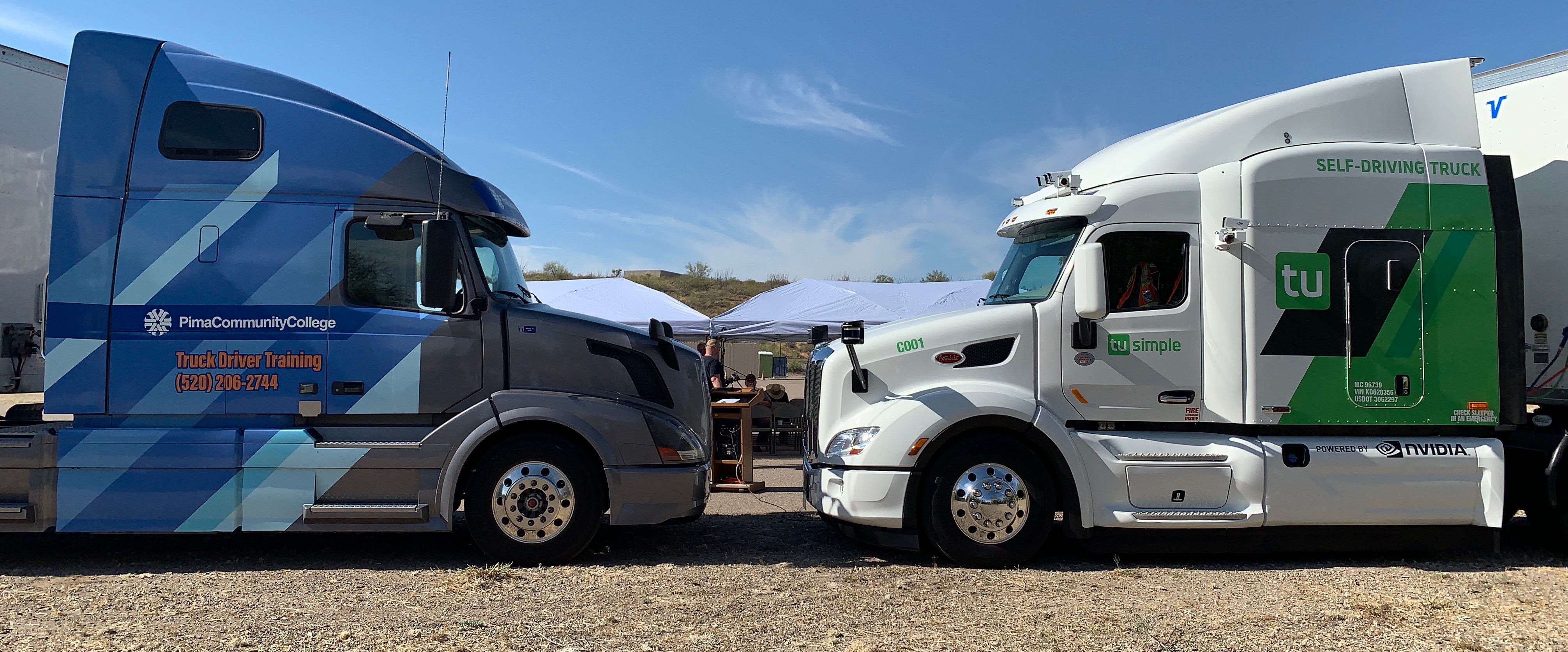 Pima Graduate Looks to the Future of a Changing Trucking Industry
This semester, Pima celebrates Rick Peña, the first graduate of Pima's Autonomous Vehicle Driver & Operations Specialist Certificate Program.  
After almost two decades driving on the open road, Rick saw the future of the trucking industry was changing. Major trucking and shipping companies like TuSimple and UPS are developing autonomous, or self-driving, trucks to improve the efficiency and safety of truck driving. 
The new technology of autonomous trucks inspired Rick to enroll in the certificate program. Pima classes gave him the opportunity to learn about the technology of self-driving trucks, like the trucks' sensing capabilities that help them adapt to changing road conditions and know where they are on the road. 
Long-Haul Truckers Face a Job Transition
As more autonomous trucks hit the road, job opportunities in the trucking industry are changing, too. There are currently 2 million long-haul truck drivers in the US. As industry leaders pioneer automation, there is concern long-haul truck drivers will lose their jobs. 
But, Rick suggests there is a lot of misinformation about the impact of automation on truckers' jobs. Automation doesn't get rid of the need for drivers or workers with trucking experience. Workers will also be needed for other trucking-related tasks, like loading, customer service, and logistics coordination. 
Also, self-driving trucks that are already on the road still need co-pilots. As Rick puts it: "I think there's a misconception about automation. It's not a job loss, but a transition." He continues, "The analogy I use with my family is that airplanes have always been autonomous, but they still need pilots. Autonomous trucks need truck drivers to know the system and understand the added technology and sensing devices."
Industry leaders like TuSimple also say their autonomous trucks can address other safety and well-being concerns in the trucking industry, like long hours behind the wheel, dangerous and unpredictable weather conditions, and exhaustion. 
While automation often gets linked with job losses, Rick understands new technology could make a world of difference for drivers: "You're out there on the road and you're driving long haul and always concerned about safety on the road, and the new technology offers a safer working environment for truck drivers, reducing deaths and injuries for everyone on the road."
Pima's Autonomous Vehicle Driver & Operations Specialist Certificate Program
While Rick may be the Autonomous Vehicle Driver & Operations Specialist Certificate Program's first graduate, he won't be the last.
The certificate program offers several courses that can prepare drivers for different jobs in the trucking industry. The program is designed to help transitioning truck drivers gain the skills they need to adapt to the changing industry. The certificate program has classes on how to interact with self-driving vehicles, the basics of computer hardware components, electrical systems, safety, health and environmental regulations, and domestic freight transportation. The program can prepare drivers for a career as an autonomous commercial vehicle driver trainee, co-driver or operations specialist.
Learning about the skills needed to succeed in the autonomous trucking industry has made an impact on Rick, and he hopes other drivers will consider taking Pima courses to develop new skills. He says, "Truck drivers out there need this continuing education to make the transition."
After working as a long haul truck driver for the last 17 years, Rick has applied to work at TuSimple's testing and development center in Tucson. He is enjoying being home with his 13-year old daughter and is excited about his future career in autonomous trucking. 
Continue your Education at Pima
To learn more about the autonomous trucking certificate program and other trucking programs at Pima, contact the Center for Transportation Training Office at (520) 206-2744 or truck-drivertraining@pima.edu. 
In a post-pandemic world, industries need employees with all sorts of skills and experiences. Explore
Pima programs
to take the first step in continuing your education.