WUE & New Mexico-Arizona Agreement
Western Undergraduate Exchange (WUE)
PCC participates in the Western Undergraduate Exchange (WUE). Through WUE, residents of 14 Western states can enroll at PCC at a reduced tuition rate, 150% of PCC's in-state tuition.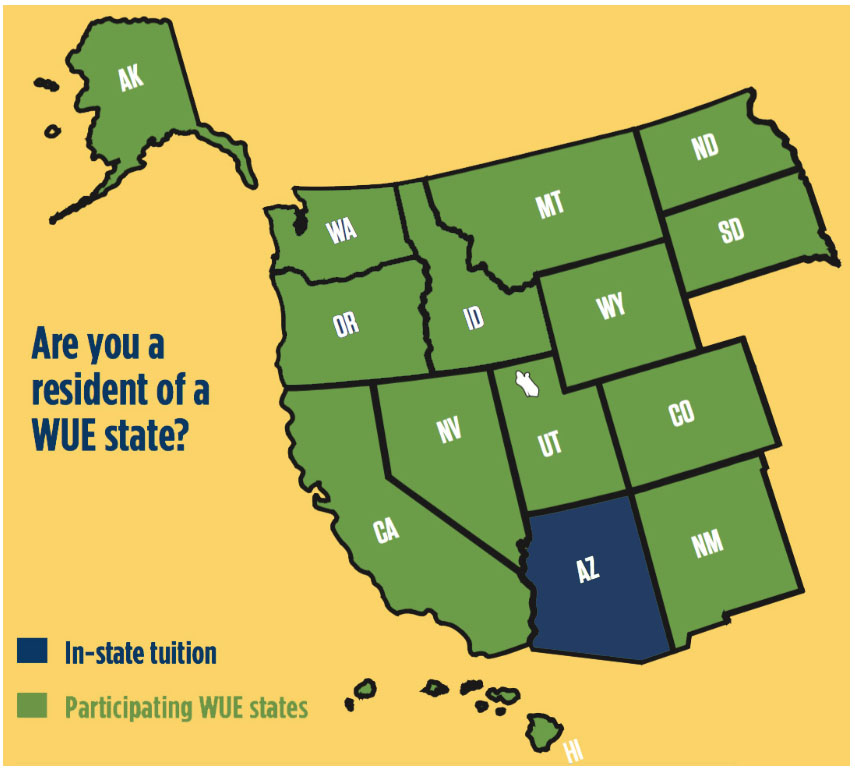 Participating states
Students residing in the following states can attend PCC through WUE:
Alaska
California
Colorado
Hawaii
Idaho
Montana
Nevada
New Mexico
North Dakota
Oregon
South Dakota
Utah
Washington
Wyoming
How to participate
Note:  You must maintain your residency in your home state.  This is not a path to Arizona state residency.
Apply for admission

 

to PCC. Indicate your correct residency status (out-of-state).
Complete a WUE application.  The application is also available at any Campus Student Services Center or from the WUE Coordinator by calling (520) 206-4640
For additional requirements

WUE is coordinated by the Western Interstate Commission for Higher Education, which maintains an

 

FAQ.
Contact PCC admissions:  (520) 206-4640
---
New Mexico-Arizona Tuition Reciprocity Agreement
PCC and four other Arizona community colleges offer selected students who reside in New Mexico enrollment at PCC with Arizona in-state tuition rates.  We are able to do this through a reciprocity agreement with the New Mexico Higher Education Department.
The agreement limits the number of students from New Mexico that PCC can accept, and gives preference to residents of Grant, Hidalgo and Luna counties.
How to participate
Note:  To participate, you must maintain your New Mexico state residency.

For additional requirements:

Contact PCC Admissions at (520) 206-4640.