Brain Puzzles to Arcade Games: Creativity Knows No Bounds at East Campus Makerspace
Marc Vaughn, 2021 Computer Science graduate, found creativity in tech at the East Campus Makerspace
By Kanika Samra, External Relations
Mark Vaughn, recent Pima graduate not only earned an Associate of Science degree majoring in Computer Science (CS) in Fall 2021 but explored his creativity while working at the East Campus Makerspace. Returning to college more than a decade after high school, he didn't quite know what he wanted to pursue. But after working myriad jobs, each with its own tech environment, Marc knew two things – he had a fledgling interest in technology, and he was ready to skill-up. An advisor at Pima suggested enrolling in programming classes to explore his interest. That was then. As of Fall 2022, Marc has successfully transferred to the University of Arizona, Tucson to pursue a bachelor's degree in CS.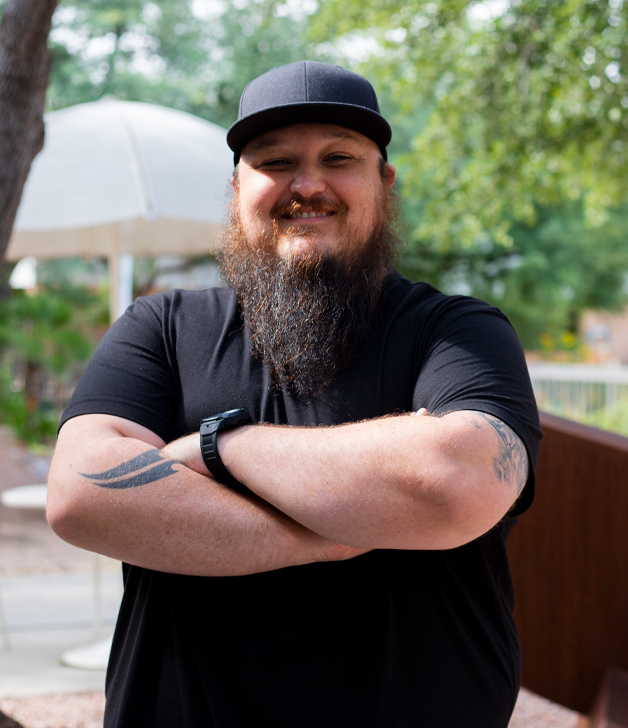 When in 2018 he first enrolled in programming courses, they were challenging but in a good way. The problem-solving aspect kept him engaged. He says, "I had so much fun that semester, that I changed my degree and applied for a job as a tutor in computer science and tried to get as involved in technology as I could." Before working at the Makerspace, Marc spent close to three years tutoring students in CS essentials such as Java and Python. Moving on to a role at the Makerspace in Fall 2021 was a natural extension of his interest in all things tech.
Student workers at the East Campus Makerspace work as facilitators who enable, "connection between our patrons and the equipment that we have in here", said Marc. Nina Corson, Campus Vice President, East Campus expanded on the goal and purpose of the space. "There are really two components. It's a space that provides tools and technology for our faculty to integrate into their learning. And we keep it open for students to explore, create and innovate on their own."
As an example, a psychology faculty teaching students about the human brain had their class come to the Makerspace to draw and then print out a puzzle of the brain using the wood and laser cutters. In such ways faculty can make tangible models to integrate into their lessons to better explain a concept.    
The East Campus Makerspace came into being with the help of an HSI (Hispanic Serving Institution) grant. Since the end of that funding in 2021, the campus has collaborated with the library to keep the Makerspace going. Nina Corson says, "libraries are becoming much more than books and quiet reading spaces. And so, we've partnered with the library, and they are taking over direct oversight after the grant. We've ensured they have a healthy budget. It's really a partnership between the campus and the library."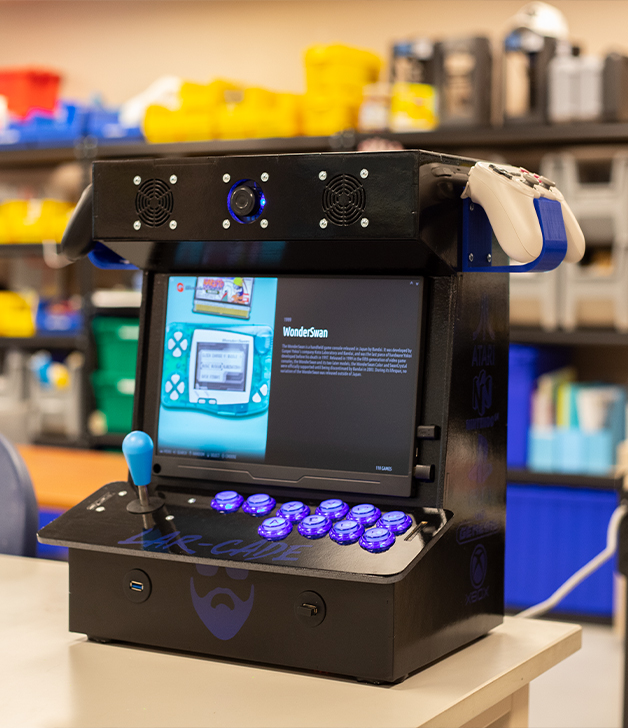 Marc credits his time at the makerspace for furthering his interest in CS and the creative potential of the field. As a facilitator/technician, he first taught himself how to use the wide array of tools available: 3D Printers and Pens, Laser Cutter, Soldering Stations, Vinyl Cutter, Raspberry Pis, JamBoard and more, before orienting and helping others. In his pursuit for continuous learning, he began a project using Raspberry Pi to make a tabletop gaming console in Winter 2021. Marc wanted to integrate varied Makerspace technologies into the project while challenging himself to successfully program a Raspberry Pi to load thousands of video games. True to his mission, he ended up using the laser cutter, vinyl cutter and 3D printers to custom build the tabletop console which he's christened "The Larcade". 
In spring 2022, Marc was felicitated as the East Campus Student Worker of the year.
From starting school at age 32 to finding a passion for technology, Marc says, Pima never made him feel like a "non-traditional" learner even though that is a common tag for older students.
His message to anyone contemplating a change is that "it really is never too late to change your life and, go down a different path. The education system is set up for success at multiple different levels. I mean, anybody can do it. That sounds super cliche and it is, but it's true."