Create Your Future
Former Military Medic and Nurse, Annette Perkins pursues new opportunity in Pima's HIT Program
Annette Perkins is a career-changer who found Pima's online Health Information Technology program to be a perfect fit for her experience and life.
Perkins On Her Career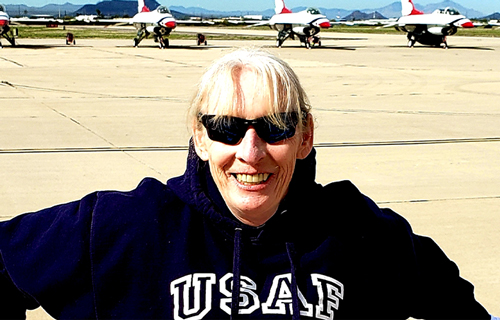 Annette joined the U.S. Air Force in 1985 and served 5.5 years as a Staff Sergeant and medic. She was deployed to Panama, and to three Middle Eastern nations during the first Persian Gulf war.
Annette became a registered nurse in 1993, after graduating with honors from the University of Arizona. During her career, she specialized in critical care and pediatric case management. She's proud of her nursing career, but after 35 years, "you get to a point where you're ready for a change." 
On Her Experience at Pima
Annette lives in northern Arizona, between Williams and Flagstaff. As "commuting is not fun in the winter," she began researching online education programs that would play to her experience in healthcare. "Pima's online program has been a really good fit."
Attending Pima full time, Annette graduated from Pima with a 4.0 GPA, a degree in Health Information Technology and an Honors certificate. She is currently seeking employment in the field and is an embedded tutor helping students in Pima's HIT program. "I'm here for (the students)to be successful in their college experience . I've been there."
What do you like about medical coding?
 "It's interesting to transfer what a patient is experiencing into a set of alpha- numeric codes. Medical billing and coding has its own language. In medical coding, the coder must review a medical chart, and discern the exact code that describes the encounter for purpose of correctly billing the encounter."
What advice would you give students considering Pima's program?
"I really enjoyed the autonomy of the HIT program, and the close-knit group of knowledgeable and helpful instructors." 
"Some people may expect one-on-one education with their instructors. Student's need to understand that as an online student, the responsibility and direction of their education is on the student. I really enjoyed the autonomy of the HIT program, and the close-knit group of knowledgeable and helpful instructors! Some instructors received emails from me on daily! My motto is 'Learning is forever.'"
Program Director Kelly O'Keefe on Annette and the HIT program:
The Health Information Technology (HIT) programs provide the support all students need to be successful. Students with all levels of experience can be successful in obtaining the Medical Billing and Coding Certificate and/or the Associates of Applied Science in HIT. 
Our students are JTED high school students, recent high school graduates, first-time college students, returning college students, and health-related professionals looking to change careers or advance in their current careers. This online program is designed to meet the needs of our students. Experienced faculty and industry professionals give students the attention needed to be prepared for professional certifications in this field. 
Annette Perkins came to Pima as a Registered Nurse with 35 years of experience. She brought her knowledge of healthcare into our program with ease and graduated with Honors. Annette is only one example of how students from all walks of life can excel in the world of HIT!
Explore your Next Career at Pima
Want to make a career switch but not sure where to start? Take advantage of Pima's resources to identify and gain insight into your interests, skills, values, personality and other factors that help you choose a major and set career goals.
Ready to start your next career path at Pima? Apply Now