Pima Students Present Creative Solutions to Social Justice Issues in Design Challenge
The first ever Design Challenge brought together students and faculty mentors for a two-day virtual event.
Every solution to today's problems starts with dedicated research, empathy and collaboration.
Pima's first ever Design Challenge is no exception.
Organized by Student Life, the Design Challenge invited students to present creative solutions to a social justice topic in the Tucson community and share their solutions in a two-day virtual event during the weekend of October 8th.
With the Design Challenge weekend successfully behind them, Challenge participants and Pima students Taylor Gantz, Nicole Martinez, Allie Clemens, Ana-Isabella "Izzy" Madril and Cole Dunleavy share their experience participating in the Design Challenge and how the challenge prepared them to continue to work for social change.
About the Design Challenge
The Design Challenge is an opportunity for students to come together to brainstorm solutions to social justice issues in our local Tucson community.
For this year's challenge, students were placed in groups with a faculty mentor and given one topic to focus on for their research. Throughout the two-day event, the teams used design thinking strategies to come up with a creative solution to a problem that affects our community locally in Southern Arizona.
No prior experience with design was needed and any student taking at least one credit at Pima Community College (PCC) was eligible to sign up.
At the end of the event, groups gave short presentations in the format of their choosing. Local community partners served as judges for the event and three groups received some amazing prizes.
Students Come Together to Present Solutions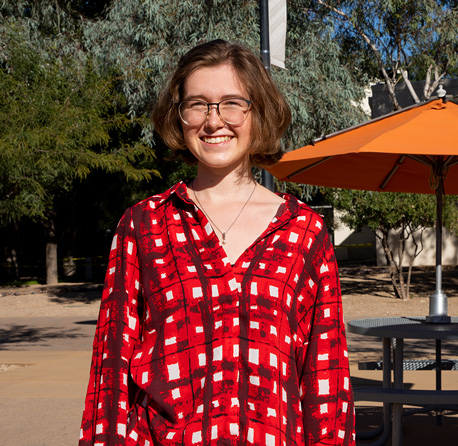 This year's Design Challenge projects focused on several social change issues: Gender Equality, Quality Education and Clean Water and Sanitation.
For many of the participants, there was a personal connection to the issues they addressed in their presentations.
"My passion for this issue is connected to my own experience," shared Taylor Gantz of her work on the Gender Equality team.
Her teammate, Nicole Martinez added, "I have walked around campus as a woman and know what it feels like to not know whether it's safe. I wanted to talk about this issue because we deserve to feel safe and to find solutions."
"I wanted to talk about this issue because we deserve to feel safe and to find solutions."
Gantz, Martinez and their Gender Equality teammate drew from their personal experiences to focus on building community for students walking around campus at night. To address safety on campus, the team proposed an app that would connect students with other students walking around campus as night. That way, students could find companions to walk to parking garages and other locations on campus together.
The General Education team also took a personal approach to their research. As graduates from Tucson-area high schools, Allie Clemens and Izzy Madril have seen first hand the disparity in funding for different Tucson school districts. The team focused their project on how to more equitably distribute school funding.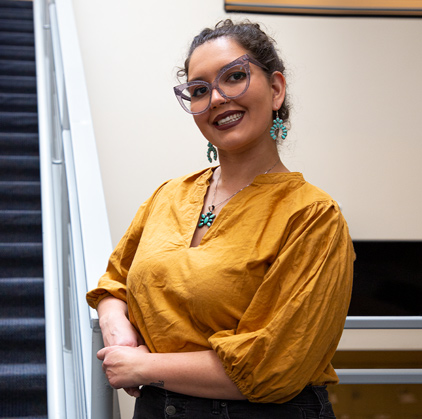 Through their research, they learned that not only do many schools face a lack of funding, but also that funding is unequal across schools in Tucson since it's dependent on test scores and academic performance.
"Our team looked at the issue of education from all perspectives and noticed that a lot of the inequality came back to funding," shared Madril.
"We wanted to do research that considered the issue of funding from all perspectives. This challenge pushed us to think about multiple perspectives and to go in-depth on the topic of school funding before thinking about solutions," Clemens added.
The Quality Education team's work won't stop with the Design Challenge. Their next goal is to create a club on campus for students to advocate for equal education funding. They want to develop relationships with city and state legislators to continue to make change in Arizona's school districts.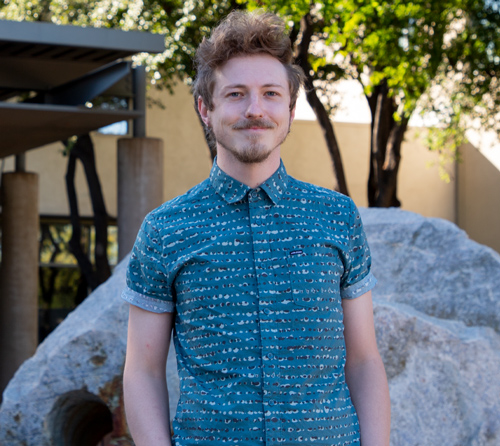 Finally, Cole Dunleavy's interest in climate change drew him to the Clean Water and Sanitation team. He knew this focus would give him the opportunity to learn about a new topic within the broader climate change issue and help connect him with other students who shared his passion.
"I joined the Design Challenge because I wanted to meet like-minded students who care about social issues," shared Dunleavy.
He also got to draw upon his education and skills as a graphic designer during the challenge.
"I created the design of our team's final slides," he said. "It was a good opportunity to put the skills I'm learning in the classroom to use for our team, and I think the slides turned out really well."
Plans for Future Design Challenges
While each team tackled a unique issue, the Design Challenge was an opportunity to build new community, develop communication skills and learn how to research complex problems to develop solutions.

Pima staff hope this is the first of many Design Challenges to come.

"I was consistently amazed by the enthusiasm showcased by the students in the Design Challenge. There was no hesitation in their pursuit of solutions for a better world," Victoria L. Vertein, the Assistant Program Manager at the Desert Vista Learning Center, shared about the experience. 

"Their curiosity, dedication, and inclusive spirit was evident at every step in the process: how they embraced the challenge, how they thought about and addressed the problem, how they worked together and how they supported each and every participant."
"I am so honored to have been a part of this inaugural event and look forward to many more social justice Design Challenges in future," she concluded. 
Explore Student Life at Pima
Ready to get involved at Pima?
PimaEngage
is your one-stop hub to explore all information about student activities and clubs on campus.
Learn how Pima clubs invest in both students and the community and how you can use PimaEngage to
find a student activity
that's right for you.