New Online Platform, PimaEngage, Helps Students Get Involved at Pima and in the Community
The past 18 months have redefined how we show up and care for one another.
Connecting with people during the pandemic has often been determined by all the ways we've tried to keep each other safe: staying 6-feet apart, wearing masks and getting all-too-familiar with Zoom. 
While Pima students, faculty and staff must continue to take precautions to keep our community safe, Fall semester brings more in-person class options and support services.
Student clubs are also planning to welcome new and returning students back to campus. Getting involved in a club or activity can be your first step toward building community here at the College— both in-person and virtually. 
Getting involved in a club offers many benefits. You can find people with common interests, explore new ideas, attend social events and expand upon the skills you're developing in your Program of Study. 
Now, Pima has a one-stop hub where you can explore student clubs and upcoming events. PimaEngage is the College's new online platform that hosts all information about student activities on campus. 
Learn more about how Pima clubs invest in both students and the community and how you can use PimaEngage to find the student activity that's right for you. 
Pima Clubs Invest in the Community
Pima supports dozens of student clubs to help students embrace their interests and find their people. Pima clubs serve a wide range of interests and values, from architecture to gaming to diversity and inclusion.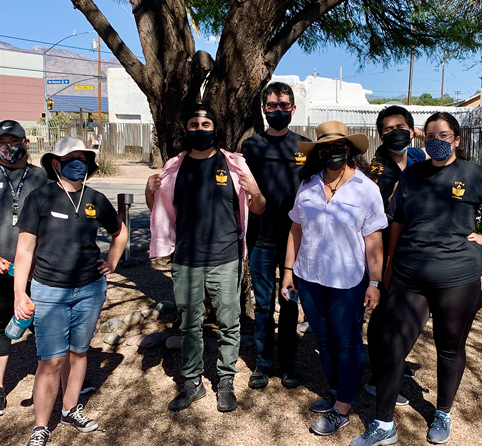 One of the most prominent student activities on campus is the Honors Program. While the Honors Program does have a focus on academics, its broader goal is to create a sustainable network of students who advocate for the well-being of the broader Tucson community. 
"Our focus is on serving the community. Our dream is that our program becomes part of a network that creates sustainable opportunities to get involved, both during and after your time at Pima," said Kyley Segers, an Honors Program advisor. 
Through the program, students execute community service and leadership projects based on their interests. Students have the independence and support to start their own projects, developing skills and putting them to use in their own passion projects. 
Pima students have taken these projects and run with them. For their project, students Max Luevanos and Juan Lizarraga started a Pima-focused podcast, Peanut Butter & Jazz, in Spring 2021. Peanut Butter & Jazz provides updates on Pima events and showcases interviews with student leaders and faculty advisors.
Through their show, Luevanos and Lizarraga highlight Pima resources that put students first. They've created episodes that range from exploring how Pima's TRiO programs support low-income and first-generation students to interviewing the founder of Pima Love Notes, a club dedicated to delivering support letters to seniors in the community. This upcoming year, they will partner with PCCTV to expand the production quality and scope of their show. 
In addition to hosting events on campus and supporting student projects, the Honors program helps students refine their applications for competitive local and national scholarships.
Pima Community College has produced several national All-USA Academic Team scholarship recipients in the last few years. The All-USA Academic Team scholarship is a prestigious scholarship for community college students sponsored by the honors society, Phi Theta Kappa. 
"

The biggest goal of Honors is to help students lean in and get involved in their college and community.

" 
Segers knows the transformational impact these projects and scholarships can have for students beyond their time at Pima.
"The biggest goal of Honors is to help students lean in and get involved in their college and community," Segers shared.
"Unfortunately, many students doubt they belong in Honors or think it isn't for them. Even many of our most passionate students who have gone on to win national scholarships and awards started out afraid that they weren't a good fit for Honors."
She continued, "One piece of advice that our students always share with new members is for students who are curious about the program to try us out, come to a meeting or an event or contact a Campus Honors Coordinator to open the door. Honors is here to support you as you pursue your passions and discover your potential!"
Get Involved with PimaEngage
One challenge to helping students get involved has been the lack of a consolidated place to host event and program information. To get the word out, Segers has depended on creating and sending out her own newsletter, which are time-intensive to produce and may not reach new students looking to get involved. 
For advisors like Segers, Student Life's new PimaEngage platform is a game changer. PimaEngage is an online resource that shares upcoming student events and information about how to get involved on campus. It is a hub to discover unique opportunities to get connected at Pima.
On the platform, you can find contact information for Pima clubs, explore upcoming events and track your involvement at the College. Pima's Student Life coordinators also hope PimaEngage will be a place where students can share stories about getting involved at Pima. 
"I like that the [club] officers are identified because it makes it more personal for the new students to see who they can turn to for questions," said Pima Honors Officer, Savannah Todacheenie.
The platform makes visible the people who make student clubs possible, which is crucial to helping new and returning students alike find a community who shares their interests. 
While PimaEngage has only been live for a few weeks, it is already making a positive impact on students' ability to get involved during their time at the College. The platform will continue to transform how we show up and care for one another this semester and beyond.