How to Find Financial Aid and Scholarships at Pima
Investing in higher education is a big decision. From choosing a program of study to finding classes that peak your interest, there are several questions to consider when deciding what higher education pathway is right for you. 
One of your biggest questions is likely how to afford the cost of college.  
Community colleges are known for offering more affordable tuition than 4-year public or private universities. Starting a bachelor's degree at Pima costs $4,000 on average, compared to an average of $23,000 at the University of Arizona, Arizona State University or Northern Arizona University. 
$4k 

First two years cost to start on a bachelor's at Pima
Whether you continue on to a bachelor's degree or find employment after earning an associate's degree or professional certificate, Pima's affordable tuition could be the key to you successfully completing your education. 
Yet, while Pima is more affordable than 4-year public and private universities, the cost of college is still an investment that requires financial planning and support. 
Pima has a variety of financial aid and scholarship resources to help you afford your education. In fact, 70% of Pima students receive some form of financial aid to cover their cost of attendance.
To help you access all the financial aid resources Pima has to offer, we've compiled a list of tips and resources to connect you with financial aid opportunities that will help you successfully complete your Pima education. 
Start Your Financial Aid Search Early
The best way to take advantage of scholarship opportunities is to start looking early.
Many scholarships have specific eligibility requirements. Knowing the eligibility requirements early on is an advantage. It gives you time to plan out your scholarship applications and find scholarships that fit your background, interests and education goals. Some community service-focused scholarships that emphasize volunteering are open for students as young as 13 to apply.
Beyond scholarships, it's also a good idea to research other financial aid and cost-saving opportunities your college has to offer. 
At Pima, the Financial Aid office has created a list of steps to help you to apply for financial aid.
If you are a veteran or military student, current and former members of the U.S. Armed Forces and their dependents may be eligible for Military and Veteran Benefits to assist with the cost of college. Pima's Military and Veterans Services Office can help you learn about your benefits before you apply to Pima. 
If you have extensive work or prior learning experience, you may be eligible to earn credit for prior learning, which would eliminate the need to take classes that cover content you've already mastered. This means you can skip taking—and paying for—classes that cover what you already know, while still receiving equivalent credit. 
Complete the Free Application for Federal Student Aid (FAFSA)
The Free Application for Federal Student Aid (FAFSA) is the form you need to complete to receive any financial aid from the federalgovernment that can help pay for college.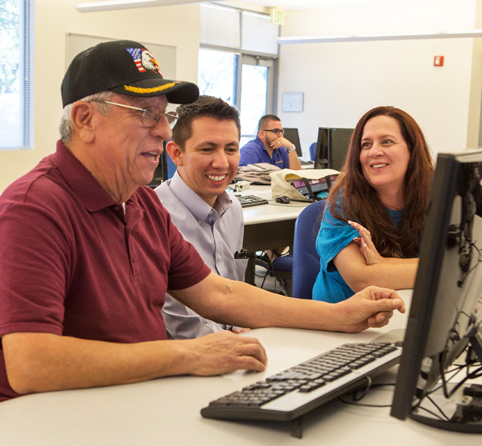 While you need to complete the FAFSA to earn federal financial aid, many scholarships and grants also require a completed FAFSA, even though they may not consider your family income when they award aid like the federal government does.
To learn more about the different types of aid, including grants, loans and work study, check out our Types of Aid page for more information. 
Explore ScholarshipUniverse and Institutional Scholarships
Starting a scholarship search can feel overwhelming, especially with the high number of opportunities available on the internet.
Many national scholarships are competitive and receive thousands of applications. These opportunities are worth applying to, but we also recommend starting your scholarship search locally to give yourself the best chance to receive scholarship aid. 
To help you get started on your scholarship search, Pima runs the scholarship search tool ScholarshipUniverse and offers several scholarships exclusively for Pima students. 
ScholarshipUniverse
Pima's scholarship search tool, ScholarshipUniverse, is designed to help you find scholarship opportunities that are right for you.
If you are not currently a Pima student, you can explore the public listing of available scholarships to see what opportunities are currently available and plan your applications. 
Pima offers over 18 scholarships specifically designed for Pima students. 
After you've applied to Pima, you can use ScholarshipUniverse to keep track of upcoming application deadlines and organize your scholarship search.
You can also monitor your in-progress applications and save important documents like your personal essays or resume.  
Institutional Scholarships
Pima also offers several scholarships specifically designed for Pima students. You can explore Pima's institutional scholarships on our Types of Scholarships page. 
After you've applied to Pima, you can apply for Pima-specific scholarships through MyPima, our internal communication platform. To apply for Pima scholarships:
Log in to MyPima > Select "Students,"then > "Register and Pay." 

Click on "PCC scholarship." You will be taken to a page that displays the General Application Questions. 

Click on "Applicant Record" to verify your information. 

After completing the essays for the general application, you will be "auto-matched" – if you qualify based on the criteria – to a list of scholarships called "Apply-To" opportunities.
Learn about JobPath and Work-Based Learning
Local nonprofits are also great places to look for scholarship opportunities. 
A helpful option here in Tucson is JobPath, which is a local nonprofit that provides financial assistance to students pursuing two-year associate's degrees or industry certifications. JobPath can pay for tuition and supplies, helping you earn your degree at Pima. Contact Pima's Financial Aid office to learn more about JobPath opportunities.  
Pima also offers work-based learning opportunities that can help you gain real-world job experience and find part-time or full-time paid employment opportunities. The Employer Engagement and Career Services office can help connect you with employers who want to hire Pima students and find paid employment or internship opportunities. 
Search Additional Resources
Once you've checked out all the resources Pima has to offer, it can be helpful to expand your search to state-wide and national scholarship postings.
Many public websites provide free scholarship-matching services that you can use to expand your search, including:
Regardless of what your financial situation is, Pima's Financial Aid office is here to connect you with resources to support your education.