Why You Should Start a Career in Logistics and Supply Chain Management
Explore career and degree options in this growing industry.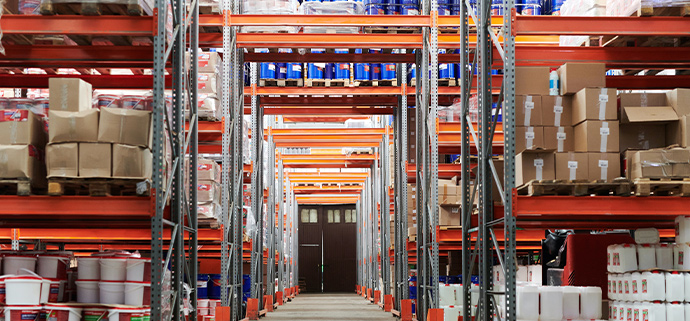 Ever wonder how the evidence of your latest online shopping binge ended up at your doorstep?
The answer is: it's complicated. 
In our increasingly connected world, a lot of planning and coordination goes into getting the products we need into our hands.
From food to cars to clothing, logistics and supply chain management (LGM) professionals create processes to deliver goods to consumers safely, efficiently and cost effectively. They coordinate the storage, inventory, sales and distribution of goods, from the time the product is stored in the warehouse to the moment it reaches the customer's doorstep. 
With last year's boom in online shopping and the increased demand for the fast-delivery of products, logistics and supply chain management is a growing field with well-paid job opportunities in a variety of industries, including healthcare, hospitality and retail. 
Not sure what a career in logistics and supply chain management looks like? Read on to learn more about the industry, job opportunities and how a degree in logistics and supply chain management can help you secure entry to supervisor-level positions. 
What is logistics and supply chain management (LGM)?
Logistics and supply chain management (LGM) is about getting the right products to the right customers at the right time and place. As Pima alum and Associate Vice President of Community Development at United Way of Tucson and Southern Arizona Peter Newbegin puts it, "LGM is the backstage of the global economy – the global movement of people, goods and information around the world from producers to consumers."
Supply chain management and logistics are often looped together because they go hand in hand. Think of supply chain management as the umbrella term that includes everything from taking inventory of your products to managing the shipment of goods to keeping track of sales. It's an important part of any business that makes and sells products.
Coordinating logistics is a step in the supply chain management process. The goal of coordinating logistics is to successfully and efficiently develop processes that move your products into the hands of your customers. Logistics and operations managers focus on how to make the supply chain happen on time and under budget. 
Logistics is made up of two parts: inbound and outbound logistics. Inbound logistics refers to the process of getting, storing and monitoring your business's materials. Outbound logistics focuses on how to successfully distribute your products to your customers. 
Both inbound and outbound logistics require a diverse skill set such as tracking transportation of goods, managing purchasing requests and completing inventory. 
Ultimately, LGM is about problem solving.
The need for innovative logistics and supply chain management solutions was never more apparent than during the pandemic. As Pima's LGM Program and Discipline Coordinator, Christopher P. Theriot points out, "I believe one of the most impactful results of the pandemic's strain on the global supply chain markets was the innovation that had to keep the world moving in spite of all of the unknowns and difficulties. It forced us to discover new ways of doing things just to keep life going!"
To put it simply, LGM is an ideal field for people who enjoy coming up with solutions. Theriot continues, "As a result, industry had to learn to deal with the backlash of such phenomena like hoard buying, such as the great toilet paper rush of 2020. Actions like this caused a huge global ripple effect across many consumer sectors, and it was a monumental task to mitigate the supply chain deficit and come up with solutions."
What types of jobs are in logistics and supply chain management?
Jobs in logistics and supply chain management are growing. U.S. News & World Report ranked careers in logistics number 17 on their Best Business Jobs list. A lot of factors make jobs in logistics exciting prospects, including a good median salary, low unemployment rates and numerous job openings.
There are several career paths you can pursue within logistics and supply chain management. Logistics specialists work in a variety of industries, including retail, healthcare, education, hospitality, entertainment, government, mining and tourism.
Logisticians, or logistics operations managers, oversee supply chain processes. In other words, they manage a distribution facility and ensure everything is running smoothly. They make sure the correct products leave the distribution warehouse at the scheduled time and in the right quantities. They confirm that everything is shipped to the right destination. They also make sure all products are stored correctly and safely in the distribution facility. 
Logisticians work with lots of different people in the supply chain, from transportation companies to sales managers. If problems arise with customers, suppliers, transportation managers or co-workers, logistics operations managers help come up with solutions. They make sure employees feel empowered to work effectively as a team.
Logistics managers can work in many departments, including manufacturing, purchasing and warehousing. They ensure their business is meeting safety and environmental regulation standards.
In other words, if the distribution center were a movie, the logistics manager would be the director.
Logistics operations managers may also be called industrial production managers or transportation, storage and distribution managers, depending on the industry. In Pima County, employees in these jobs on average earn $70,891 to $83,975 annually. 
Other careers in logistics and supply chain management are: 
Inventory control specialist

: Track inventory and manage deliveries

Warehouse manager

: Oversee and organize warehouse facility

Logistics analyst

: Analyze the delivery process of a product and make recommendations to improve the process

Regulatory compliance specialist

: Make sure companies comply with industry specifications, standards and regulations

Shipping and receiving supervisor

: Verify shipment documents, determine shipping priorities and develop shipping protocols
Should I get a degree in logistics and supply chain management?
A degree in logistics and supply chain management will provide you with the hands-on training to get a top job in the field. A degree program teaches you how to master the process that gets products from manufacturers to customers. 
A program focused directly on logistics and supply chain management will give you the tools to understand how all the moving parts of the supply chain fit together. It also exposes you to the different career paths in the industry, from logistics analysts, transportation managers, regulatory compliance specialists, shipping and receiving supervisors and more.
Pima's Logistics and Supply Chain Management program has both associate's degree and certificate pathways for you to pursue the type of training that you need. The program also has several internship opportunities for you to get first-hand experience in the industry. You can complete the degree and certificate program entirely online or on campus during evening hours.
Newbegin earned his associate's degree in Logistics and Supply Chain Management at Pima in 2005. He says of his time at Pima: "The experience I had at Pima was very oriented towards the real hands-on world since many of my instructors were working in the industry."
He continues, "I would have someone as an instructor who was doing that type of work, When I asked questions in class – the answers I received were from an expert."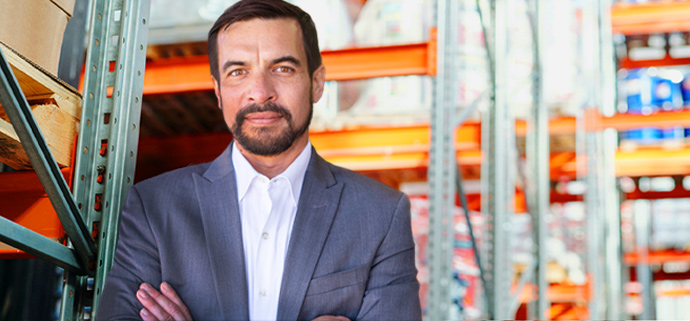 Pima alumnus, Peter Newbegin, is the Associate Vice President of Community Development at United Way of Tucson and Southern Arizona.
Some of the foundational classes of Pima's LGM program are:
Principles of Logistics and Supply Chain Management

Inventory Control

Computerized Logistics

Warehouse Management

Transportation and Traffic Management

Introduction to Purchasing

Readiness Skills for Logistics Careers 
You can also take support courses in business and computer software.
Start Your Education Today
This Fall, Pima will offer classes both online and in-person. Not sure what type of class is the right fit for your schedule? Check out our guide on building a class schedule that works for you. Our guide explains the difference between in-person, online, virtual and hybrid classes so you have all the information you need to choose the classes that are right for your learning style and schedule. 
Whether you're ready to start a new career in logistics and supply chain management or improve the skills you already have, you can start your education at Pima today.