Pima's First In-person Graduation Since Pandemic, May 18 at Kino Veterans Memorial Stadium
Tucson, AZ – After holding virtual graduation ceremonies the past two years because of the COVID-19 pandemic, Pima Community College resumes in-person graduation on May 18. It also will be Pima's first-ever outdoor commencement ceremony – at Kino Veterans Memorial Stadium.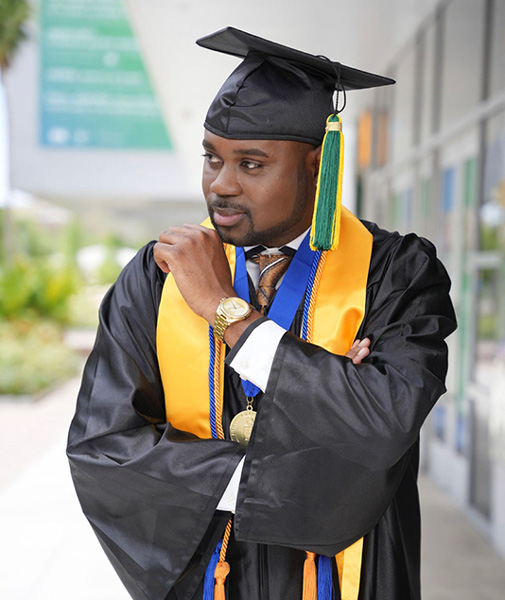 What: Pima Community College 2022 Graduation Ceremony

When: 7 p.m. May 18, 2022

Where: Kino Veterans Memorial Stadium, 2500 E. Ajo Way, Tucson, AZ

Details:

Media should enter through A gates

with students;

pima.edu

/graduationceremony
Pima has 3,330 candidates for graduation and expects to award 4,669 degrees and certificates to these students.
This year's commencement speaker is Webster Rose, who is an online student from Tampa, Florida and graduated in Fall 2021 with an Associate of Applied Science Degree in Health Information Technology. Rose is flying in to participate in the ceremony.
For his academic efforts he was honored as the 2021 Instructional Technology Council (ITC) Outstanding eLearning student. Pearson Accelerated Pathways interviewed Rose about the award.
Rose is the proud son of Angela Rose and George Rose, and was born and grew up in Jamaica. He moved to Florida in 2006. He has worked at Humana Insurance Company, a Fortune 500 company, for 13 years and is now a supervisor. He has been a PimaOnline student since 2018.
"Growing up in Jamaica, I was taught never to settle, but always aim for higher and better," he said. "Jamaica is a small country but known all over the world. I am like Jamaica, a symbol of one but a force to be reckoned with in this world."
The five Pima associate degree programs with the most graduation candidates this year are:
757 Liberal Arts (Associate of Arts)

187 Nursing (Associate of Applied Science)

187 Science (Associate of Science)

159 Business Administration (Associate of Business)

77 EMT Paramedic (AAS)
Special Note To Media
Commencement Speaker Webster Rose (see accompanying photo) is flying in to participate in this year's graduation ceremony and will be available for interviews on May 17 and 18 at these times and locations:
May 17: 3 p.m., Amethyst Room, Downtown Campus, 1225 N. Stone Ave.

May 18: 6 p.m., Kino Veterans Memorial Stadium, 2500 E. Ajo Way
---
CONTACT:
Libby Howell, APR, Executive Director
Media, Government and Community Relations
520-549-9093
,
ehowell1@

pima.edu