Pima UAZ STEM Bridge student shares her Pima Story
From skeptic to budding STEM role model: Pima helped Genesis find her niche
By Dina L. Doolen, External Relations
Thanks to Pima Community College, Genesis Benedith has met a long-time goal – going to University of Arizona. Her next goal – software engineer and STEM role model. The 2022 Pima graduate is a Pre-Computer Science major at UArizona as part of the Pima-UAZ STEM Bridge Program.
Benedith said she feels a strong obligation to support upcoming STEM students, especially women and people of color. She's even encouraging her younger siblings to get into STEM. 
"I didn't really have many people to relate to in terms of color or background for women STEM professionals," Benedith said. "That's when I realized that it would be doing social change – actually becoming a STEM professional myself."
Benedith grew up in the Bronx borough of New York City. When she was young, her father moved to Phoenix. Visiting him for the first time sparked a strong interest in her to someday move there too.
"I always wanted to live in Arizona. Then I toured the U of A campus, and that's when I fell in love. I was like, 'I have to go here,'" Benedith said. But friends in Tucson steered Benedith, who was unsure of a career, to Pima. They noted that many Pima students transfer to other schools, including UArizona.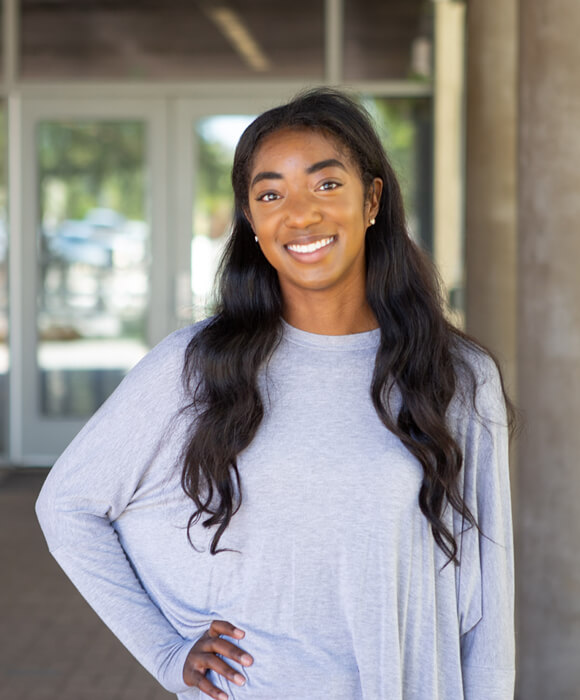 "They said, 'well, why don't you try Pima? It could be a great fresh start for you,'" Benedith said. "And I took their advice. And let me say – I'm not just saying this – it was my best decision probably ever."
Benedith immersed herself in the Pima community, taking classes full-time, initially focusing on English, and joining Honors Club. She also worked full-time, a challenging, but valuable experience.
Through her first year at Pima, she found herself increasingly drawn to science, technology, engineering, and math (STEM). That summer, she was exploring UArizona's website, envious of her Wildcat peers, when she found the Pima-UAZ STEM Bridge resources page. 
"Until I finished my first year, I didn't know the opportunities that women in STEM have and how much we need women in STEM," Benedith said.
She started but didn't complete an online program application. A follow up from program staff to finish the application was the push she needed. A few weeks later, she was notified that she was accepted into the program. 
The Pima-UAZ STEM Bridge program is a scholarship opportunity for STEM students beginning their final year at Pima and planning to transfer to UArizona. It supports students throughout their time at Pima and UArizona, starting in their first semester, with a $3,500 scholarship, an assigned faculty mentor from Pima and one from UArizona, as well as a peer mentor.
The program also provides STEM advisors, transfer guidance and planning help, as well as networking opportunities with STEM peers, plus up to $5,000 per semester for as many as five semesters at UArizona. 
"I didn't think that U of A would even consider me as a good student, but STEM Bridge really brought out all of my great characteristics as a student," Benedith said.
Pima-UAZ STEM Bridge Program Manager Aglhaen Nieto said Benedith grew more confident as she engaged more often with her faculty mentors, peer mentors and program peers.
"As her confidence evolved, she took bolder opportunities to further prepare herself, including applying for and obtaining internships, scholarships and study abroad opportunities," Nieto said. "Her commitment to self-growth was visible in her actions and progress in both her academic and personal achievements."
"Whether you come from an untraditional background or even like a household of doctors and lawyers and engineers, Pima is literally for everyone." 
Benedith started the program in fall 2021, stayed active in Honors Club and found work in the Near-peer Mentor Program, co-sponsored by Pima and the Center for the Future of Arizona. She and the other mentors visited local high schools introducing students to cyber-related careers and education options.
"The assignments in the transitional class were really useful because we discovered things that typically we wouldn't have discovered on our own," she said. "And we kind of bounced off each other's ideas and each other's resources."
Benedith earned an Associate of Science, Science degree from Pima in May 2022 and started at UArizona that fall. She intends to work as a tech industry software engineer.
"Whether you come from an untraditional background or even like a household of doctors and lawyers and engineers, Pima is literally for everyone," Benedith said. "If you are interested in STEM at the U of A, definitely consider the STEM Bridge program because it really has made my life easier."
Benedith said Nieto has reliably supported her, even now that she is a UArizona student.
"She's just always made me feel comfortable and made me feel like I was being listened to and that I had a supportive system, like a whole circle of supportive people," Benedith said. "And that is amazing."
While at Pima, STEM Bridge students also do research experience with their UArizona faculty mentor. Benedith said her experience led her to consider computer science research differently than if she had approached it on her own. 
"I believe Genesis graduated from Pima as a highly empowered young woman ready to conquer all of her goals and serve as an awesome role model in STEM!" Nieto said. 
Benedith is taking classes full-time at UArizona. For the summer, she is interning as a DevOps Intern on the Monitoring & Automation team for TE Connectivity's Information Solutions. She belongs to the Phi Sigma Rho sorority for women in engineering, allowing her to collaborate with women taking the same classes. 
She regularly meets with her peer mentor and that helps her stay focused. And, she's in touch with her Pima instructors and peers.  
"It's really nice having peers that came from where you did," Benedith said.
STEM careers: An opportunity to make a difference!
Like Genesis, you too can find your path in a STEM field. With some encouragement, she followed her curiosity and is on her way to a promising career. Explore STEM programs today!