Trailblazing a New Path
Seasoned professional, Namrata Patel, is going places with her new Associates of Applied Science degree in Hospitality Leadership
By Kanika Samra, External Relations
Hospitality runs in Namrata Patel's veins. Born and raised by immigrants from India, she saw her parents transform failing properties into flourishing hotels. Their enterprising work ethic meant the family moved several times finally settling in Montgomery, Alabama.

For Namrata, the eldest of three sisters, her grandfather imagined a more traditional career in medicine or engineering. And she gave it her best shot too. As a sophomore, Namrata worked in the hematology-oncology department at the Children's of Alabama, Birmingham after being selected from amongst hundreds of applicants. But after witnessing the loss of patients she'd cared for Namrata knew medicine wasn't for her. With one door closed, another opened. What had been only a part time gig as a high schooler working events at a local Marriott in Montgomery opened more doors which led to Chicago and to Pima during the pandemic.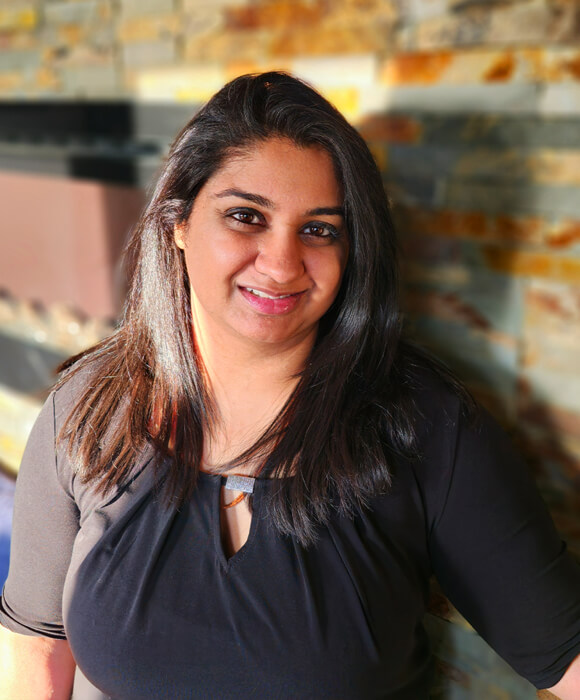 Today, with over 13 years at Marriott, Namrata is once again moving up the ladder with a little help from Pima. She graduated in December 2022 with an Associates of Applied Science in hospitality leadership and will soon embark on a new role as destination sales executive after working as a banquet manager since her return to work after a pandemic furlough.

As she described it, when the industry began welcoming guests to properties and jobs reopened after long furloughs, experience wasn't enough. Employers were paying as much attention to formal training and how employees had enhanced their skills during the pandemic. In 2019, Namrata had been nominated for the Stars of the Industry award organized by the American Hotel and Lodging Association (AHLA) and the AHLA Foundation. The awards provide employers a platform to recognize employees who embody the essence of hospitality and constantly drive the industry forward. 
After having received that recognition, Namrata learned more about the AHLA foundation, and an academic scholarship sponsored by them that funds selected students for two-year programs at partner institutions including Pima Community College. So, when it was her turn to be furloughed and take a break from an always-on-the-go job, she turned to bolstering her education. While she has a bachelor's degree in psychology and healthcare management, her only hospitality credentials were experiential. The AHLA scholarship matches students with institutions and Namrata says she was lucky to get a spot at Pima. At first it felt odd to be studying online but faculty and staff under the leadership of Jewel Mideau, academic director, Hospitality Leadership and Jacqui Allen, director, Online Student Success made the content and their support so easily accessible that Namrata said, "95% of the time I felt like I was part of the campus."
As a trailblazer–the first in her family to go to college–Namrata collaborated extensively with the hospitality program and PimaOnline to improve the online student experience. She was nominated for and received the 2022 Outstanding eLearning Student Award which recognizes a distinguished elearner who is an exemplary member of their community. She not only aced her classes and graduated with an overall GPA of 4.0 but also pushed the envelope when it came to student leadership. Prior to her election as student senator for the Online Campus, rules had barred students residing outside of Arizona from the body. Now that that door is open, she hopes more students will participate. In addition to student senator, Namrata was member of the Student Advisory Board, student senate liaison for the Safety Committee, student senate treasurer, and student senate liaison for Online Student Success.
"Pima's culinary department is one of the best in the country. The quality of education that comes out of Pima is phenomenal." 
As the first strictly vegetarian student, Namrata challenged the culinary program in other creative ways. They had to come up with a new menu to accommodate her dietary restrictions so she could successfully complete her course requirements. At every step of the way, from sending her an entire kit to online troubleshooting to a new menu, Namrata said, "Pima was willing to work with me."

For students exploring hospitality or culinary training programs, Namrata is emphatic that, "Pima's culinary department is one of the best in the country. The quality of education that comes out of Pima is phenomenal. And you can't beat it."

Though Namrata has graduated, she remains engaged with the Pima community and wants to see some pending projects to fruition. To all those graduating along with her she says, "Thank you to all my classmates who were part of my growth. When I was having a difficult time in understanding something, my classmates were there even though we were miles apart. Thank you because you're a big reason why I am graduating on time."
Graduate with a bright future! 
A comprehensive two-year institution, Pima offers a broad range of high quality programs to gain skills needed by today's employers or transfer successfully into four-year programs.
Browse our course offerings today! 
Found something you like?Apply Now