Anything is possible, but you have to believe it
Maleah Manning challenged herself to complete college and high school simultaneously, and succeeded
By Jamila Caamaño, External Relations
"Anything in life is completely possible, and using your mind to achieve what you desire is the perfect way to equip it," says Maleah Manning, who completed her associate's degree by the age of 17.
Manning, who says her parents instilled in her a love of learning from a young age, has always been driven to succeed. Her father, who used to teach fire science classes at Pima, exposed her to college at an early age. So when she learned about the opportunity to attend Pima while still in high school, she jumped at the chance.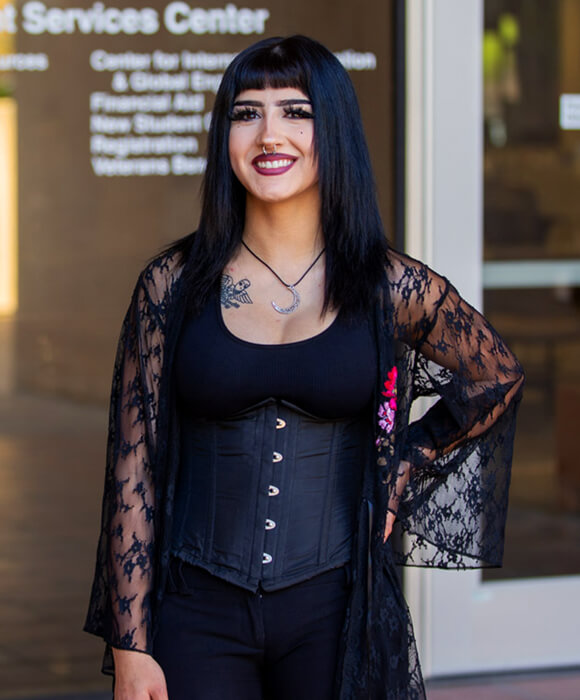 But when her father was diagnosed with cancer and was only expected to live a year, her world turned upside down. She was determined to be there for her father while still pursuing her education, but it was a difficult balancing act.
Manning had to work full-time to pay her tuition, while also attending high school and college full-time. As she struggled to balance her many responsibilities, she found solace in her father's unwavering support. Even as he battled cancer, he always made time to encourage and motivate her, which made her even more determined to finish college as quickly as possible so he could see her receive her degree.
It was a challenging time for her, not knowing if her father would survive. But she remained focused on her goals and pushed herself harder than ever before. She spent long nights studying and working on assignments, all while caring for her father and managing her job.
"Anything in life is completely possible, and using your mind to achieve what you desire is the perfect way to equip it." 
Despite the obstacles, Manning excelled in both her high school and college courses and was determined to make her parents proud by achieving her goals, and she didn't want to let them down. For anyone considering college or facing challenges as she had to, Maleah provides encouragement. "No matter how hard things get, anything is possible and achievable. If 15-year old me can do it, you can too as long as you set your mind to it and tell yourself you can do it, then you will do it."
As she dealt with the stress of balancing school, work and her father's illness, she turned to music as a form of release. She loved making beats, mixing her own vocals, and she found that creating music helped her to cope with the challenges she was facing.
"It's important to have hobbies and interests outside of school and work," she said. "You have to remember to take time for yourself and the things you love. Whether it's creating music, playing sports, or spending time with loved ones, these activities can help you stay balanced and happy, even during difficult times."
As graduation day approaches, Manning says she is grateful her father surpassed the initial timeframe he was given to live and thankful both parents will be there to see her walk across the stage.
This fall, Manning will begin her studies at the University of Arizona to pursue a Bachelor of Science degree in Business Administration majoring in either finance or accounting. With time on her side, she feels comfortable deciding on her major at a later time. Her ultimate goal is to become a financial planner, helping others to manage their money and achieve their financial goals.
Graduate with a bright future! 
A comprehensive two-year institution, Pima offers a broad range of high quality programs to gain skills needed by today's employers or transfer successfully into four-year programs.
Browse our course offerings today! 
Found something you like?Apply Now