Putting Kindness First
Gabriela Fragozo, 2023 Commencement Speaker, enrolled at Pima at a tumultuous time for her family. She plans to research cerebral spinal fluid when she begins at the University of Arizona in the fall.
By Dina L . Doolen, External Relations

Gabriela Fragozo, Pima's 2023 Commencement Speaker, wants her classmates to understand that kindness and determination are vital to personal and societal success. "Be aware of what others are going through and what you are going through," she says. "Let kindness overtake everything that you do."

The 20-year-old says the people she met during her time at Pima inspired her not just to succeed as a student, but to grow as a person and improve the lives of others. Encouraging and supportive instructors and coworkers as well as curious, mindful classmates and students she tutored helped her find her academic path in science and navigate life's challenges.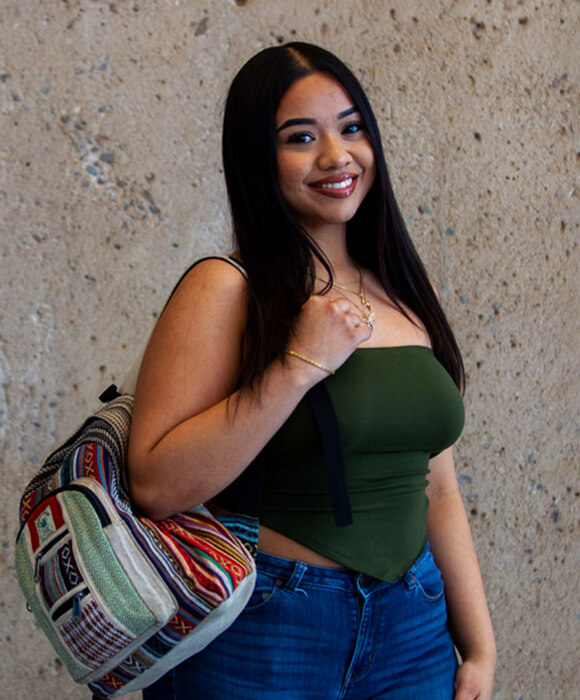 In 2020, her father was detained by U.S. immigration officials when he dropped her off at Presidio School. Her mother went into hiding. Gabriela and her older brother and sister were on their own.
Gabriela worked a full-time job and finished school, including dual enrollment and Pima County JTED aviation and technology classes at Pima. All while advocating for her father who was later released on a bond while his case proceeded.
She graduated from Presidio in 2021 and earned a full-ride scholarship to Northern Arizona University in Flagstaff. She was deciding between a career in law or psychology, but before she could get into her studies, Gabriela, who has asthma, became sick, and discovered her apartment had black mold. Within a week of arriving in Flagstaff, she returned home.
When she felt better, she enrolled in several Pima late-start eight-week classes, but it was too late for her to get financial aid. So, she was a manager at two fast food restaurants while she continued to work on her father's deportation case.
Then, in April 2022 her paternal grandfather was hospitalized, ultimately diagnosed with pancreatic cancer and died within a month. Her father was working 12 hours a day to support the family, and Gabriela ended up as her grandpa's primary caregiver. She successfully pleaded a case to immigration officials to grant her grandfather's daughter a temporary visa to enter from Mexico to be with him during his passing.
"Honestly, it was burning me out," she says, adding that she took off a month from school and work. "It made it harder to stay in school, but I powered through." Mathematics faculty James Sheldon met with her on Zoom outside of class to help her deal with her stress."He said, 'you have to let yourself breathe and heal," she says.

Her GPA went down to 3.9. She felt like a failure, redoubled her efforts and got back up to a 3.95. "Then, I had a moment of realization that I am not being judged by my GPA," she says. "My GPA doesn't say who I am."
"All of my professors were very helpful. They really allowed me to succeed and not give up." 
She says Arthur Reid, her LIT 262 American Poets instructor, inspired her to pursue a career in research. "He said if you find a major you love, do it," she says.

So, she is graduating with an Associate of Science degree and an Arizona General Education Curriculum certification, and has decided to major in Neuroscience and Cognitive Science at University of Arizona, where she starts this fall. She's already writing her proposal to research cerebral spinal fluid's influence on the brain.

"All of my professors were very helpful. They really allowed me to succeed and not give up," she says and names them – Sarah Jansen, James Sheldon, Michael Stack, David O'Brien, Hema Bandaranayake, Pollyanna Wikrent and Ally Stacey. 

When she started classes in fall 2022, she received financial aid and got a job as a tutor at Pima's Downtown Campus Learning Center. Gone were the 60- to 70-hour work weeks. "My coworkers are amazing," she says. "It's like a family."

She says she draws inspiration and motivation from the students she tutors in English and Spanish. Many of them are much older than her and mentor her. "They are grateful to learn my language," she says. "In my life, I've had people make fun of me and discriminate against me because I speak Spanish. I experienced racism at a young age. It warms me up to see people wanting to learn my language."

After a second case of COVID-19 hit her hard this semester, she says she is comfortable with whatever her final GPA is – probably 3.8.

She says she gets her determination and perspective from her parents and her late grandfather, whom she calls her best friend. "Grandpa was a farmer. He came to the U.S. in the 1950s and was a U.S. resident," she says. "He told me stories about all he'd been through." Gabriela's parents moved to Tucson more than 20 years ago and applied for residency, which stagnated. She is a U.S. resident.

"My parents came here to get away from the gangs and corruption," she says. "My dad is a landscaper. He works all the time. He says as long as his family is taken care of he doesn't mind that."

Her father's case is working through the legal system, but Gabriela says he has accepted that he may have to return to his hometown in Mexico's Sinaloa state.

"He says as long as I graduate college, he's OK," Gabriela says.
Graduate with a bright future! 
A comprehensive two-year institution, Pima offers a broad range of high quality programs to gain skills needed by today's employers or transfer successfully into four-year programs.
Browse our course offerings today! 
Found something you like?Apply Now