Pima Student Perseveres to Become One of Top Community College Students in the Nation
Seven Pima students bring home All-AZ scholarships, multiple national honors
By Anne T. Denogean, External Relations
Pima Business student Kira Okuma remembers the day, at age 14, that a tick flew off her jacket as she was removing it, landed on her arm and … "chomp" … bit her! Though she immediately brushed the tick off, she became very sick and would struggle with the effects of Lyme disease - complicated by a pre-existing autoimmune disorder - for the next six years. 
Chronic fatigue and pain led her to switch from a regular high school to an online high school, where she was able to complete work on her own time schedule. "I just couldn't handle getting to school and going through the whole day, every day," Kira said. Then the COVID-19 pandemic hit, keeping Kira mostly at home for more than two years because of her high-risk status. Meanwhile her life was in flux, as her parents moved the family from Kira's hometown of Reno, Nevada, to Boise, Idaho, and then to Tucson in 2021.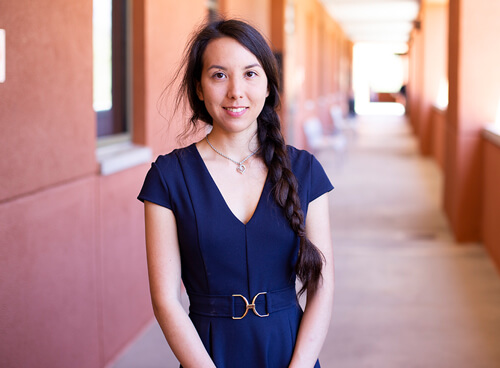 But Kira didn't let those challenges deter her from pursuing her studies or planning her future. She took honors classes throughout high school, started making and selling jewelry at age 16, and used the pandemic years to fully recover and think about whether she wanted to pursue a career in business or the arts. She enrolled at Pima in spring 2022.
That never-give-up mindset helped Kira become one of the top community college students in Arizona and in the United States this year. In February, she was one of seven Pima students honored as members of Phi Theta Kappa's 2023 All-Arizona Academic Team. The other Pima honorees for the All-Arizona Team were Matthew Arcarese, Teresa Billick, Emma Brack, Khalil Gatto, Nicole Gil López and Daniel Schessler. The All-AZ members receive Arizona Board of Regents scholarships worth approximately $25,000 over two years to an Arizona state university.
The team also snagged national awards with cash prizes through the same scholarship program. Kira was one of 20 students nationwide named to the All-USA Academic Team, which provides a $5,000 scholarship. Teresa and Daniel were selected as Gold scholars to the national Coca-Cola Academic Team, while Matthew was named a Silver Scholar.
About faculty at Pima: "

That's something I needed coming into college after the pandemic – that freedom but also the resources to grow."

 
Kira said she immediately loved Tucson and found encouragement and support at Pima. She credits Pima faculty member Frankie Rollins with helping to shape her path. "She is amazing in encouraging people to follow their own interests and helping them to grow in any direction that they want to grow," said Kira. "That's something I needed coming into college after the pandemic – that freedom but also the resources to grow." Kira will graduate with an Associate of Business this summer and then pursue her bachelor's and master's and become a Certified Public Accountant.
"I started running my own jewelry-making business when I was 16 because I physically could not go out and get a job. That's what got me interested in business. I want to go the accounting route because I really like the organization and structure. I like the challenge of organizing information in spreadsheets and planning a business strategy. All those things are very appealing to me," Kira said. Kira said as a CPA, her career could take many directions, whether running a business, working for a company or starting her own accounting firm. "It gives me a range to explore."
As part of the All-AZ scholarship, students complete an "endeavor project," in which they identify a problem or need and create a meaningful solution. Kira became aware of a non-profit called Felicia's Farm, which addresses local food insecurity, provides nutrition to those in need and cares for the earth through sustainable growing practices. "I reached out to Felicia's Farm and found that during the pandemic, they feared losing the farm. Without any volunteers to help maintain 13 acres of land, the full-time employees couldn't keep up. Some of the fields were overgrown with weeds." Kira consulted with Pima Honors and PTK coordinators and then organized group volunteer efforts to help with harvesting, weeding and general maintenance.
"My approach is pretty much 'do whatever needs to be done,'" Kira said.  
Expand your horizons at Pima 
Use the summer to get ahead and achieve your goals! Course registration is now open.