Pima's CRC Program Opened New Paths for Crystal Robles
Pima graduate Crystal credits the mentorship she found in the CRC program for her career success
By Anne Denogean, External Relations
Working in the field of clinical research is more than a job for Pima graduate Crystal Robles. It is an opportunity to help improve medical care for generations. "I am very fortunate because I love what I do and the people I work with," said Crystal, a clinical trial manager and graduate of Pima's Clinical Research Coordinator (CRC) program. "I know we make a difference every day in patients' lives."
Pima's CRC program trains students to coordinate clinical trials that evaluate new medications, treatments, and medical devices leading to therapies that can help millions of patients. The coordinator performs tasks that run the gamut, from reviewing and developing study protocols to recruiting and tracking study participants, collecting data and making sure protocols are precisely followed.
"Clinical research is important to me. Why? The answer is my daughters, husband, family, friends, teachers, and bosses. They are all patients, and I want a better health experience for all patients," Crystal said.
Pima offers an Associate of Applied Science in CRC with mostly online courses for students' convenience. Pima is one of only a handful of schools nationwide to offer a Clinical Research Professional Post-Degree Certificate, fully online, for students with an advanced healthcare degree or baccalaureate degree who are interested in advancing their knowledge and skills as clinical research professionals.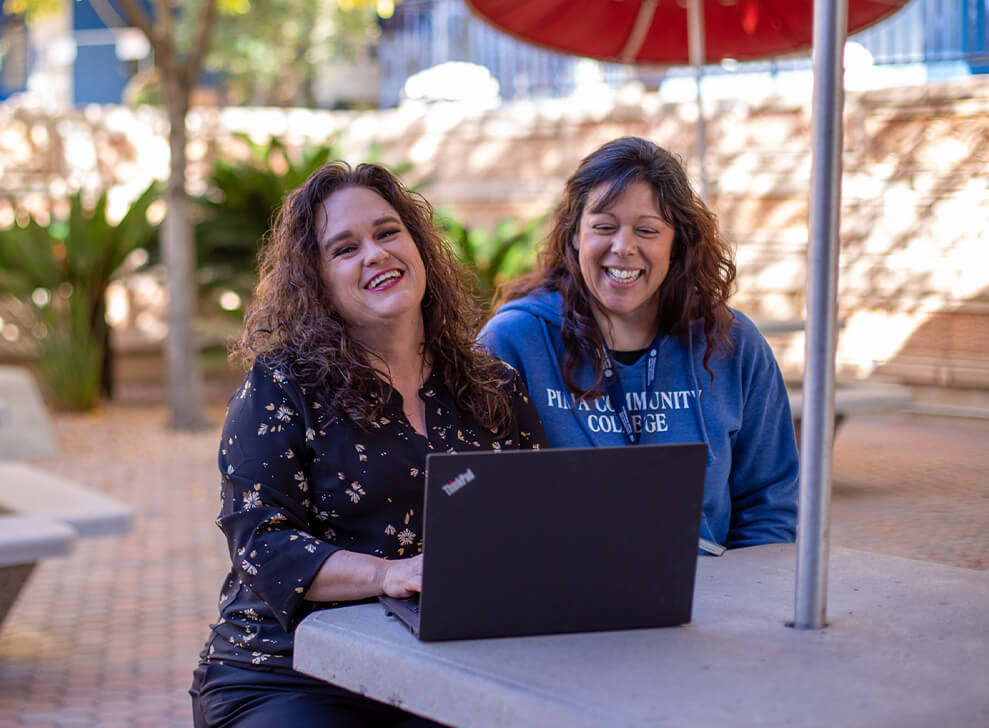 "Nearly 100% of Pima's CRC program graduates find a job, except for a few who go directly on to a four-year degree or those who choose to use it as the groundwork for another health profession," said Rita Lennon, CRC program director and faculty.
Crystal graduated from Amphitheater High School in 1993 and soon after enrolled at Pima. She stopped after getting married to Ruben Robles, Jr., and starting their family of three girls. Raising her family took priority over a college education. Crystal had always enjoyed helping others, and was inspired to follow her sister-in-law's path and became a Clinically Certified Hemo-dialysis Technician in 2005.
"I really didn't think about going back to school and earning my college degree until my twin girls entered high school in 2012. I was 37 years old and working at a local hospital/chronic care clinic for over eight years as a dialysis technician, but I wanted to be able to do more," she said. In spring 2012, she enrolled at Pima and set the goal of graduating before her daughters earned their bachelor's degrees.
A nephrologist at the hospital where she worked spoke to her about clinical research and then hired her as a clinical research assistant. That encouraged Crystal to enroll in the CRC program. But as a busy mom and full-time healthcare worker, she wasn't fully convinced she needed a degree.
In her first class she asked Lennon why she should stay in the program when she was already working in clinical research. Rita suggested she give it a try and proposed, "who knows, you might learn something you didn't already know by working in the field.'"
"I wouldn't have been able to achieve the career I have now if it weren't for the relationships and mentorship I gained on my educational journey at Pima."
"She was one hundred percent correct. The CRC program teaches fundamentals that are not always taught on the job," Crystal said. "I found everything to be interesting and informative, from learning about the Code of Federal Regulations to guidelines for protection of human subjects, data integrity, and more."
Crystal said Lennon guided and mentored her, talking about the different career paths in the clinical research industry. "Rita is insightful and inspiring," Crystal said. "I wouldn't have been able to achieve the career I have now if it weren't for the relationships and mentorship I gained on my educational journey at Pima."
Crystal graduated with an Associate of Applied Science in Clinical Research in May 2016. She completed her Bachelor of Science in Health Management at the University of Phoenix in 2020.
Crystal is not the only Pima success story in her family–her husband, Ruben, and three daughters Marissa, Alyssa and Isabella also graduated from Pima.
Crystal advanced in her career after graduating from Pima. She began as a clinical research coordinator, then went on to be a CRC manager, clinical research associate, project manager and currently works as clinical trial manager with Syneos Health. "As a clinical trial manager, I no longer see patients every day, but I know I am an important spoke in a very large wheel," Crystal said.
Help patients across the world while pursuing a fulfilling career
Employment prospects are excellent for graduates of Pima's CRC program, whether they want to stay in Tucson or travel the globe. Only a handful of programs nationwide train CRCs, while thousands of studies are launched each year.
Explore Pima's CRC program today!