Peter Keith is Reinventing Himself with Help from PimaOnline
At 40, after 15 years in prison, Peter is starting afresh with help from PimaOnline and the Office of Financial Aid and Scholarships
By Kanika Samra, External Relations
At some point in our lives, most of us have to reckon with the fact that our parents' nuggets of wisdom have proven to be true. It's been no different for Peter Keith. One recent afternoon, he repeated his mother's piece of advice, "education sets you free". For Peter, starting over at the age of 40 after a 15 year prison sentence, the opportunity to pursue higher education has been cathartic. It hasn't always been easy or straightforward. But with the flexibility of PimaOnline and help from the Office of Financial Aid and Scholarships, he's moving forward with renewed confidence and self-esteem.
"Education sets you free."
Peter and PCC have a long history. As an 18 year old he enrolled at PCC and attended a few classes before life took a different turn. Hailing from Tucson, members of his family have studied at both, PCC and the University of Arizona. So when Peter began contemplating life after prison, he had an idea of where he wanted to begin afresh. He is currently pursuing an Associates of Arts, Liberal Arts (General) with the goal to graduate in 2023.
Navigating the new tech environment
In 2019, at the end of his sentence, Peter's new life began in earnest. Once out in the world, he had to reacquaint himself with current technology, especially using a laptop and digital tools to stay on top of his educational goals. With help from his mother, he completed his FAFSA application and set up his MyPima in the fall of 2021, and chose to pursue his education online. PimaOnline has been a boon to Peter who has social anxiety brought on by years in the prison system. Articulate and thoughtful, he prefers the comfort of his home to ease his anxiety while interacting with others.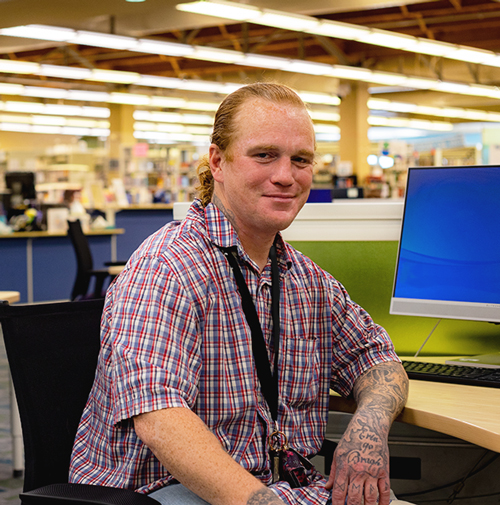 Being an online student hasn't been limiting in the least. From considering a possible switch to medical coding and billing (offered entirely online by PimaOnline) to transferring to the University of Arizona for either sociology or a paralegal program; Peter is letting his mind soar while considering avenues that higher education is opening for him.
Higher education: path to a new career and self confidence
He could have stepped away from higher education entirely. But his mother's words struck a chord. For him getting this education has been important for two reasons: to hone a skill that he can use in the workforce, and to rebuild his self-esteem. Once out of prison, Peter quickly realized that employers were taking advantage of him. With a felony on his record and no certifiable skills, he had few options other than taking on back-breaking work for minimum wage. This motivated him to pursue courses at PCC with the hopes of building a new career that can lead to financial stability while also providing intellectual stimulation and confidence.
Finding support and encouragement at PCC
This summer Peter was awarded a scholarship which has helped him stay on track while exploring subjects like geology and positive psychology. He says PCC's participation in Scholarship Universe and timely reminders to apply for various scholarships have been the lifeline he's needed to pay for college. In his first semester when he was put on academic probation and his financial aid was suspended, Peter found a resource in Brenda Lugo, Student Services Coordinator at Financial Aid. She encouraged him to appeal and put him in touch with Erika Elias, Academic Success Counselor at Student Services, who created a degree plan for Peter. He is now out of academic probation and keeping his grades up (A's for the most part!).
Peter says he has, "nothing but positive things to say about all interactions at Pima." For anyone considering PCC he says, "Give Pima a chance, it will probably be the best decision you ever made. Even if you do not know what you want to do, there are plenty of people here who will take the time to help you figure that out."
Start afresh at Pima
From faculty, program advisors to financial aid and student success counselors, PCC is committed to the success of all students who walk through the door or sign up online.
Customize your journey from in-person classes to fully online courses. Find out which program is right for you today.
Found something that interests you? Apply Now