Federal Work Study Helped Lupita Find Her Acumen for Finance and Administration
By Kanika Samra, External Relations
Lupita Vazquez is the Finance and Administration Manager at Literacy Connects, a Tucson based non-profit providing literacy and arts programming for children and adults in Southern Arizona. Self-assured, confident and observant, Lupita is a person of few words. But when she speaks, her acute observations and witty humor come to the fore. Watching her interact with colleagues at the Literacy Connects' campus anyone would think she's been at this a long time. But, they'd be wrong. 
Like many first generation college students in the Tucson area, Lupita's educational career moved along in fits and starts. She received her GED in 2001, a year after she first dropped out of high school to work fulltime to support her family. It would be another decade and a half before she finally decided to invest in herself and enrolled at Pima in 2016. The impetus for this change was the birth of her daughter, now in elementary school and a star of Literacy Connects training videos. While she still had to work part time, her goal at Pima was twofold: to set an example for her child and to build a stable career for herself. 
This decision has proven life changing for Lupita. "I get so emotional because my experiences at PCC and LC (Literacy Connects) really did change the trajectory of my life. My world was small and closed off before the work study program led me to Literacy Connects. Both organizations helped me to see my worth and to realize my potential. I am so grateful!"
"My experiences at PCC and Literacy Connects really did change the trajectory of my life. My world was small and closed off before the work study program led me to Literacy Connects."
At Pima, Lupita researched ways of funding her education and stumbled upon the Federal Work Study (FWS) program on MyPima. Through FWS she applied for a job opening at Literacy Connects that aligned with coursework for her Associate's of Applied Science degree in Early Childhood Studies. From working at the reception to being hired full time, and recently being promoted to Finance and Administration Manager, Lupita's experiences at Literacy Connects have expanded her horizons beyond her imagination. She is currently pursuing a bachelors in Public Administration from Northern Arizona University.  
Literacy Connects, one of several community offsite partners in the FWS program, has been working with Pima since 2012. Aurie Clifford, Assistant Director of Title IV Compliance, Financial Aid & Scholarships says students who get placed in community organizations like Literacy Connects are often the ones who would have benefitted from their programs. So when student-workers like Lupita get there, they are not only sold on the vision and mission of the organization but become peer to peer ambassadors by spreading the word in their own networks. The relationship is mutually beneficial for the student and Pima's community partners.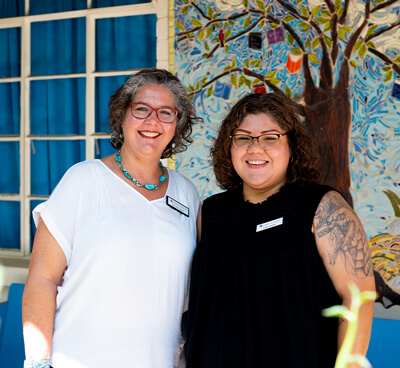 Edie Lantz, Adult Basic Literacy Program Director, Literacy Connects, advises prospective FWS applicants to read job descriptions carefully for the scope of work on offer. "You never know what you might come in contact with that affirms your path or alters your path," she says. According to her, hiring a student worker is a two way process. The student has to be able to envision themselves working at the organization and the hiring team must see potential too. Speaking of Lupita, she says that even though "she applied for something that looked familiar, she was curious, willing to learn and got involved in things once she got here; broadening her horizons and learning about new career paths."
Opportunities at Literacy Connects to expand her skillset have helped Lupita see how her acumen for finance and management can benefit a literacy non-profit. She felt seen and heard as a student-worker. That affirmation and confidence is evident in her growth. As for the future, both she and her boss are hoping she'll stay on and someday become Director of Finance! 
Tools to help you Succeed
Lupita's journey at Literacy Connects and her career in Finance and Administration began with Pima's Federal Work Study program. Find out more about how you can find financial aid at Pima.
Explore programs that will help you build a career. Apply Now