Samuel Phillips, PCC Class of 2022 Heads to UA Honors College
Samuel Phillips: Pima Professor,"really opened my mind to everything STEM".
By Kanika Samra, External Relations
How many degrees could a teen finishing high school have? One high school diploma, you'd think. But then that wouldn't be anything out of the ordinary. And ordinary isn't what Samuel Phillips does. From the class of 2022, Sam, as he's known to friends, has already completed a few degrees at Pima Community College and is headed to the University of Arizona, Tucson this fall to study biology with an aim to one day, perhaps, study medicine.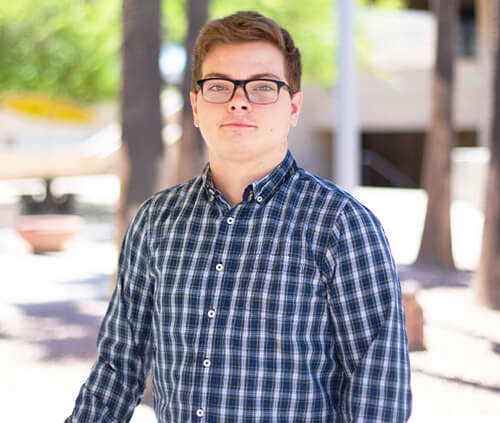 Sam's simultaneous enrollment at PCC while in high school began as a way to follow in the footsteps of his elder brother, David. Inspired by a tour of a forensic lab with the Boy Scouts, Sam's curiosity was piqued and he explored options to take STEM classes at PCC. So, at the age of 15, he found himself working through his high school curriculum–he is homeschooled–as well as attending college courses. 
He admits managing the two wasn't easy. His first semester at PCC was rough. He felt overwhelmed with all the new information, received a low grade in chemistry and had to quickly learn to better manage his time if he were to stay on track. The one thing that really helped was reaching out to his professors who acknowledged the leap Sam was making from middle school to high school and college, simultaneously. Brian McNerney, his chemistry professor, was the first one he approached. And as McNerney welcomed Sam to office hours to work through his questions, so did all other instructors. He credits McNerney for,"really opening my mind to everything STEM." Sam also emphasizes that he relied on PCC's excellent tutoring services –in person and online– as and when he needed help. Having this ecosystem of support made him feel comfortable at PCC and see a future in STEM. 
Marisa Saxton, STEM Program Advisor, reinforces the importance of early and consistent contact between students and advisors. Her mission is "to be a resource for students," even if she might not be the right contact for the problem. She and her team strive to find the resources and information students need to achieve their academic goals. (Program advisers start working with students after their first semester; enrollment advisors provide guidance before that.)
Often students hit a wall when faced with a hurdle–a new topic or an equation–because they might lack the confidence to seek help. Marisa encourages students to, "build those connections–don't leave a class, ask for help, ask questions." In the long run, as with Sam, she says students benefit when they take initiative to address issues. And when that might be too overwhelming, Program Advisors and Career Counselors are available to reassess options because not every student will find a straight path in STEM. Keeping an open mind about career possibilities beyond engineering and medicine can help students keep up the motivation and build confidence in their abilities. 
Sam, who will be at the Honors College at UA, has been spreading the gospel of taking courses at PCC. From the unwavering support of his recommenders during the university transfer process–Dave Tedlock and Amy Cramer among them–to the academic rigor of STEM classes, the cultural depth of Spanish lessons, and bonding with international students, he feels ready to take on life at UA. Taking PCC courses while completing high school gave him room to fail while the stakes weren't too high. He could hone his organizational and study skills; necessary to succeed as an undergraduate. 
Asked about his eventual goal, Sam says Medicine is still an option, but he is going to keep an open mind and see what he "can sink his teeth into." Marisa's advice seems to have stuck!  
Explore STEM opportunities at Pima
Careers in STEM range from engineering and medicine, to biochemistry, kinesiology and more. Contact an enrollment advisor today to find out what's possible.
Found a program you like? Apply Now