My STEM Story
Misha Dawson, a senior director at Raytheon, shares lessons for success from a 27-year-career
Pima's STEM Academic Counseling, Department of Sciences, and Student Life invited Misha Dawson to share her STEM story with students and employees last month. This is a summary of her Feb. 25 presentation.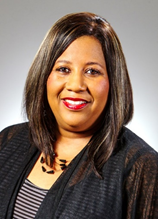 As a student who loved math and science and who excelled in the advanced classes her North Carolina high school offered, the gifted Misha Dawson was surely headed to college. Or was she?
"When I was in the 10th or 11th grade [around 1990], I had no idea I was going to college. And the reason I say that is because by the time I was that age, my parents were divorced. And I didn't think that my single mother at the time had enough funding to send me to school. We didn't talk about it, and I didn't ask about it," Dawson said, during a recent presentation to Pima Community College students and employees.
Lesson One: It's Important to Have a Support System, a Village
One day, a school counselor asked Dawson where she planned to attend college. Dawson told her she hadn't thought about it because her mother couldn't afford to send her. Dawson was in the gifted and talented program and Math Honor Society. She was taking Advanced Placement classes in math and physics. It was a surprise to Dawson to learn she could gain an education without family funds. Once they learned of Dawson's predicament, her counselors and teachers rallied around her, helping her to seek out scholarships, apply for financial aid and fill out college applications. 
"They really became my village to make sure that I was able to go to college, Dawson said. "There's nothing that we accomplish that we do alone."
Lesson Two: Gaining Information Helps You Figure Out What You Want to Do – Or Don't Want to Do
And so Dawson enrolled at North Carolina State University, where she majored in industrial engineering after first considering becoming an electrical engineer. 
She soon realized that the mechanical side of physics was more concrete to her than the electrical side that she couldn't see. She wasn't sure if she wanted to build a career on the electrical side. She happened to attend a National Society of Black Engineer's meeting when a woman walked in and started talking about the study of people in their work.
"It was industrial engineering and that's what sparked my interest in industrial engineering," said Dawson, who graduated with a bachelor of science in industrial engineering in 1995.
Lesson Three: Take Advantage of Internships, Training, Networking and Other Development Opportunities
As a college student, Dawson became involved in Inroads, a national organization dedicated to developing and placing talented minority youth in business and industry, and creating corporate and community leaders.
"I was able to get information about résumé writing, interviewing skills, and the significance and importance of oral and written communication. We were able to meet with other industry professionals and understand what it was like to actually work in a corporate environment," Dawson said.
She also spent three summers during college working at Lufkin/Cooper Tools.
"That is the kind of thing that will say to an employer or potential employer, this person is serious about learning their craft."
Lesson Four: Bloom Where You Are Planted
Dawson's first real job out of college was as an industrial/ manufacturing engineer with Siemens Energy and Automation - a job that required her to move, along with her husband, from her home state of North Carolina to Dallas. 
Dawson had lived in North Carolina her entire life. In Dallas, she decided to learn everything she possibly could in that environment – "to bloom where I was planted."
"It is where I got my core competency in building factories, managing projects, and working alongside other engineers outside of my discipline," she said, adding that the job also included some mechanical and engineering work, further expanding her knowledge base. 
Lesson Five: You Can Do Hard Things
One of her supervisors at Siemens surely didn't make it easy for her either.
"I tell my children, that you will never know who you are until you get to the other side of difficult," Dawson said. "This was the lesson that taught me I could do hard things."
"You will never know who you are until you get to the other side of difficult. This taught me I could do hard things."
This particular supervisor actively tried to sabotage Dawson by telling everyone from maintenance people to more senior engineers not to provide any assistance as she designed an entire lighting panel assembly area for a working factory. He further told her not to interrupt production. She had to complete the job between the time the last shift left on Thursday evening and the morning shift on Monday.
"Well, he made a mistake. If he had told me on Friday, I probably would have failed. He told me on Monday. And so I began to plan. Monday, Tuesday, Wednesday, Thursday, I began to talk to contractors and other people and lay out the plan, designing on AutoCAD and on paper what I needed because I had to have everything in place. I went to work on a Friday and literally did not leave until Sunday," Dawson said.
"And to make a long story short, he ended up gaining a ton of respect for me. And even though he never quite apologized, he completely did a 180. Because he saw that I was not going to let his issues, whatever they were, burden me or stop me from doing what I needed to do."
Lesson Six: Continue Your Educational Journey
As Dawson's career progressed, she started thinking about management and which set of skills and education that would require. She was starting to manage people and projects more often and having to think not only about coming up with the bright new technical solution but how to sell it to senior leadership and get the funding for it.
She decided an MBA would better suit her goals than another technical degree and enrolled at Dallas Baptist University.
"The nugget here is to be a continuous learner."
Lesson Seven: Be Resilient
Right after earning her MBA, Dawson starting working for Nokia Mobile Phones, another opportunity to learn and grow. Unfortunately, she eventually was laid off as the manufacturing facility where she worked was moved to Reynoso, Mexico. 
"Guess what? Even though it was for a good reason, it felt like rejection to me," she said. "Life sometimes serves you hard knocks, whether or not we feel like it's fair, whether we deserve it or not. We have to be resilient."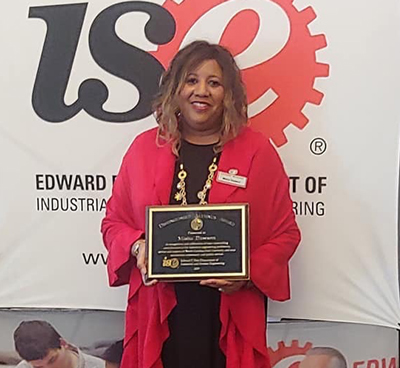 The wonderful thing that Nokia did, however, was connect its employees with talent acquisition people and career fairs.
"Lo and behold, I went to a career fair. I sat down at the table and about in the next hour or so, I had two job offers. One of them was from Raytheon. And so I've been with Raytheon 21 years," Dawson said.
Now, Dawson's father had spent 27 years in the U.S. Army, serving in the Vietnam War, the Grenada Altercation and Desert Storm. Originally from Fayetteville, N.C., he was an 82nd Airborne trooper. Dawson was a "military brat." Her brothers served in the military, as had her husband.
"I would say that Raytheon was an easy choice for me … it was the opportunity to do something that that was bigger than mobile phones, bigger than lighting panels," she said.
It was an opportunity to help protect those who protect the country, Dawson said.
Lesson Eight: Choose a Path that Suits You
Dawson has been at Raytheon since 2001. In her current role as Director of Digital Technology, Digital Engineering Solutions, she is responsible for the engineering computing environment and technical software implementation and support for approximately 15,000 engineering employees across multiple Raytheon Missiles and Defense Business locations.
Dawson said Raytheon has afforded her the opportunity to grow in multiple ways, and one of the aspects she really likes about Raytheon is that the company allows people to choose how they grow.
"If you want to be a technologist for the rest of your life, you can be a technologist. They are the rock stars at Raytheon. We have a Fellows path at Raytheon. We also have a managerial path at Raytheon. We'll have folks who are very technical come work for us. And they think that the only way they can continue to climb is to take the managerial path. But that's not the case at Raytheon. If you want to go deep instead of broad, if you want to be a subject matter expert one day in electro-optics, RF,  guidance, and navigation systems or whatever, you can do that."