Pima Grad Combines Passion for Tech and Tutoring in Web Development Career Path
Alum Darío Mendoza found his passion for helping others learn, grow and thrive at Pima. 
For alum Darío Mendoza, Pima Community College was the support system he needed to succeed after high school.
"Pima being an option for me after high school— everything came from that, really," Mendoza shared of his time at the College.
After graduating from Tucson High School in 2012, Mendoza started his education at Pima, eventually graduating with two associate degrees, the AGEC-S for transfer and honors in 2015. 
When Mendoza started at Pima, he was undocumented and faced barriers to access higher education. Under Arizona's Proposition 300, undocumented students and DACA recipients are ineligible for in-state tuition or public financial aid and face inaccessible tuition costs.
However, Mendoza applied for and received several private scholarships and came to Pima because of its affordable cost of attendance.
"Pima being an option for me after high school— everything came from that, really."
"Pima was there when I needed it," Mendoza shared. 
The quality education Mendoza accomplished at Pima prepared him to transfer to the University of Arizona, where he earned both his bachelor's and master's degrees.
Today, Mendoza works as a web developer for the local creative agency, Brink, and serves as the Communications and Development Lead at ScholarshipsA-Z, an organization that advocates for educational opportunities in partnership with immigrant youth and their communities.
At Pima, Mendoza not only developed skills in communication, math and technology. He also found his passion for helping others learn, grow and thrive. 
Passion for Helping Others Learn
For Mendoza, he had always been excited about learning, but Pima's well-organized classes and qualified faculty gave him the support he needed to expand his academic skills and interests. He completed his concentration in mechanical engineering and started to explore web development and coding. 
"All the classes I took were designed to actually help me learn," shared Mendoza. "My instructors didn't make things harder for me. They wanted me to walk away having learned something."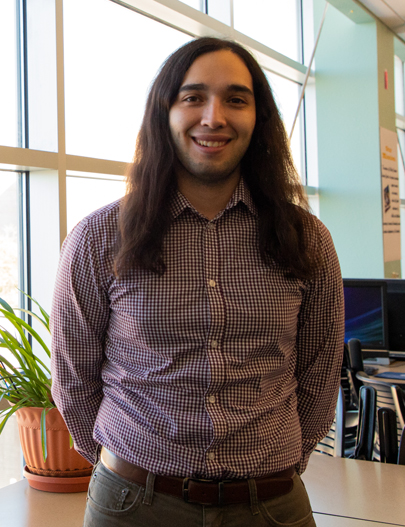 While Mendoza was completing his associate degrees, he worked as a STEM tutor at West Campus, earning an award for "Tutor of the Month."
Inspired by his work as a tutor as well as his experience organizing for better policies and learning opportunities for immigrant students while at Pima, Mendoza is now coding his own website on the side to provide tutoring services to immigrant youth in the Tucson community. He hopes the website will be a resource to support youth as they develop academic skills and pursue education and career opportunities.
For immigrant and refugee students interested in attending Pima, the Immigrant and Refugee Student Resource Center provides additional information and resources about navigating college, financial aid and scholarships. 
His advice to future Pima students is to get involved and make the most out of your education during your time in community college.  
"Pima is a place where you can figure things out," said Mendoza. "I got to explore my curiosities and found what I was good at."
Explore Your Next Steps
Whether you have just graduated high school or are ready to explore a new career, Pima is here to help you open new professional and academic doors. Pima offers over 100 degrees and certificates that will help you develop the skills and expertise you need to reach your career goals.
Explore our academic programs to get connected with faculty who are equipped to help you succeed.