Volleyball Player Finds Her Athletic and Academic Home at Pima
Karla Soto came to Pima to start her career as a college athlete. She's found irreplaceable teammates and a high-quality education along the way.
Born in Tucson and raised in Nogales, Sonora, Karla Soto was introduced to volleyball by her mom at age 11 and hasn't stopped playing since.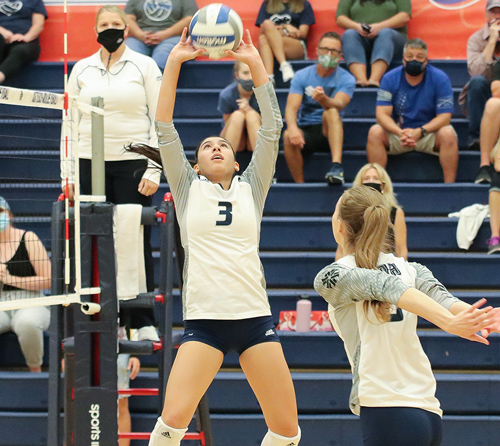 Today, Soto is making her voice and athletic skills known on Pima's volleyball team.
After graduating with honors from Nogales High School in 2020, Soto was recruited to Pima's volleyball team to pursue both her academic and athletic goals. 
While Soto initially planned to play volleyball at a four-year university, her club volleyball coach, and the head coach of Pima's volleyball team, Dan Bithell introduced her to athletics at Pima Community College. 
"I had lost a little faith in myself because I kept getting rejections from schools or no answers at all, so I started to think about just going to college for my academics," Soto shared. 
"When Coach Bithell told me about Pima, I was so happy, and as I looked more into Pima, I knew that I'd be able to achieve my dream after all," she continued.
With the support of Coach Bithell, Soto knew she could complete an affordable education without sacrificing her goals of becoming a college athlete.
Soto was also excited about Pima's programs in science, cybersecurity and computer science that would prepare her to transfer to a four-year university after she graduated with her associate degree. 
Pima Athletics
Pima's women's volleyball team focuses on mentorship and community building. Players of all backgrounds and academic levels come together to form the team, competing against community colleges throughout the state of Arizona. 
"Pima has definitely helped me grow as a person and player"
This season, the Pima volleyball team made it to the playoffs. While the team didn't advance to the finals, its success boosted the College's athletic profile in the state.
Soto's commitment to athletic and academic excellence shows how community colleges can support competitive student athletes in their academic and athletic training. 
"I have learned a lot from coming to Pima. Pima has definitely helped me grow as a person and player," shared Soto.
All Pima Athletics events are open to the community. Check out Pima Athletics' schedule of upcoming games to cheer on our 15 athletic teams. 
Forming an Irreplaceable Community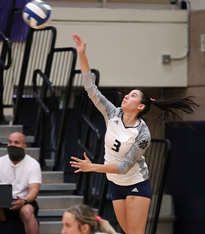 This upcoming May, Soto will graduate with her Associate of Science degree.
After Pima, Soto plans to finish her bachelor's degree in computer science or cybersecurity at a four-year university. In the future, she hopes to work in cybersecurity for a large company.  
Wherever her next steps take her, Soto feels lucky her passion for volleyball led her to Pima Community College.
"Here at Pima, I've been able to focus on and enjoy the process of learning and playing the sport I love," said Soto.
"I've also had the opportunity to meet irreplaceable people that I might not have met if I'd attended another school. I have created memories that will last a lifetime with people that will always have a place in my heart," she continued.
Start Your Education at Pima
Pima Community College provides affordable and accessible education to students of all backgrounds.
Ready to start your next steps at Pima? Connect with an advisor to learn how to enroll in classes and find a program of study that's right for you.