Pima Medical Laboratory Technician Training Leads to a Well-Paying Career
Medical laboratory technicians earn above-average salaries and benefit from faster-than-average job growth projections.
If there is a list somewhere of the unsung heroes of the medical profession, then medical laboratory technicians (MLTs) might be right near the top of it.
MLTs wear white coats, not capes or a big "S" on their chest, but they play an important role in saving lives every day.
What are medical laboratory technicians (MLTs)?
MLTs are the healthcare professionals responsible for analyzing the blood and other biological samples requested by your physician, in search of answers. They act as disease detectives, conducting a variety of lab tests to confirm the presence of a medical condition or to determine if additional tests will be needed to pinpoint the cause.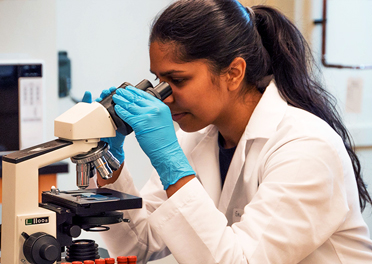 "It's a hands-on job that is all about helping others," said Maggie Turner, a graduate of Pima's MLT program. "You can help save lives by performing lab tests and sharing your findings with physicians to help diagnose and rule out medical conditions."
Turner completed her Associate of Applied Science in 2009 and, like many Pima MLT program graduates, immediately was hired by the company where she completed her clinical rotation. She has since worked her way up by earning her bachelor's in Medical Laboratory Technology and master's in Healthcare Administration.
When the COVID-19 pandemic hit, Turner was working as the laboratory director of St. Mary's Hospital.
"During the pandemic, we lost a lot of people who decided to retire or go into a different field," she said. "I felt that I could be of better service to the lab and our community by stepping down to provide more hands-on support to my team."
Prepare for Life-Long Career Opportunities With a Pima Degree
In January 2021, Turner began serving as the laboratory supervisor for St. Mary's. She plans to return to a lab director role in the future.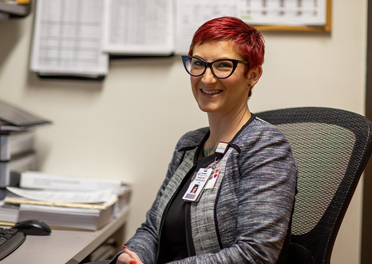 "You can have a lifelong career in this field with opportunities to work in multiple departments and specialty areas," said Amee Rosales, director of Pima's MLT program.
"Our program is perfect for people just entering the field or for those who have their Bachelor of Science degree and want clinical laboratory experience to qualify to sit for the American Society for Clinical Pathology (ASCP) certification exam."
"I like to hire Pima grads," Turner said. "I know first-hand that Pima produces well-rounded, knowledgeable and detail-oriented techs. If you have strong organizational skills and can pay attention to detail, this is one field to consider seriously."
Sanjay Timbadia, who has been the Director of Laboratory Services at Tucson Medical Center for the past nine and a half years, said he relies heavily on Pima's MLT program to get qualified applicants to fill his positions.
"I know first-hand that Pima produces well-rounded, knowledgeable and detail-oriented techs."
"We like to hire students from Pima's MLT program because we know that their training is high-quality," Timbadia said.
"Pima's program is a strong program in comparison to other MLT programs that I've observed," he said. "Every Pima student that we've hired has been a strong medical lab tech and a couple of them have already moved into leadership roles."
"The instructors also work in the field and know what is needed in the workplace and communicate this to the students, enabling them to be successful." Timbadia said. "Some of my full-time employees also serve as adjunct faculty."
"It was really cool to learn from instructors who actually work in the field and can provide real-world examples," said Elyse Gayda.
Gayda earned her Medical Laboratory Technician Associate of Applied Science (AAS) degree from Pima in 2013, her Allied Health bachelor of science degree from Northern Arizona University in 2016 and is now teaching as an adjunct for Pima's MLT program while working full time as the Laboratory Supervisor for Transfusion Services at St. Joseph's Hospital.
"Having access to instructors with industry experience just blew my mind, especially since I was a former University of Arizona student," she said. "Taking a course taught by someone who's been through the ropes is second-to-none."
"It feels really good to give back to the program that helped prepare me to enter the MLT field."
"As an adjunct, I take pride in helping to prepare my future colleagues," Gayda said. "I understand the specific skills needed in the industry and can take my experience and express it in the courses that I teach."
"It feels really good to give back to the program that helped prepare me to enter the MLT field."
Pima's MLT program is accredited by the National Accrediting Agency for Clinical Laboratory Science and meets the ASCP Board of Certification Standards of clinical laboratory professionals.
Start Your Career at Pima
 Pima offers hundreds of courses to provide you with the skills and knowledge you need to successfully build your career. Explore our course options to get enrolled today.