CEO and Founder of the Grow Academy Got Her Start at Pima
Pima alum Angela White founded the Grow Academy to share financial literacy resources and skills with the Tucson community.
Angela White knows it takes a village to make a difference in the community.
That's why the values of collaboration and teamwork are at the heart of the mission of the Grow Academy, the nonprofit she founded while she was a student at Pima Community College.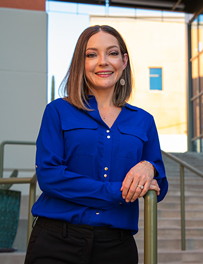 The Grow Academy gathers the best and brightest financial resources available in the local community to help children, teens and young adults develop financial literacy, optimize wealth and achieve financial security throughout their lives.
Today, the Grow Academy is an established organization with prominent community partners and well-researched workshops that serve over 100 participants each semester.  
As White looks back on the first two years as founder and CEO of the Grow Academy, she points to Pima as the key to her organization's success. 
"The Grow Academy is truly a 'we' program. Everything comes from our team coming together to serve the community," White reflected. 
"The Grow Academy's collaborative mentality started at Pima. At Pima, I learned that it's the people that matter most," she continued. 
Self-Trained After 15 Years in the Financial Industry
White came to Pima as a non-traditional student. 
Before completing her high school degree, White went into the workforce to support herself financially. White worked several jobs to make ends meet, eventually landing an entry level position at Wells Fargo as a bank teller. 
During her time in the workforce, she learned about financial literacy, the knowledge and skills to manage financial resources effectively for a lifetime of financial well-being. 
"I had to figure out how to plan and save on my own," shared White.
"I was lucky that I was around a lot of experts who helped me learn and grow, but I know a lot of people in our community don't have the same access to financial literacy information or resources."
White's experience in the finance industry became inspiration behind the Grow Academy's mission to share financial literacy resources and skills with the Tucson community. 
"I didn't have access to that information or resources growing up. It was only by working in the financial sector that I was able to get that information, and I think everyone should have that opportunity," White said.
"At Pima, I learned that it's the people that matter most."
White spent over fifteen years working in the financial industry before returning to school to further pursue her true passion – helping people.
She came to Pima to finish her GED and earned her Associate of Science. She graduated with honors in 2019. 
White credits her grandmother as her inspiration for going back to school. 
"My grandmother went back to school after several years in the workforce," shared White. "She told me it's never too late to follow your heart. So, coming to Pima was the work of my heart, for me."
White is currently pursuing a bachelor's degree in psychology and cognitive neuroscience at the University of Arizona.
Starting the Grow Academy
While at Pima, White started the Grow Academy as part of her Honors endeavors project. The endeavors project asks students to develop evidence-based solutions to issues facing the Tucson community. 
White's training in financial literacy and mindfulness as a yoga instructor inspired her to create a program where community partners could bring financial literacy training and knowledge to children, teens and community members.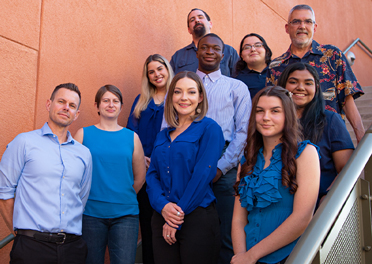 In 2019, White launched the first Grow Academy workshops. She partnered with a local financial advisor and her peers from the Pima Honors program to create a research-based curriculum and teach over 70 Pima students the foundations of financial literacy. 
While there was a learning curve, the project inspired White to pursue this work full-time. 
"I was always a wallflower and preferred to stay in the background, but the endeavors project pushed me to step out of my comfort zone and start building relationships," said White. 
Two years after White started the Grow Academy, the organization is stronger than ever. 
The Grow Academy offers three workshops that specialize in different areas of financial literacy: Personal Finance, Managing Debt and Saving & Investing. 
Each workshop is designed to introduce participants to skills and resources that will empower them to take charge of their financial future. 
"The Grow Academy wants to empower people to learn about financial literacy and to walk away with resources. We are not pushing a product. We want to build support systems for the community," said White. 
While White is excited for what the future holds, she recognizes the Grow Academy has only been possible due to the support she has received from her peers, former Pima instructors and community partners. 
"This project is a total team effort, and we couldn't have created any of this without Dr. Ken Vorndran, Kyley Segers, our incredible student team and the amazing Edie Pearson, who set everything in motion", White shared.
"My time at Pima has truly been life changing and I am forever grateful," said White.
Visit the Grow Academy's website to learn more about upcoming workshops and how you can get involved.
Start Your Next Career at Pima
Pima Community College is here to support you in whatever you'd like to do next.
We offer over 100 degrees and certificates that will prepare you for in-demand jobs or transfer to four-year universities.