Pima Men's Soccer Claims NJCAA National Championship with Shootout Win Over CCBC Essex. Women's Soccer Falls Just Short of Title. 
The Pima Community College men's soccer team (18-1-2) is bringing the NJCAA Division II National Championship back to Old Pueblo.
No. 2 seeded Pima defeated No. 1 CCBC Essex 2-2 (Pima wins shootout 5-3) to claim its first NJCAA Division II National Title and second championship overall. Pima won the NJCAA Division I Championship in 2018.
The men's soccer team wasn't the only Pima team competing for the NJCAA National Championship on Saturday.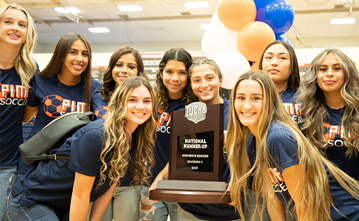 The No. 4 seeded Pima women's soccer team (16-4-2) fell just short in their quest for the program's first NJCAA Division II National Championship to No. 1 Heartland Community College 2-2 (4-2 in penalty kicks).
"Today's game was very competitive. I'm super proud of how the girls played," Pima women's soccer coach Kendra Veliz said.
"I'm really proud of how the girls competed, it was the No. 1 seed, and my assistant coach said we scored more goals on them than any other team. Two goals was a huge accomplishment," she continued.
Since becoming head coach at Pima in 2001, this is the furthest Veliz has taken a team in the national tournament. The Pima women's team finished with the most wins in a season since 2016. 
Pima Men's Soccer Team Claims Victory in Final Shootout
For the Pima men's soccer team, their nail-biting victory was all about risk and teamwork. 
Sophomores Manuel Quiroz (Sunnyside HS), Sam Lossou (Rincon HS), freshmen Jesus Virgen (Sunnyside HS), Cristian Gutierrez (Cholla HS) and sophomore Francisco Manzo (Salpointe Catholic HS) all converted on their penalty kicks (PKs). Sophomore Juan Suarez (Desert View HS) blocked Essex's fourth PK attempt, setting up Manzo's game-winner.
"I just knew, I told them before the shootout, 'Everybody secure their penalty (kicks) and I'll stop one and that's what happened," Suarez said. "After the third shot they took, I noticed their pattern which was always going across their body. On the fourth one, I risked it, went for it and saved it."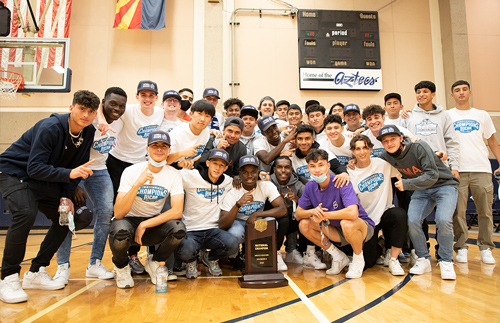 "This feels great. Man, after all the hard work the past four months, I feel relieved. It's a big dream all of us have and it's a dream come true," Suarez continued.
Suarez finished the game with 14 saves. Suarez along with sophomore Ulysses Torres (Sunnyside HS) were named to the All-Tournament Team.
Manzo, not only scored the final penalty kick, but he also put the Aztecs up 1-0 with his goal in the 2nd minute. The Knights (19-1-1) tied it and took the lead with goals in the 20th and 42nd minute. The Aztecs tied the game at 2-2 when sophomore Minho Cha scored with 21.9 seconds left in the half.
Manzo was named the Most Valuable Player of the Tournament. This was also his third national tournament appearance as part of the Aztecs.
"It's been amazing here, getting to play with some of my friends since I was a little kid. We all played together. Getting to play these last three years with them means everything," Manzo said.
Pima men's soccer coach David Cosgrove gave plenty of credit to CCBC Essex and the challenges they presented to his team.
"We've been very fortunate in both of our national championship games. We've faced two really classy programs with terrific coaching, really disciplined and have a respect for the game," Cosgrove said.
"The Pima kids have worked really hard for this. I think they deserve it."
"Tonight it could have gone either way. They were so good and they sent so many things that created real problems for us. With the penalty kicks, anyone can win, anyone can lose. My heart breaks for those kids because they were really good tonight.
"The Pima kids have worked really hard for this. I think they deserve it. There's an old adage that says coaches lose games and players win games, and certainly this week, this entire year and the last two years, we've had the right players to win a lot of games."
Cosgrove has won both of his national championships with his son Conner by his side.
"That's what makes this really special for me, is my son (Conner) was at Pima with me when we first won it in 2018 and he's just finishing up with Pima right now with me. To bookend both championships and share them with my son is something I'll remember for the rest of my life," Cosgrove shared.
Cheer On Pima Athletics
Pima is home to 18 athletics teams- from soccer to volleyball to basketball. Learn more about upcoming games and how you can support our men and women's teams year round on our athletics website.