Pima Supports Tucson's Workforce Through the Registered Apprenticeship Program
Learn more about our Registered Apprenticeship program and how it benefits both employees and employers.
Tony Lopez grew up in the shop with his dad, a mechanic who inspired Lopez's interest in making things work from a young age. 
Today, Lopez is a supervisor at Leonardo Electronics and taking courses in the Automated Industrial Technology (AIT) program as part of Pima's Registered Apprenticeship program.
Lopez became an apprentice to learn more about streamlining the process of fixing automated equipment and to develop skills as a well-rounded maintenance technician. 
"It's been great to be at Pima," Lopez shared. "The opportunity to take classes and learn new skills will help me grow in my job and support bigger projects." 
"My main goal is to have the skills to fix equipment quickly, so our team doesn't have to wait for outside assistance to get the project back on track," he continued.   
In 2019, Pima became the first community college in Arizona to become a Registered Apprenticeship sponsor. 
"The opportunity to take classes and learn new skills will help me grow in my job."
An apprenticeship is an industry-driven, high-quality career pathway where employers can develop and prepare their future workforce and employees can get paid work experience while earning course credit and nationally-recognized credentials.
The Registered Apprenticeship program currently supports workers in eleven industries, including advanced manufacturing, construction and building.
But, registered apprenticeship programs can be established in nearly any industry. Industries like healthcare, information technology and energy are also embracing apprenticeships to support the professional development of their workforces.
What are the benefits of the Registered Apprenticeship program?
The apprenticeship program is designed to support employees who want to build upon their skills to pursue a new career path or advance in their current job. In partnership with employers, apprentices can earn tuition reimbursement to alleviate the cost of Pima courses. 
For Lopez, the apprenticeship program is helping him learn skills that will improve the processes at his workplace.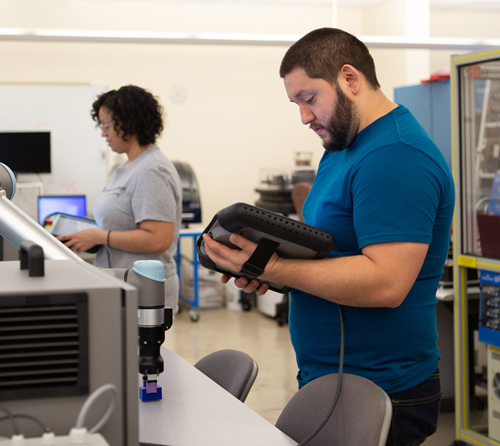 Lopez noted the apprenticeship program is particularly valuable if employers can pair the training with promotions and raises for employees who complete the program. 
"Employees who go through the apprenticeship training will offer their employers a lot of skills and support. It can be really valuable to both employers and employees," he shared. 
As Lopez completes his certificate at Pima, he will continue to grow in his position and has enjoyed learning from faculty at Pima.
"All the instructors in the AIT program have actual experience in the field and really know their stuff," Lopez said.
For Lopez, his time at Pima has just begun.
"I've been thinking about coming back as an adjunct at Pima sometime in the future and helping other students learn something new," he shared. 
Learn More About Apprenticeship at Pima
Contact the Employer Engagement and Career Services (EECS) to learn more about joining the Registered Apprenticeship program at Pima.
In addition to the Registered Apprenticeship program, ECCS runs several work-based learning programs and events to connect you with employers. ECCS can also prepare you for the workforce through career readiness training and employment opportunities.