Tucson Actor and Former Pima Student Shines in Hit FX/Hulu Series
Jon Proudstar learned acting fundamentals at Pima. Now he stars in a hit show that showcases Indigenous stories.
Reservation Dogs actor Jon Proudstar attended Pima Community College for only a short time in the 1980s, but what he learned in his theater and filmmaking classes laid the foundation for his nearly three-decade career in film.
"Going in right out of high school, I didn't know anything. I had these lofty goals. My instructors were so patient with me, teaching me the fundamentals, while entertaining my thoughts," said Proudstar, who has more than 40 acting credits to his name.
Securing a Starring Role in Reservation Dogs
Proudstar's most recent role in the highly regarded FX on Hulu Series Reservation Dogs may be his best and most satisfying role yet.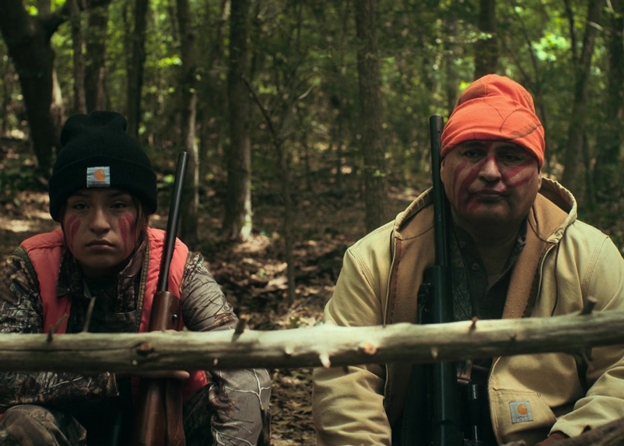 The series features all Indigenous writers and directors, along with an almost entirely Indigenous American cast and production team. It was filmed at the Muscogee Nation in Oklahoma.
The half-hour comedy follows the exploits of four Indigenous teenagers raising money by whatever means possible to flee to the exotic and, in their minds, utopic state of California.
Proudstar plays Leon, the father of Willie Jack, a teenage girl who is one of the titular reservation dogs.
"It shows a positive male Native American figure. The family is a normal family with its share of problems," he said. "To get to play a character like that, and show everyone what we're really like, it was an honor."
Reservation Dogs has garnered positive reviews across the country. It premiered in August 2021 and was renewed for a second season in September.
"It's pretty neat to be involved with a project that's getting good attention," said Proudstar, who could work more in film but has told his agent that he's not interested in the cliché "leather and feather" roles.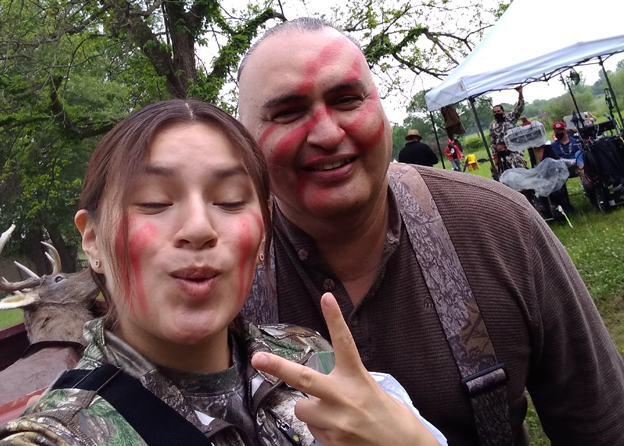 While Proudstar noted that he doesn't want to speak for all Indigenous people, he believes the FX/Hulu series, directed by Sterlin Harjo, demonstrates to those communities that their stories are important.
As a creative – who, in addition to acting, has written a comic book featuring a Native American superhero – he has felt at times that maybe nobody cared about hearing Native American stories. 
"Where there are Indigenous cultures, you kind of feel that no one is really looking at or cares about your culture. They want to see the old romanticized version of you. They don't want to know where you are now," he said.
"I think Reservation Dogs is going to resonate with people, especially kids, and show that, 'Hey, your stories are important. People are interested in them.'"
From Tucson's Westside to Pima Theater Courses
Proudstar is Pascua Yaqui and grew up mostly on Tucson's Westside, where his grandmother raised him.
"My grandmother was the first one to kind of explain to me that acting was a job. As a child, I thought I was watching real life, you know, when I saw an actor die in a movie. And then I saw him come back in another film. She explained to me that it was like when I go outside and play with my friends. They're 'playing.'"
He continued, "And I was like, 'Wow, that's a job?'"
Proudstar went to Tucson High School and attended Pima afterwards in the late 1980s. He said Pima opened up to him the world of storytelling through acting and filmmaking.
"Your stories are important. People are interested in them." 
His film instructors Dave and Cindy Wing taught him such basics as how to white-balance a camera, which is a camera control that adjusts the camera's color sensitivity to adjust for the color of the prevailing light. 
Barclay Goldsmith, then head faculty of the Theater program, "showed me the foundations of acting, what it comes from and why it's so difficult," Proudstar shared.
"I definitely credit Barclay for opening up that first door in my head."
Much like the young characters in Reservation Dogs, Proudstar once thought his future was in California. However, after a short stay in Hollywood, he returned to Tucson to raise his daughter and has worked for many years at a local shuttle service, which gives him time off for acting roles. 
Proudstar, known for his work Wastelander (2018), So Close to Perfect (2009) and many other roles, gained his first significant experience in movie-making on the film Young Guns II, filmed in Tucson in 1990.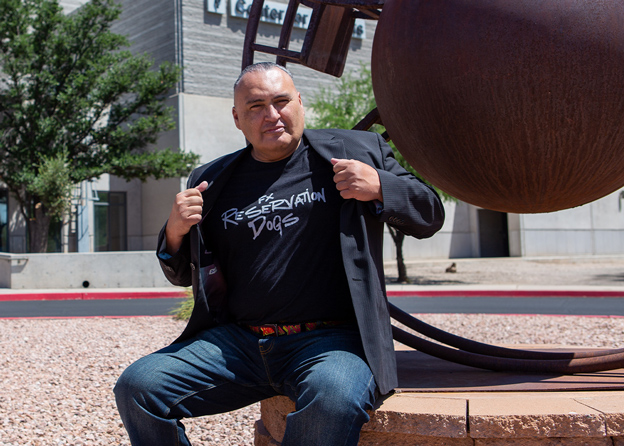 He learned it was being filmed here from a friend who rented the portable toilets to the production company. Proudstar went to the hotel where production members were staying, found out the casting director's room number from the cleaning staff and parked himself outside the room. He eventually met the casting director and refused to leave until he was promised a job as an assistant, with payment in food.
He would go on to become a photo double and stand-in (with actual monetary pay) for Lou Diamond Phillips-- and the inspiration for Phillips' glorious locks in the film.
After meeting the screenwriter and expressing his interest in writing and directing, Proudstar was invited to attend production meetings, where he began to learn about the business from the inside.
"The more I learned, the more I fell in love with it, you know?," he shared. 
Reservation Dogs premeires on the FX channel and is available to stream on Hulu.
Explore Career Options at Pima
Whether you want to start a new career or upskill in your current job, Pima provides
career resources
and
counseling
to help you explore the career path that is right for you.