IT/Cyber Student Finds Support and a Career that Fits Just Right
It's not often that someone on the verge of receiving a $10,000-a-year pay raise quits her job because she knows she will have other opportunities that offer excellent pay and a better work-life balance.
But, Pima student Kaela Manger was able to do just that, thanks to a Pima Community College education in Cyber/Information Technology (IT). Through Pima, Manger has found a profession that pays well and offers multiple avenues to a life that fits just right.
From Tucson Social Worker to Pima IT Student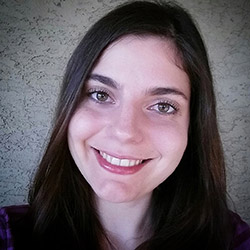 Like many, Manger's education and professional journey has had its twists and turns. She grew up in the Arizona border town of Sonoita, got her general equivalency diploma and started working as a social worker in Tucson. 
She proved so adept at solving her co-workers' computer challenges that her boss suggested she consider studying IT.
Manger enrolled at Pima, where she has been studying Network Systems Administration with a concentration in Cybersecurity. Manger also joined Pima's IT Club, where she connected with a fellow student whose tip about an open position led to her first IT job repairing personal computers.
Then came a full-time position with a metro Phoenix cybersecurity firm that hired her as an internet detective of sorts, investigating suspicious activity on the IT networks of the firm's clients.
The position paid $40,000 a year. She took the job and moved to Chandler. With her Pima education on hold, she immersed herself in analyzing phishing, hacking and other cyberthreats.
She enjoyed the work but it was intense and didn't leave much bandwidth for school. In January 2020 she quit – just before she was to receive that $10K raise – and moved in with her parents, so she could concentrate on completing her Pima education online and become an active part of the Arizona Cyber Warfare Range.
"I always felt extremely supported at Pima"
Manger graduated from Pima in December 2020 with her Associate of Applied Science degree. Next, she wants to pursue advanced certificates in computer networking.
"I'm looking to work and have a family," Manger said. "In IT, there are just so many opportunities to work from home and do contract work."
Making Waves as a Woman in IT
Women constitute 35% of Cyber/IT students at Pima, though the profession remains largely male for now. 
But, Manger has only had a supportive experience at Pima.  "I always felt extremely supported at Pima," Manger shared.
"The staff and faculty there are so humble, kind and encouraging. I wouldn't have had the opportunities if not for them. I was not confident in my abilities when I got to Pima. They lifted me up."
Explore your Next Career at Pima
Ready to explore opportunities? Learn how a professional certificate from Pima can help you explore career options and develop the professional skills employers are looking for.
And, when you're ready to start your job search, Pima's career resources are here to help you connect with employers, build your cover letter and résumé and prepare for your upcoming interview.
Ready to start your next career path at Pima? Apply Now