Pima Grad Paves the Way for Women in STEM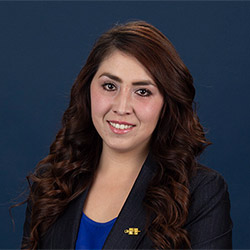 "Believe in yourself. The doors will open."
Pima graduate Yara Villalobos has worked full time at Roche Tissue Diagnostics in Tucson since August 2020. Roche provides tests that help doctors diagnose cancer quickly and accurately. Yara's job in the Quality Control unit allows her to provide for her two children.
Yara earned an internship at Roche while at Pima, which accelerated her journey to full-time employment. Her Pima instructors encouraged her to apply, and she is grateful she did.

"Believe in yourself," Yara shares. "Don't sell yourself short or not apply because you don't believe you are 'good enough.' The doors will open eventually."
From GED to Bachelor's Degree
A native of Sonora, Mexico, Yara attended eighth and ninth grade in Tucson before her family returned to Mexico. She got pregnant at age 17 and dropped out of high school in Mexico. Her family immigrated to the U.S. in 2009, and in 2012, Yara received her General Education Diploma (GED), passing her exams on the first try. 
She began her studies at Pima in fall 2016, after her youngest son started kindergarten. Yara initially studied science, but switched her major. In May 2019, she earned an Associate of Arts degree, an AGEC certificate for transfer to the University of Arizona and an Honors Program certificate.
Student Support Services at Pima
Yara said several factors contributed to her success at Pima, including taking advantage of Pima's free tutoring, and her membership in Pima's Student Support Services (SSS) program. SSS supports first-generation, low-income students studying Science, Technology, Engineering and Math through course and program advising, transfer and career help and financial aid advising.
Yara is grateful for the support of SSS advisers Gustavo Miranda and Don Harp. "There were times when I felt lost and discouraged but knowing I was not alone and I could go to them for support made a big difference for me," she said. 
"Yara is amazing," Harp said. "I am honored to have been able to work with her, and so many other students like her."
Membership in clubs at Pima also played a critical role in her success. "My fondest memories at PCC are those with the Honors Club and the Phi Theta Kappa club. (PTK is the national honor society for students at two-year colleges.) "They provided me that community of like-minded students that I needed, and made PCC feel like home."
Yara earned a Coca-Cola Gold Scholarship through her membership in the Pima chapter of PTK. The scholarship pays for her tuition at UArizona. Yara initially intended to enter UArizona's Pharmacy program. But, she changed gears and is on track to graduate in May 2021 with a bachelor's degree in Sociology.
"Pima prepared me for the rigors of the UA, and also provided me with so much support and resources that when I started at UA I knew that my first step was to find those resources and those communities because I knew that my success was dependent on it," Yara said.
From Intern to Full-Time Employee
Yara's connection to Roche started when Pima chemistry instructor Christopher Cabello and Biology instructor Lisa Werner encouraged her to apply. She believes a letter of recommendation from Dr. Cabello was critical to getting the Roche internship because his letter detailed her strong work ethic.
Yara was a part of a Pima cohort who interned May to August 2019. She interned in Operations for the Quality Control department, earning $17 an hour. Her work was a mix of training, job shadowing, coordinating work with Roche's other units, such as information technology and environmental safety, and learning from guest speakers and former interns now employed at Roche. She also participated in a symposium in which the interns showcased their work.
Following the internship, she was offered a co-op position that allowed her to work 20-40 hours on a schedule that didn't conflict with her UArizona classes. Then she was employed at $20 an hour as a contractor, working in the Quality Control lab and providing support for Roche automated diagnostic instruments.
The internship "most definitely" led to her eventual full-time employment, not only for Yara, but also the other Pima student-interns.
"[Roche's] leadership team was so happy with the work we were doing that they wanted us to extend our time," Yara said.
Women in STEM
Yara sees her path as part of a larger movement to get women in STEM careers: "More women should pursue a career in STEM—there are many women who have already paved the way for us to enter, for the door to open. Our next steps are not only for us, but for the future generations of women, all of us changing the world one woman at a time!"
Apply to Pima
Inspired to make a difference in a growing industry? Check out our courses and learn how you can apply to Pima.