Pima Student Jumpstarts Career as Nursing Educator
Vinny Jordon is a graduate of Phoenix's Agua Fria High School who moved to Tucson in 2013 to attend the University of Arizona and major in Art History. Like many students, he switched programs, receiving a bachelor's degree in General Studies in 2016. That led to a job as a manager at a local outlet of a national cosmetics company, where he intended to climb the career ladder.
The passing of his grandfather led him to rethink his priorities and switch gears to pursue a career in nursing.
Pima Offers Hands-On and Attentive Training
He explored various university programs built for bachelor's degree holders, but found them to be prohibitively expensive and too accelerated for his tastes. "I didn't want to have to blaze through a Nursing program," he said. One program Vinny looked at could be completed in a single year, with no summer or winter breaks.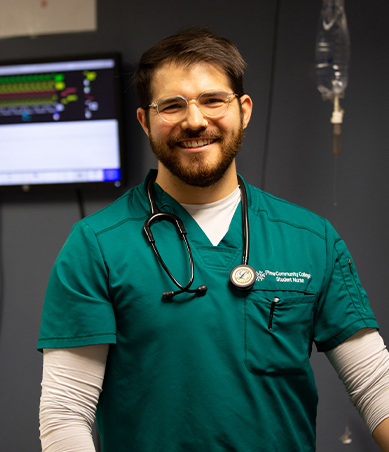 Plus, he found the vibe at the university programs to be a little less welcoming than he preferred. So he chose Pima for the supportive community and flexible nursing program.
Vinny shares what he's gained from his time at Pima and where he hopes to take his career next.
How would you describe Pima's quality of instruction?
I have yet to have a negative experience with faculty. At UA, at the undergraduate level, all instructors are graduate students. Here my teachers are professors.
What's it like learning to be a nurse?
We get a lot of hands-on training in specialties – obstetrics, pediatrics. Imagining giving birth was wild.
This semester we were at the Banner main campus in the medical oncology unit.
It's very intense. In the past two weeks we've seen patients with serious medical problems that require a rapid response – you've got 10 people flying into the room because the patient might have been having a stroke, or their blood pressure was tanking. It's about trying to find out what's wrong with the patient, and do it fast.
What are your plans to further your education?
I will graduate from Pima in May and hope to finish my master's degree in Nursing from Grand Canyon University in either May or December of 2022.
What's your career goal?
Nursing education. I would like to teach.
What has your experience been as a male in Nursing?
Personally, I haven't experienced differences in treatment from faculty, patients, other students. There's no stigma.
Explore your Next Career at Pima
Want to make a career switch but not sure where to start? Take advantage of Pima's resources to identify and gain insight into your interests, skills, values, personality and other factors that help you choose a major and set career goals.
Ready to start your next career path at Pima? Apply Now