South Tucson Paramedic Transitions to a Career in Nursing
Keaton Barker has been a busy guy. He's 25, was born and raised in Tucson, graduated from Marana High School, served in the military and became a paramedic.
Now he's working on a degree in Nursing at Pima and is planning to continue his education.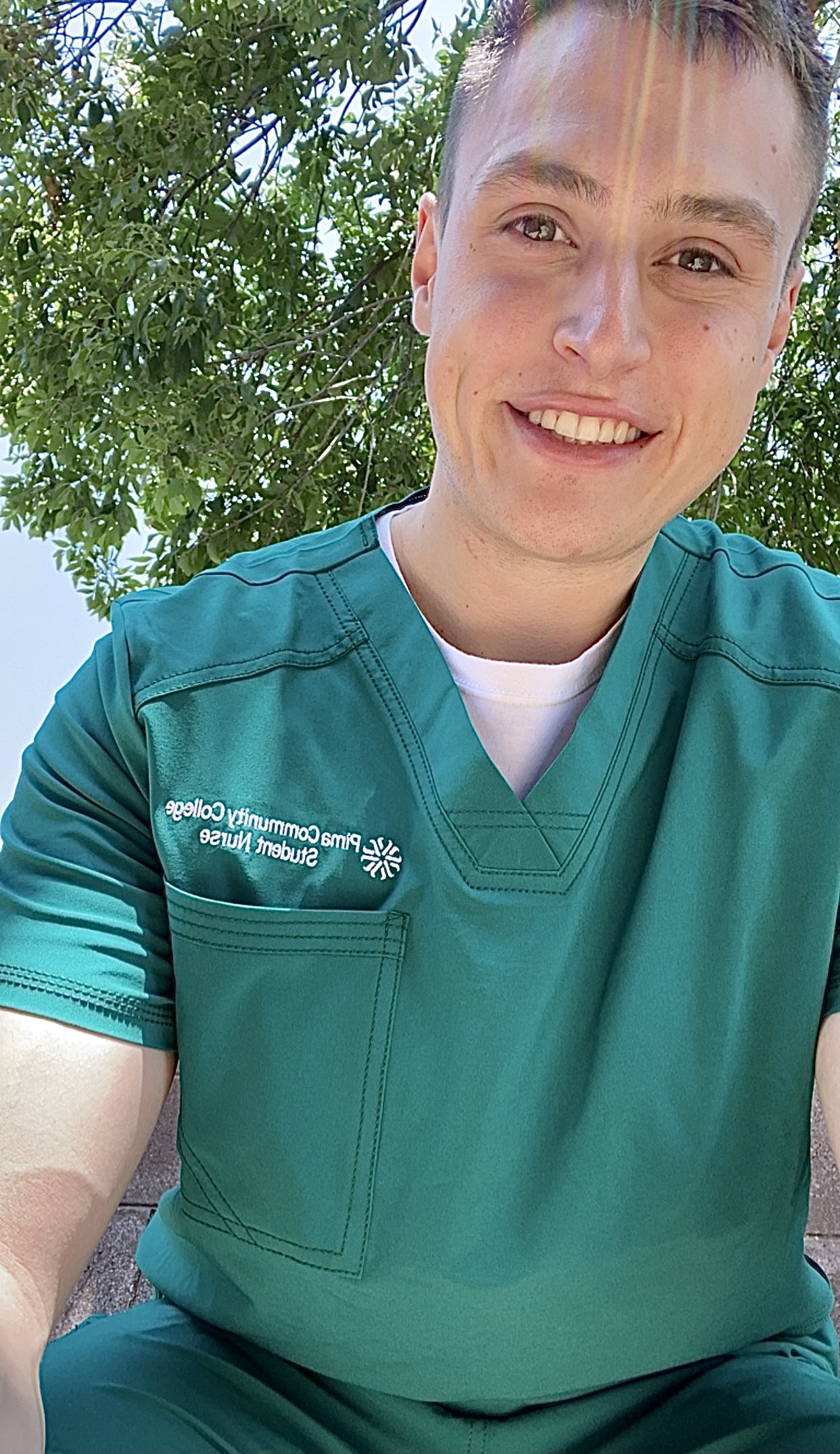 Get a Nursing Degree at Pima
Keaton shares how his experience as a paramedic and firefighter inspired his switch to nursing and how Pima's nursing program supports his new career goals. 
What did you do after graduating from high school?
I served three years in the Marines, stationed in Hawaii working in administration.
What happened after you left the military?
I returned to Tucson, went to Pima, got my EMT and Paramedic certifications. I currently work as a firefighter and paramedic with the South Tucson Fire Department. And I am an instructor in PCC's Paramedic program, teaching Tucson Fire Department and Air Force personnel.
How would you describe Pima's quality of instruction?
Pima is a great bridge to a university. The General Education instructors have been such a blessing. They care about your success. You get so much more out of smaller-group education in terms of connecting to other students, as opposed to a university class with 100 students, where you don't know the person to the left and right of you.
How does technology figure into your education at Pima?
We train on virtual simulation mannequins with heart rates, pulses, lung and bowel sounds. As a paramedic, I appreciate it as a tool because it better prepares you for what actually is going to happen. You get your mistakes out of the way before it becomes a real issue.
Have you taken part in clinical rotations at area hospitals?
I am currently at Tucson Medical Center in the Med Surge unit. It's the culmination of your Physiology training– you learn what can go wrong with someone and how to fix it.
How has your Paramedic training come into play in your Nursing training?
I can speak the same language as the nurse. [I] know what the nurse is going to be doing. Good communication from a paramedic to a nurse saves time between nurse and the provider [doctor]. It's imperative in cardiac arrest, chest pain, and stroke cases.
What are your plans to further your education?
I am working on concurrent bachelor's at ASU and hope to come out with associate's and bachelor's degrees in Nursing.
What's your career goal?
Flight nurse or a nurse practitioner in an acute-care setting.
What has your experience been as a male in Nursing?
You are definitely the elephant in the room. The unicorn. You are the one male in a room of females. But I have a compassion of service as a firefighter that's not gender-specific.
Nurses are the backbone of the hospital. I'm starting to see more "murses," and I have learned a lot from other males in clinicals. It's a great job that should be open to everyone.
Apply to Pima
Inspired to make a difference in a growing industry? Check out our courses and learn how you can apply to Pima.