Pima Community College Returns to Metallica Scholars Initiative
Tucson, AZ – Pima Community College returns for a second year as part of the Metallica Scholars Initiative program for 2022-23 and will receive $50,000 to transform the future of students in the community.
In May, more than two dozen Pima learners were recognized for completing the 2021-22 program, including Nathan Vincifora and Michael Poling.
Nathan is a graduate of Pima's Automated Industrial Technology program whose goal is to become an engineer. Michael is a graduate of Pima's Computer-Aided Design program. "I'm so grateful for Metallica's scholarship and the support I received from Pima's Career Services" unit, Michael said.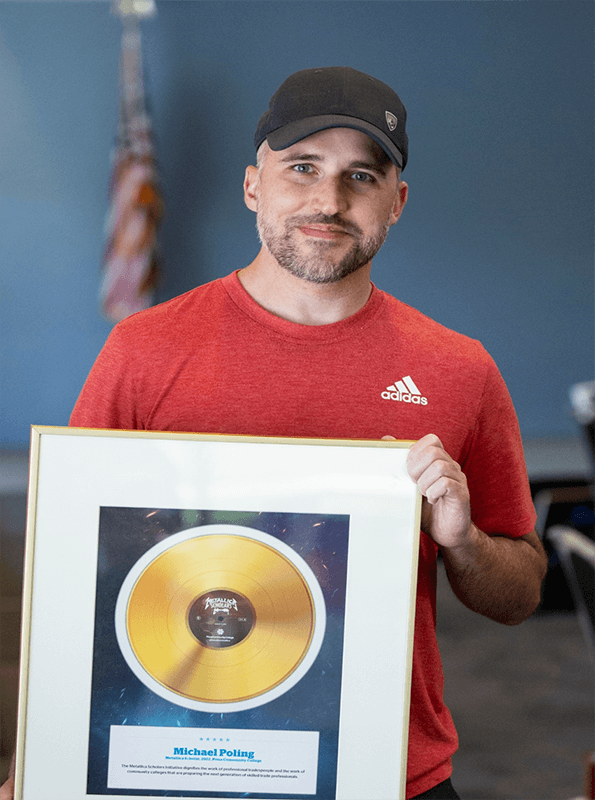 Since establishing the Metallica Scholars Initiative in 2019, All Within My Hands (AWMH) has been working with the American Association of Community Colleges (AACC) to provide direct support for career and technical education programs across the US. Having grown from a concept to a thriving educational strategy that focuses on enhancing skills while providing services to students looking to enter a traditional trade or other applied learning program, the Metallica Scholars Initiative has generated a proven and measurable impact. AWMH will replicate the program further by adding ten more schools to the roster, investing $1.8 million to expand in year four.
"Our goal for the Metallica Scholars Initiative is to shine a light on workforce education and support the next generation of tradespeople. With the addition of the 2022-2023 Metallica Scholars program, our grants will reach over 2,000 men and women in 32 community colleges across 27 states. We are honored to support these students of all ages and backgrounds and look forward to growing the program even farther in the future," said Pete Delgrosso, Executive Director, All Within My Hands.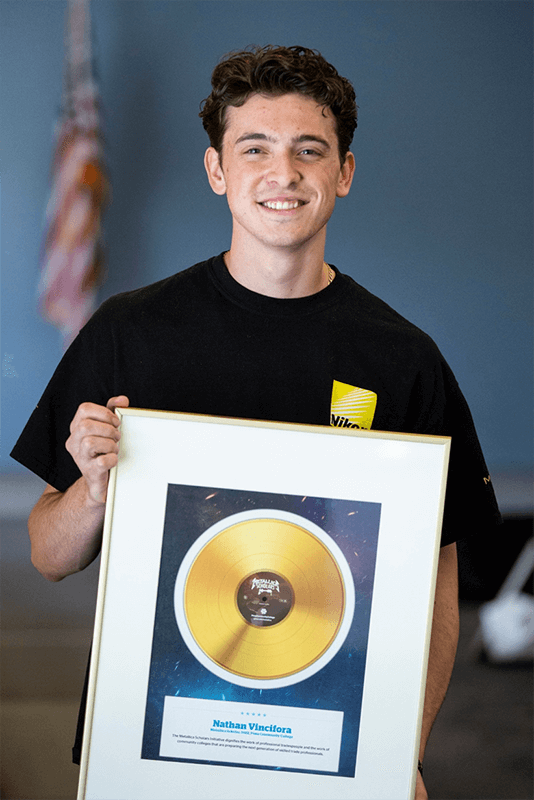 Direct impact on job and wage growth drives the Metallica Scholars Initiative. On average, students who complete the program see new job opportunities and increased salary potential up to three times higher than pre-program. Pima Community College will focus its efforts on Pima intends to prioritize development of apprenticeship opportunities for students seeking careers in Building and Construction, HVAC, Carpentry, Electrical, Plumbing, Automotive, IT/Cyber Security, and Automated Industrial Technology. Metallica Scholars will be showcased to promote varying skilled trade pathways as a means to economic development.
The college's goal is to elevate students' skill sets by meeting industry standards and raising the level of academic programs offered.
"Pima is honored that Metallica is helping us support our students," Pima Chancellor Lee D. Lambert says. "This grant will help propel more Pima students into careers in sectors of the economy that are fast-growing and pay family-sustaining wages."
Funded by Metallica's All Within My Hands (AWMH) and led by the American Association of Community Colleges (AACC), the Metallica Scholars Initiative is designed to directly support students while elevating the importance of career and technical education. Metallica continues to use its global platform to speak out on the dignity of professional trades and community colleges that prepare students.
"The Metallica Scholars program has proven to provide significant resources for community college students looking to learn the skills needed for today's workforce," said Walter G. Bumphus, AACC's president and CEO. "We are honored to partner with the All Within My Hands Foundation to continue to expand this opportunity for community colleges and their students."
To learn more about the Metallica Scholars Initiative:  AllWithinMyHands.org/Metallica-Scholars. 
About All Within My Hands (AWMH)
Established by the members and management of Metallica in 2017 as a means to invest in the people and places that have supported the band, the Foundation is focused on supporting sustainable communities through workforce education, the fight against hunger, and other critical local services. All expenses of the Foundation are covered by the band, the board, and a few special friends so that 100% of donations go to the organizations it supports. AWMH is a registered 501(c)3 non-profit organization. 
About American Association of Community Colleges (AACC)
As the voice of the nation's community colleges, the AACC delivers educational and economic opportunity for more than 10 million diverse students searching for the American Dream. Uniquely dedicated to access and success for all students, AACC's nearly 1,100 member colleges provide an on-ramp to degree attainment, skilled careers and family-supporting wages. Located in Washington, D.C., AACC advocates for these not-for-profit, public-serving institutions to ensure they have the resources and support they need to deliver on the mission of increasing economic mobility for all.
---
CONTACT:
Libby Howell, APR, Executive Director
Media, Government and Community Relations
520-549-9093,
ehowell1@pima.edu