Higher Education Emergency Relief Fund (HEERF)
Pima Community College signed and submitted to the Department of Education the Certification and Agreement on April 10, 2020, to provide Emergency Financial Aid Grants to students.

Pima has provided answered FAQs for students to learn about these funds and who are eligible to receive the funds.
Utilization Limitations Set by Department of Education:
The Secretary does not consider these individual emergency financial aid grants to constitute Federal financial aid under Title IV of the HEA

50% must be reserved to provide students with emergency grants to help cover expenses related to the disruption of campus operations due to COVID-19.

Direct disbursements to students

Does not count as estimated financial assistance

Eligible student expenses include but are not limited to: food, housing, course materials, technology, health care, and child care 
Students Eligible for HEERF 1:
U.S. citizenship or eligible noncitizen 

Social Security number

Registration with Selective Service (if the student is male)

High school diploma, GED, or completion of high school in an approved homeschool setting

FAFSA must be received by Pima Community College
The FAFSA is necessary for validation of criteria 1-4. Upon the student submitting the FAFSA, the application goes through several federal database checks to confirm the validity of the data. Pima Community College, as an open admissions institution, does not collect and validate some of these pieces of information.
Pima Community College has finished distributed these emergency funds to students.
Students Eligible for HEERF 2:
U.S. citizenship or national

A citizen of the Freely Associated State: the Federated States of




Micronesia and the Republics of Palau and the Marshall Islands

A US permanent resident or other eligible noncitizen (someone who has




entered the country under parolee or asylum status).
Pima Community College has finished distributed these emergency funds to students.
Students Eligible for HEERF 3 (update as of May 11, 2021)
:
No student eligibility requirements in the law.
October 2021 Update
Pima Community College made a one time, second distribution to all actively enrolled students.
January 2022 Update
Pima Community College has no additional funds to allocate for distribution in Spring 2022.
June 2022 Update
Pima Community College has been granted an automatic extension to spend the remaining funds by the U.S. Department of Education.  Students actively enrolled in the Summer 2022 term may receive a disbursement based on the priority for awarding these funds listed below until all funds are fully depleted. 

Awarding and Disbursing Methodology for Emergency Student Funds:
Student Distribution Calculation
Apply funds to students using a tiered award amount based on enrollment level:
Non-credit courses = $400

Less than half time (1-5 credits) = $400

Half time (6-8 credits) = $600

Three-Quarter Time (9-11 credits) = $800

Full time (12 credits or more) = $1,000

Certain Clock Hour programs = $1,000 (FT Students) 
Priority for awarding these funds:
Pell Grant 
Students who receive Federal Pell Grant will be the first to be evaluated and considered the award.
FAFSA Application
Students who PCC has received a FAFSA application and have demonstrated need. These are students who may have not qualify for Pell Grant.
PCC's Student Emergency Fund Application Process
Students who have submitted a request and/or indicated having been affected or demonstrated need or disruption as a result of COVID-19.
CARES Funds Distribution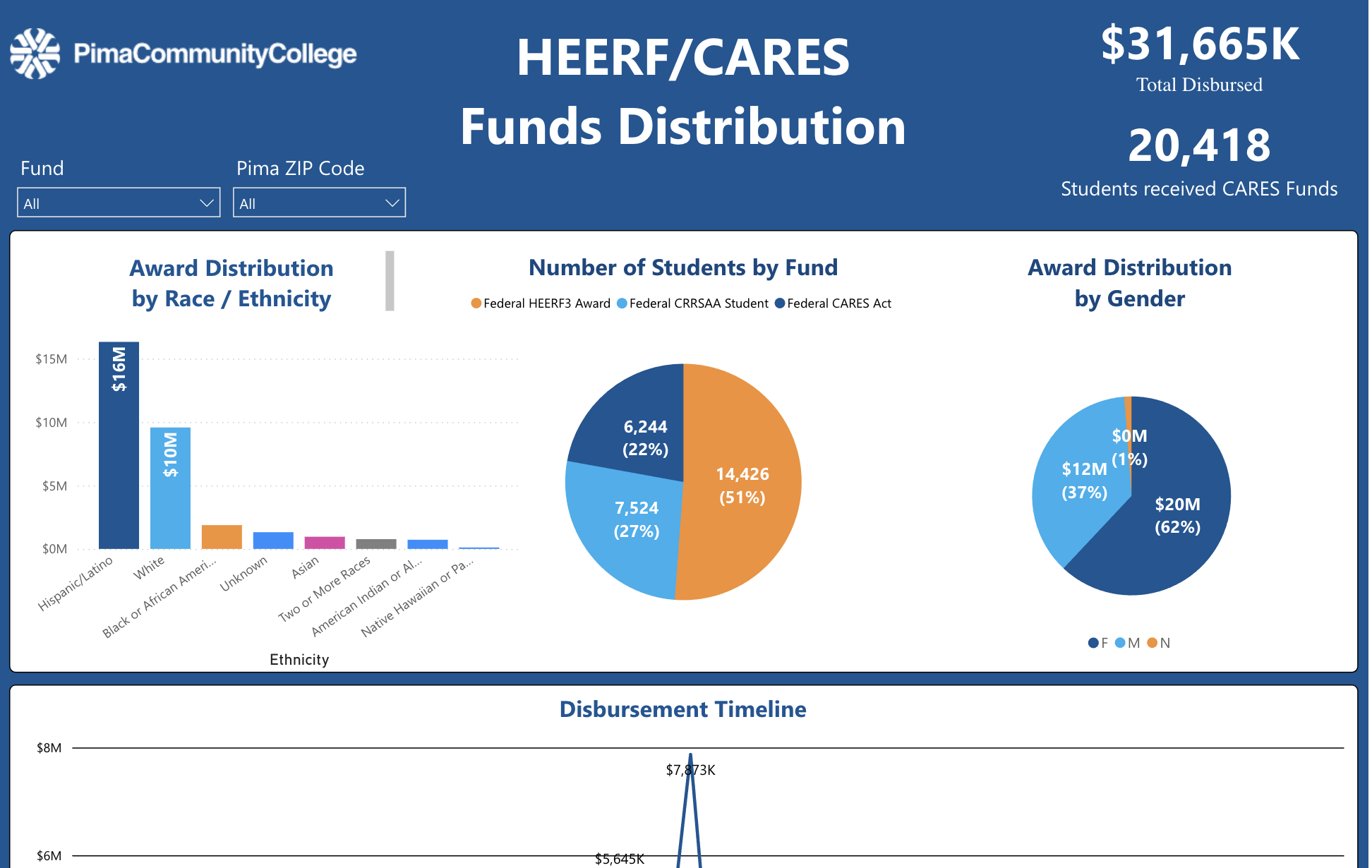 Reports
HEERF Quarterly Budget and Expenditure