Pima Theater 2018-2019 Season
Pima Theatre's monumental 2018-19 season features the aspirations and passions of our ambitious performance directors (Mickey Nugent, Nikki Matinez, Todd Polestra, Marc Pinate) to present culturally diverse and  award-winning productions with creative direction, new technology and many talented Pima students.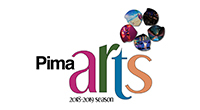 Download the Pima Arts 2018-19 season calendar.  
Buy tickets online.  Box office: (520) 206-6986 
Join our e-mail list to receive Center for the Arts updates, discounts and special events.


THE MAGIC RAINFOREST: An Amazon Journey
Sept. 26-Oct. 7
Fri. (Oct.5 only) at 7 p.m., Sat. at 2 p.m. and 7 p.m., Sun. at 2 p.m.
ASL interpreters: Oct. 5 at 7 p.m.
Scout Theatre Adventure: Sept. 29 at 7 p.m. 
Proscenium Theatre
Tickets: $8 general admission

Directed by Mickey Nugent. Pima Theatre treats us to another children's favorite by acclaimed playwright José Cruz González (The Astronaut Farmworker). This story travels deep into the Amazon with a young boy named Aki on a quest to save his home. When a fire demon threatens to destroy his village and the surrounding sacred forest, Aki departs on an adventure into a mystical world where each animal and plant has its own remarkable voice. On this epic journey he begins to understand his place in his fragile Amazon home amidst the clash of nature and the modern world. Visually spellbinding it's the perfect stage production for families with children.

School matinee performances for elementary and middle school groups begin Sept. 26. Reservations must be made in advance. Call 206-6986.

 

Scout Theatre Adventure: Sept. 29 at 7 p.m. 
For all scouts and their leaders. The event includes discounted tickets and a Q&A session with the actors onstage after the play. Tickets $6 


 

TARTUFFE
Nov. 8-18
Thu.-Sat. at 7:30 p.m., Sun. at 2 p.m.
ASL interpreters: Nov. 15 at 7:30 p.m.
Black Box Theatre
Tickets: $17. Pima students $10 general admission


Directed by Chris Will. Written by Molière, translated into English verse by Richard Wilbur. A sardonic comedy set in the era of King Louis XVI of France. The story takes place in the home of the wealthy Orgon, where Tartuffe—a fraud and a pious imposter—has insinuated himself. He wins the respect and devotion of Orgon, then tries to marry his daughter, seduce his wife and steal the deed to the property. His duplicity is finally exposed and punished. But not before the author has mercilessly examined the evil that men can commit in the guise of religious fervor and the dangers that imperil those who would believe only what they choose to believe despite a mountain of evidence to the contrary.





MAMMA MIA
Feb. 21-March 3
Thu.-Fri. at 7:30 p.m., Sat. at 2 p.m./7:30 p.m., Sun. at 2 p.m.
Opening night celebration, Feb. 21, 6:30-7:30 p.m.
ASL interpreters: Feb. 28 at 7:30 p.m.
Proscenium Theatre
Tickets: $24/$21/$18, Pima students $10 select seats

Brought to the stage by the creative team of Todd Poelstra, Mickey Nugent, Martha Reed and Dr. Mark Nelson. A musical by Catherine Johnson based on the songs of ABBA, composed by Benny Andersson and Björn Ulvaeus. A mother, a daughter, three possible dads, and a trip down the aisle you'll never forget! Mamma Mia is a feel-good story of love and identity, cleverly told through the timeless songs and greatest hits of ABBA. Set on a Greek island paradise, this sunny, funny tale tells the story of Sophie and her quest to discover the father she's never known before her upcoming wedding. This results in her mother, Donna, coming face to face with three men from her distant romantic past. The story-telling magic of ABBA's songs propels this enchanting tale of love, laughter and friendship, creating an unforgettable show. Featuring the songs: Dancing Queen, The Winner Takes It All, SOS, Knowing Me Knowing You, Take A Chance On Me, I Do I Do I Do I Do I Do, The Name Of The Game, Money Money Money, Super Trouper and Gimme Gimme Gimme. With a large cast and explosive dance numbers you can't help but have the time of your life!

 

Opening night celebration, Feb. 21, 6:30-7:30 p.m. Pre-show activities and refreshments included with ticket purchase. 


POLAROID STORIES
April 18-28
Thu.-Sat. at 7:30 p.m., Sun. at 2 p.m.
ASL interpreters: April 25 at 7:30 p.m. 
Black Box Theatre
Tickets: $17, Pima students $10 general admission
Recommended for mature audiences. The show contains profanity.


Directed by Marc Pinate. Written by Naomi Iizuka. The drama is a visceral blend of classical mythology and gritty real life stories told by street kids. The stories delve into a dangerous world where myth making fulfills a fierce need for transcendence, where storytelling has the power to transform a reality in which characters' lives are continually threatened, devalued and effaced. The writing mixes poetry and raw street language to create something spellbinding, scary, haunting and absolutely beautiful. It takes place on an abandoned pier on the outermost edge of a city, a way stop for dreamers, dealers and desperadoes—a no-man's land where runaways seek camaraderie, refuge and escape. Serpentine routes from the street to the heart, characterize the interactions in this spellbinding tale of young people pushed to society's fringe. Informed, as well, by interviews with young prostitutes and street kids, the play conveys a whirlwind of psychic disturbance, confusion and longing. Like their mythic counterparts, these modern-day mortals are engulfed by needs that burn and consume.
Looking for more upcoming events? 
View the Center for the Arts now-playing page and events calendar.