2018-2019 Exhibit Schedule
The gallery and its programs are free and open to the public. Gallery hours: Mon.-Thu. 10 a.m.-5 p.m., Fri. 10 a.m.-3 p.m., and before most evening performances in the Center for the Arts theatres. The gallery is under the direction of David Andres. For more information call 520-206-6942.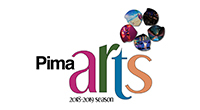 Download a Pima Arts 2018-19 season calendar.
Join our e-mail list to receive Center for the Arts updates, discounts and special events.
CIELO
Sept. 4-Oct. 5
Reception/Gallery Talk: Sept. 13, 5-7 p.m.
Lecture by Io Palmer: Sept. 13, 7 p.m. (Recital Hall)

Featuring work by William Lesch, Joan Marum, Io Palmer, Alejandra Platt, Rebecca Wilder and Tom Willett. Sept. 4-Oct. 5. The six artists are from Mexico, Idaho and Tucson. Their interpretations of the sky questions what we know and see in our expectations and impressions of life, weather, danger, space, time and color.

Selected work by all artists also on display in the Extension Gallery, Tucson International Airport through Oct. 25.

 




William Lesch - Milky Way and Sunset on Cliffs, looking downstream at Mile 18 Camp, Grand Canyon (detail)

SUSTAINED VISIONS
Oct. 29-Dec. 7
Reception/Gallery Talk: Nov. 1, 5-7 p.m.
Gallery closed Veterans' Day 11/12, Thanksgiving 11/22-23.

Featuring work by Fred Borcherdt, Bailey Doogan, Tom Philabaum, Barbara Rogers and Jim Waid. The exhibit combines five iconic artists from the Tucson area, who have received national and international acclaim. Their work is included in art collections and museums across the United States.

Selected work by all artists also on display in the Extension Gallery, Tucson International Airport through Jan. 24.

Barbara Rogers - Pieces of a Dream 10


SEPARADOS POR FRONTERA - SEPARATED BY BORDERS
Feb. 4-March 8
Reception/Gallery Talk: Feb. 7, 5-7 p.m. 
Gallery closed rodeo break 2/21-22. 

Featuring work by Carlos Iván Hernández, Francisco Larios, Nahatan Navarro and Miriam Salado. The exhibit brings together four artists from the Mexican state of Sonora that shares Arizona's southern border. The artists feature work in a variety of mediums— sculpture, drawings, installation, and paintings. 

Selected work by all artists also on display in the Extension Gallery, Tucson International Airport through March 28.

 

 Carlos Iván Hernández untitled (detail)


ANNUAL STUDENT JURIED ART EXHIBITION
April 8-May 3
Reception/Award Ceremony: April 11, 4-6 p.m.

Students from all the PCC campuses have the opportunity to present their work in a professional venue to be viewed by the general public. Juried by professional artists. 

Download the 2019 Call for Entries and Entry Form