Louis Carlos Bernal Gallery
Located in the Center for the Arts complex, the Louis Carlos Bernal Gallery exhibits regional, national and international contemporary artists and sponsors a juried student exhibition every spring semester. 
The gallery is named for Tucson's noted photographer and teacher Louis Carlos Bernal, the founding photography instructor at Pima Community College. 
The gallery and its programs are free and open to the public.
Current Exhibit
Women in Nature: Maya Goded, Bremner Benedict, Alejandra Platt-Torres
October 30 - December 8, 2023
Reception: November 1, 5-7 p.m.
Lecture: November 1, 6 p.m., Maya Goded and Bremner Benedict, Recital Hall

Experience "Women in Nature," an exhibit featuring three exceptional women from different parts of the world. Maya Goded, a cinematographer and still photographer from Mexico City, captures the profound connection between women and nature. Bremner Benedict, residing near Boston, uncovers hidden springs across diverse landscapes from Mexico to Nevada. Alejandra Platt-Torres, born in Hermosillo, Sonora, Mexico, presents stunning photography of nature, whales, oceans and the Southwest. Explore their remarkable artistry as they illuminate the harmonious bond between women and the natural world.

Film Screening: October 30, 6 p.m., Free Admission, Recital Hall

Director Maya Goded is screening her documentary, "Plaza de la Soledad," which premiered at the Sundance Film Festival and earned accolades worldwide. This film reveals the life of four aging prostitutes working in one of the poorest neighborhoods of Mexico City. 
Upcoming Exhibitions
Portraits: Louis Carlos Bernal, Beverly Mclver, Vincent Desiderio, Gerard Beringer, Alejandro Macias, Craig Cully, Papay Solomon and more
January 29 - March 8, 2024
Reception: February 15, 5-7 p.m.

"Portraits" is a captivating gallery exhibit showcasing paintings, photographs, drawings and prints by renowned artists such as Louis Carlos Bernal, Beverly McIver, Alejandro Macias, Papay Solomon, Gerard Beringer, Vincent Desiderio, Craig Cully and more. The diverse collection explores themes of identity, culture and the human condition. Bernal's photographs capture the familial ties of Chicano life, while McIver examines issues of race and gender. Macias combines the Latino culture and identity through his use of self-portraits with Mexican and Western influences, Solomon's hyperrealist portraits celebrate the African diaspora, and Cully's realist paintings delve into the complexities of identity. "Portraits" invites viewers to experience the power of portraiture in connecting and inspiring.
2024 Annual Juried Student Exhibition
April 10 - May 10, 2024

This annual exhibition brings together the jurors' selections of the best work by student artists produced during Summer and Fall 2023 and Spring 2024 semesters from all of Pima Community College's campuses. Jurors: Laura Copelin, Co-Chief Curator, MOCA - Tucson; Kristopher Driggers, Curator of Latin American Art - Tucson Museum of Art; and Alejandro Macias, Assistant Professor of Art University of Arizona School of Art. 
---
Past Exhibits
Images and Conversations: Louis Carlos Bernal, Author & Historian Patricia Preciado Martin
The Bernal Gallery presents "Images and Conversations," featuring the captivating black-and-white photography of Louis Carlos Bernal and insightful text by Patricia Preciado Martin. This exhibition showcases the stories and memories of Mexican-Americans who grew up in Tucson and Southern Arizona, honoring their cultural heritage and experiences. Bernal's evocative photographs and Martin's compelling narratives capture the essence of a bygone era, celebrating the vibrant culture and history of the region.
Visual Arts Gallery - As She Sees It - BorderLens Southwest - Photography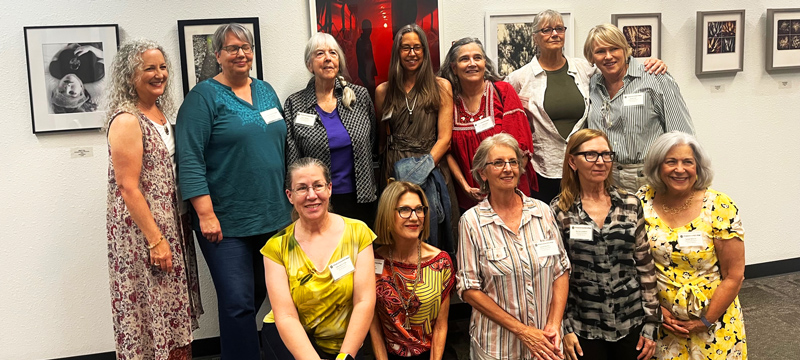 Where: Visual Arts Gallery, PCC West Campus, Santa Rita Building (A), 2nd Floor, 2202 W, Anklam Rd. 85709
When: April 17 - September 1, 2023.
Reception: April 27, 2-4 p.m.
The Visual Arts Gallery will feature 18 women photographers in the exhibition 'As She Sees It.'

Borderlands/SW is a new electric community of female photographers and cinematographers, amateur and professional, living in the US Southwest. Their statement states, "We nurture individual artistic and collective growth through members' events, workshops, and social media, and we engage with sister collectives in Mexico." You can find out more at borderlenssw.com

This exhibit presents the work of some of the members of BorderLens/SW, a collective of women photographers based in Tucson, Arizona. An exhibit of work by just women photographers will inevitably raise the question: Does gender play a role in photography?
The American Landscape: An Endangered Species - Joseph DiGiorgio's The Grand Canyon
The Louis Carlos Bernal Gallery presents "The American Landscape: An Endangered Species - Joseph DiGiorgio's The Grand Canyon." Joseph DiGiorgio's "The Grand Canyon," is a 24 panel oil on canvas painting created in pointillism style (1985). The Bernal Gallery displayed 19 of the 24 panels plus a video. Each panel was 7' tall and represented one hour in the day at the Grand Canyon. Joseph DiGiorgio's "The Grand Canyon," was gifted by the artist to the Tucson Museum of Art and remains in their permanent collection. Joe was an avid painter and New York artist. He was born in Brooklyn and attended the famed Cooper Union College. He lived in Manhattan until his untimely death in 2000 (1931-2000).

This exhibition was the first collaboration between the Tucson Museum of Art (TMA) and the Bernal Gallery. Gallery Director David Andres says, "We are honored to exhibit most of the 24 panels and have Dr. Julie Sasse, Chief Curator of Contemporary and Modern Art, coming to speak about Joe DiGiorgio's artwork and his gift to TMA." The 110' foot panoramic painting was first shown in part at Joseph DiGiorgio's New York Gallery and only once in its entirety at TMA in 1997. This exhibit also honored Tucson Art Collector Dan Leach. Andres says, "Dan introduced Joe to the Southwestern United States and in particular to Tucson and the Grand Canyon."

The exhibit was in conjunction with Pima Theatre's "Sunday in the Park with George", a James Lapine and Stephen Sondheim Tony and Pulitzer Prize-winning 1984 musical inspired by the French pointillist painter George Seurat, and his famous painting "A Sunday Afternoon on the Island of La Grande Jatte". Directed by Chris Will.
Invisible Borders: Women Photographers from Fotógrafas del Norte, MAPA - Estado de México, and BorderLens Southwest
Invisible Borders, an exhibition of 31 female photographers from México and Southern Arizona.  Fotográfas del Norte from the northern border states of MÉXICO, MAPA a group of photographers from the state of Mexico, and BorderLens Southwest, a new group of Tucson female photographers represent the artists in this massive exhibition. Collaboration with photographer Alejandra Platt-Torres and Director David Andres brings this exciting group of women photographers to the Bernal Gallery.  Andres states,
"The collaboration between the photographers, curators, and digital printer, Ernesto Esquire, brings to life the dream of having women artists from both sides of the border temporarily make the divisions disappear."  
Photographers included in the exhibited:
FOTÓGRAFAS DEL NORTE: Sylvia Alonso, Itzel Aguilera, Adriana Balderrama, Irma Bejarle, Persia Campbell, Edith Cota, Velia de la Cruz, Alejandra Olivas Dávila, Angelica Escoto, Alicia Fernández, Laura Méndez, Liliana Hueso, Monica Lozano, Mayra Martell, Elizabeth Moreno, Natalia Barragán Orozco, Norma Domínguez, Lupita Campos. 
MAPA: Sonia Madrigal.
BORDERLENS SOUTHWEST: Megan Ace, Shari Coia, Karina Fassett, Theresa Lynne Gredig, Shelli Hall, Kalei Harmon, Marcia Lambert, Puspa Lohmeyer, Bee Ottinger, Donna Stephenson, Britten Traughber, Vicky Westover.
Sponsors for this exhibition include Kathi and Bob Sanders, Donna and Frank Whitman, LAAP Latin American Art Patrons/TMA, and a grant from BorderLens SW and MOCA Tucson. 
A Tribute to Clay
A Tribute to Clay, an exhibition of nine artists specializing in clay: Marcy Wrenn, Maurice Grossman, Lauren Grossman, Aurora Chabot, Joy Fox McGrew, Colleen Quigley, Hiro Tashima, Kazuma Sambe, and Andy Iventosh. Sculptural forms created by artists past and present, hand built or thrown on the wheel.
Marcy Wrenn (1934-2021) was the catalyst for bringing these artists together.  An award-winning artist that taught at Pima College and taught children in Australia's Outback. Famed University of Arizona professor emeritus Maurice Grossman (1925 -2007) was Marcy's teacher. He and his daughter, ceramic professor Lauren Grossman, who lives in the Seattle area were family friends and are included in the exhibit.  Well-known southern artist Joy Fox McGrew is showing wall art and large sculptures, she is represented by Etherton Gallery. Aurore Chabot, head of the University of Arizona's Ceramics Department; Andy Iventosch who throws large vessels; and Hiro Tashima, lead faculty for Pima Community College's ceramics department are part of this exhibition. Colleen Quigley and Kazuma Sambe round out the regional ceramic artists and are represented by the Yung Gee Gallery. Marcy's family left a sizable award to the Bernal Gallery to award ceramic scholarships. 
Visual Arts Gallery presents @ West Campus
PaperWorks Sonoran Collective for Paper and Book Artists
This exhibit included artist books, drawings, paintings, and prints on paper. Over 45 artists will be exhibited including Jo Andersen, Bobbie Wilson, Jennie Sweo, and more. Paperworks Sonoran Artist Collective encourages students to make artist books, collages, drawings, paintings, prints, and photographs, on paper. Every year they donate to the awards presented by The Bernal Gallery's Juried Student Exhibit. For the 2021 - 2022 academic year, Paperworks is donating $2000 in Awards for Pima College Art Students.

PaperWorks provides educational and creative opportunities for all who love to work with and on paper. They promote the appreciation and enjoyment of the paper and book arts through monthly meetings, workshops, classes, community exhibitions, and scholarships. For more information about PaperWorks, please visit their website at paperworks.info
What Place is This with Wayne Gudmundson & Threads of Immigration with Perla Segovia
Photographer Wayne Gudmundson is a professor emeritus from Minnesota State University Moorhead. He's featured in the collections at the Museum of Modern Art (New York), San Francisco Museum of Modern Art, Tucson's Center for Creative Photography and others. His photographs investigate lost battle scenes from the Southern Border to Picacho Peak's Civil War battle, photographing what this historic area is now.
Perla Segovia is an emerging artist who constructs installations about the impact of immigration on the American border. She is originally from Peru and immigrated to the U.S. Her installations are complex threaded and sewn remembrances of children and families of immigrants attempting to cross the border for a better life. 
American Renaissance by Alanna Airitam & Wayne Martin Belger
Two internationally-known photographers. Wayne Martin Belger works with political imagery from national and international situations, such as Standing Rock, Zapatista soldiers in Chiapas, Mexico, and refugee camps in Lesbos, Greece.
Alanna Airitam, an African American photographer, works with portraiture and still life that reflects the African American experience. Both photographers live and work in Tucson and have exhibited internationally. 
Egress - Works on Paper with Alice Browne, Anthony Banks & George Little
Three London-based artists exhibited their works on paper. These emerging artists are graduates of the Royal College of Art and have exhibited in the U.K., Europe and U.S.
Rethinking Social Justice Online Exhibit
This exhibit featured artwork by Tucson artists Allison Miller and Alfred Quiroz.
---
2021-2022 Student Art Exhibits
Lockdown Year at the Art Gallery @ Downtown Campus
Sep. 13, 2021 - May 16, 2022
In the year of COVID we were all locked in, we continued to grow and create. This show exhibits artworks created by Pima students during that time. 
Egress No. 2 at the Visual Arts Student Gallery @ West Campus
Sep. 20, 2021 - Jan. 28, 2022
Featuring all student art and media from the Visual Arts and Digital Arts Departments. View the Egress No. 2 Exhibit.
Gallery Hours
Mon.-Thur.: 10 a.m.-5 p.m.
Fri.: 10 a.m.-3 p.m. 
Engage with art at more galleries on Pima campuses!
Gallery Director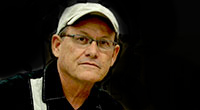 David Andres
Andres teaches gallery and museum practices, printmaking and design. His work is exhibited locally and internationally, including in the public collections of University of Arizona Museum of Art, Tucson Museum of Art and Tampa Museum of Art.
"I enjoy working with the diverse students in my classes, and the professional artists who exhibit at Bernal Gallery. Both bring a passion for art and learning."